Dancer and entrepreneur empowers young people through arts and media
January 28, 2022
In 2008, Tamaira Sandifer '12 (Photography) hit rock bottom.
Amid the financial crisis, Sandifer lost the building that housed her dance studio, and nearly lost the business itself.
There were also devastating personal challenges. Her marriage fell apart, and her daughter nearly drowned in the bathtub, leading to a difficult, years-long recovery.
Roughly $600,000 dollars in debt and nearly homeless, she turned to public assistance to get by – and learned that, to qualify, she had to look for employment or go to school.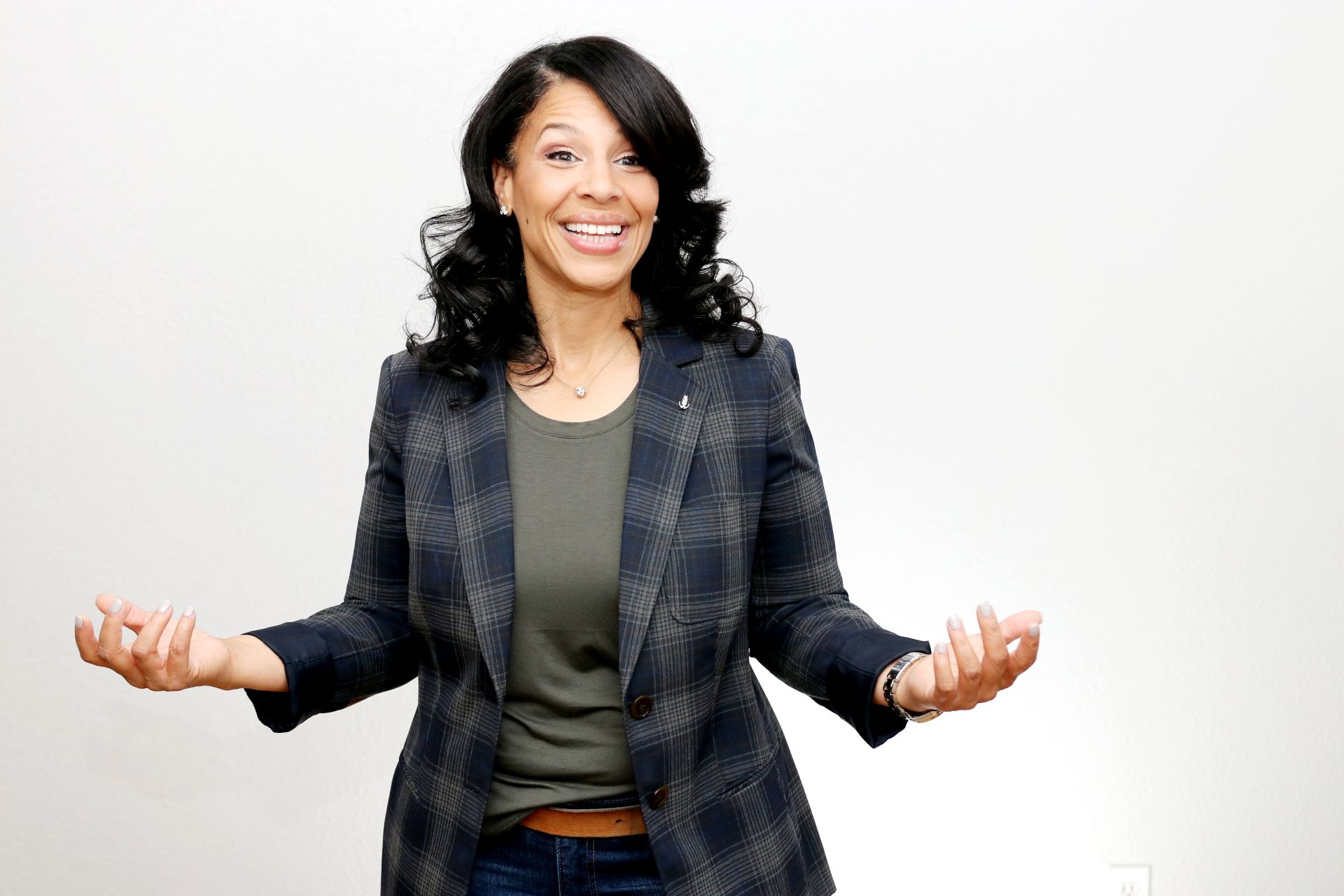 That moment, Sandifer's lowest point, ultimately led her to Sacramento State, where she earned her bachelor's degree and gained the skills needed to rebuild her studio and grow it into something far greater.
"I came into Sac State just broken, looking for hope, believing that if I could somehow educate myself, I could be better and I could do better," Sandifer said.
"I don't always know how, but I do know that there was inspiration there, there was fight there, there was guidance there, there was compassion there, and all of those things gave me hope."
Sandifer is owner and creative director for Studio T Arts & Entertainment, a Sacramento-based organization that provides social service programming through the arts and where she is known as "Miss Tee."
At Studio T and through partnerships with local schools and nonprofit organizations, participants, many from underrepresented backgrounds, learn skills in everything from dance to digital media to financial literacy.
Forbes Magazine recently included Sandifer on its inaugural "For(bes) The Culture 50 Champions" list of the "Black and brown leaders making the most impact through their capital, creativity, connections and commitment." The list includes activist and former NFL quarterback Colin Kaepernick, and actor, writer, and producer Issa Rae.
As a child, Sandifer didn't need to "discover" dance or her talent for it, because, she says, it's "something that we do at home, culturally, in the Black community."
However, extracurricular activities and organizations were hard to find in the underserved Richmond neighborhood where she grew up, and besides, her family – she was raised by single mother – couldn't afford them anyway. Soul Train and Fame and music videos on MTV were her dance class, Paula Abdul and Michael Jackson, among others, her instructors. The living room and backyard were her studio. Other neighborhood kids became her students.
"Dance has always been a thread of hope through my whole life." Sandifer said. "There have been so many challenges I've faced in life, and (dance) has always offered me a way to maintain emotional health and keep me connected to the community and the people I want to serve."
After graduating high school, Sandifer began teaching dance wherever she could in the community. She received a scholarship to a Paula Abdul dance camp, but didn't have the money to attend. She married, started a family, and in 2000, the family moved to Sacramento to escape Richmond's high housing prices and crime rates.
In Sacramento, Sandifer worked for a local phone company while continued teaching dance on the side. In 2005, she started her own studio – and realized after an unbearably hot outdoor August practice that she needed an indoor space. She retired early from the phone company, cashed out her 401(k), and bought a half-million dollar building out of which to operate.
Then came the devastation of 2008.
Picking up the pieces from that year, Sandifer enrolled at American River College to study photography, something she had pursued since age 13 to help her aspiring-model sister. Sandifer earned her associates degree then transferred to Sac State. Though she was a nontraditional student – 32 years old and mother of three – it was clear from the moment she stepped onto campus that University staff and faculty were just as invested in her future as she was.
"I wasn't just a number in the classroom," Sandifer said. "I was a person that they really wanted to see succeed."
Sandifer knew how to dance and how to teach kids to dance, but Sac State was where she learned the essential skills necessary to manage and grow her studio: how to run a business, how to promote events, how to write grants and secure funding, and more.
She also appreciated that her faculty were "doers, not just lecturers" who showed how to make an impact on the wider community. In particular, she was inspired by Professor of Photography Nigel Poor, whose podcast Ear Hustle examines life inside San Quentin prison, and whose work with incarcerated individuals instilled the importance of always seeing the good in people.
"Professor Poor helped me tremendously in how I approach young people, their parents, and the communities, especially the more trauma-informed communities that we work with," Sandifer said. "I learned how to use creativity to build innovative programming that creates opportunities and serves youth (and their parents) that have been hardened by life."
Sandifer has applied what she has learned to Studio T in a big way. The organization, according to its website, serves in person and virtually more than 192,000 people, providing "positive, creative, and social alternatives to drugs, teen pregnancy, gang violence and suicide."
With the onset of the COVID-19 pandemic, Studio T scaled and launched its distance-learning platform, supporting thousands of schools and students nationwide with dance, entrepreneurial training, and family management.
Sandifer maintains her connection with her alma mater, returning frequently to work with the Dance department and bringing Sac State students and alumni to the studio to teach.
She also has a very personal reason to stay connected to the University: Her daughter whose near-drowning was a grim capstone of that terrible 2008 is a Sac State student. Her son, who will be the first male in four generations of her family to attend college, is considering becoming a Hornet as well.
"What was birthed in me has had a multigenerational impact, not just in my home, but in every home I touch," Sandifer said. "I say thank you for that. I don't always know that (Sac State's) leadership or educators know the massive ripple effect they can have just by caring about one person like me."