Sacramento Republic FC Hornets say Sac State set them up for success at their hometown soccer club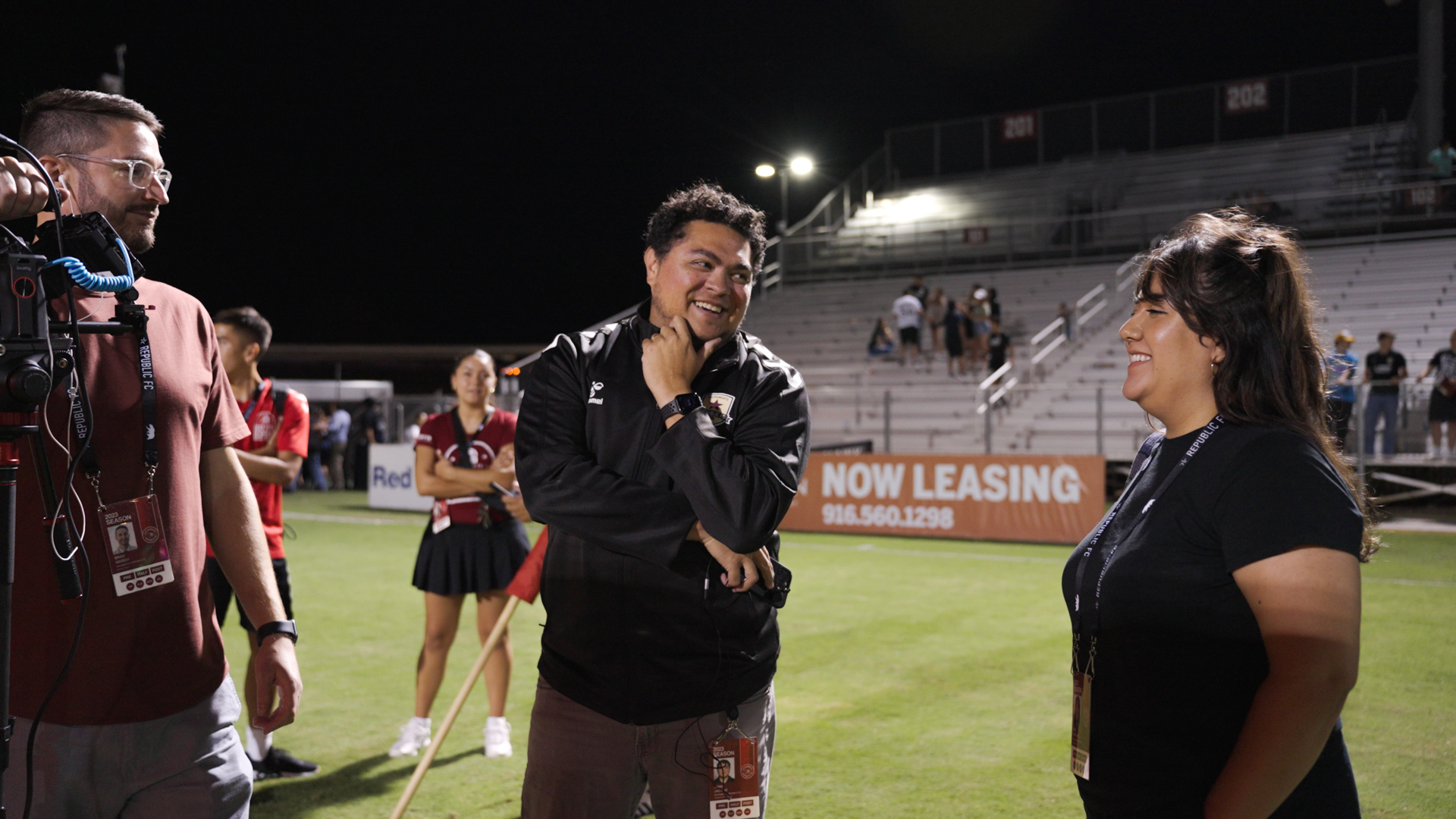 August 22, 2023
When Sammie Valenze '22 (Kinesiology) talks with current or potential Sacramento Republic FC season-ticket holders, one thing is almost guaranteed to light up their faces.
"They want to know more about me, and I'm, like, 'Oh, I went to Sac State,' and they get excited just by that," she said "It almost creates an immediate bond."
Valenze, a member experience team lead with Republic FC, is one of seven Sac State alumni the club employs, graduates of one respected Sacramento institution who now work for another.
Being a part of their hometown soccer club fills them with pride, and being Hornets laid the foundation for their success, they say.
"My Sac State education has been so crucial," said Eira Castillo '14 (Journalism), the team's director of digital content and photography. "From the professors who helped me and guided me to where I am, (to) the courses I took that pushed me towards where I ended up."
Sacramento Republic FC, which play in the second-division USL Championship league, were founded in 2014. Castillo, a lifelong soccer fan, has been with the team from the start.
"Going to Sac State and then staying in Sacramento, it helps build those homegrown connections." -- Krystal Jones '18 (Business Administration)
About when the team was getting off the ground, she was interning at TV station KCRA and had a chance meeting with the Republic's vice president for marketing. When Castillo mentioned her goal was to work in soccer, she immediately was offered a job as a production assistant. In 2016, she moved into a part-time role writing for the website. A year later, she took on a full-time role and has been with the club ever since.
Joanna Arismendi '10 (Economics and International Business) watched Republic FC's start not from the sidelines but from the stands. She and her now-husband were on their first date when they joined more than 20,000 fans who watched the team's first game at Sacramento City College's Hughes Stadium.
A year ago, Arismendi became an accountant with the club after a decade in the financial industry. She said working for what she calls a "symbol of Sacramento culture" is rewarding.
"I worked for a global company for 10 years before this, and now I get to have my boots on the ground in the city I live in and love. That's huge," she said. "There's an intrinsic reward there that I didn't really get at my last job."
Though the Hornets who work for Republic FC come from different backgrounds and work in different fields, they almost universally share one thing: They grew up in Sacramento and love their hometown.
"I love everything about Sacramento. That's why I've been here my entire life. That's why I don't ever want to leave," said Brad Marsh '12 (Digital Media), the club's director of videography. "It means a lot to be working for a team that has their footprint in the city because I have so much love for this city."
Marsh, who grew up in various Sacramento neighborhoods, was at Sac State frequently as a child. His father was a longtime professor, and he and his brother would film themselves skateboarding on campus while their dad taught classes.
When it was time to go to college, Marsh knew he wanted to stay close to home. At Sac State, he said, he learned the foundational tools and developed the relationships that have propelled his career.
"I loved it," he said. "I made a lot of friends, learned a lot in my classes, (and) developed some really good relationships with teachers that ultimately became references and guided me into where I wanted to go with video production."
John Jacobs '07 (Organizational Communication), Republic FC's vice president of communications, remembers an upper-division media relations class where he and his fellow students were assigned a mock crisis communications situation and asked to develop a statement and run a news conference.
"The things we were asked to do are now a part of my daily and weekly work," Jacobs said. "That preparation and practice was key for me, and I've fallen in love with the work I do."
For Krystal Jones '18 (Business Administration), being a Sac State alum means taking advantage of connections she made on campus. Jones, a partnership activation manager with the club, often reaches out to her former professors when internship opportunities are available. She also manages the University's partnership with the team.
"Going to Sac State and then staying in Sacramento, it helps build those homegrown connections," Jones said.
Before transferring to Sac State from Sacramento City College, Jones interned with Golden 1 Credit Union's community relations department at the same time the Golden 1 Center was opening, and she fell in love with the business side of sports. After graduating, she worked for the Sacramento River Cats for four years before moving to Republic FC.
"It feels amazing, especially being born and raised here, coming to an organization that really gives back to the community," she said. "Sac State gives back a lot as well. It's a really full circle moment."
She and others who work for the club experienced something new last year: representing Sacramento on the national and global stage when Republic FC became the first lower-division team since 2008 to reach the finals of the 2022 U.S. Open Cup. Republic FC beat three top-tier Major League Soccer (MLS) teams during the tournament before losing in the championship match to MLS team the Orlando City SC.
Sammie Valenze recalls walking through an airport in North Carolina wearing her Republic FC backpack and receiving well wishes from someone who recognized its bear-and-star logo and said they were rooting for Sacramento in the tournament.
The historic run also brought increased local awareness of the team.
"The spotlight has always kind of been on the Kings," Valenze said, referring to Sacramento's NBA franchise. "People know who Sac Republic is, but don't really know anything about them, or if they're good or anything like that. So, I think that last year kind of put our name kind of out there where it's like, hey, we're awesome."
Jacobs agrees.
"Last summer, I was so honored and privileged to show what our city is about during the Open Cup," he said. "It was thrilling to be at the center of the soccer universe, but it was the highlight of a career to share how incredible Sacramento is with the world."
Like all the Hornets who work for Republic FC, Jacobs is proud to say he went to Sac State. He said that as the University has grown, both in terms of physical buildings and reputation, since he graduated, so has the prestige of his degree.
"I'm happy to say that I'm a Sac State alum, and I'm excited to see what the future has for the next ones," Jacobs said. "The University has become this tremendous center of investment and improvement, and I'm grateful for it."