Until Next Time: The art of Sac State's refinement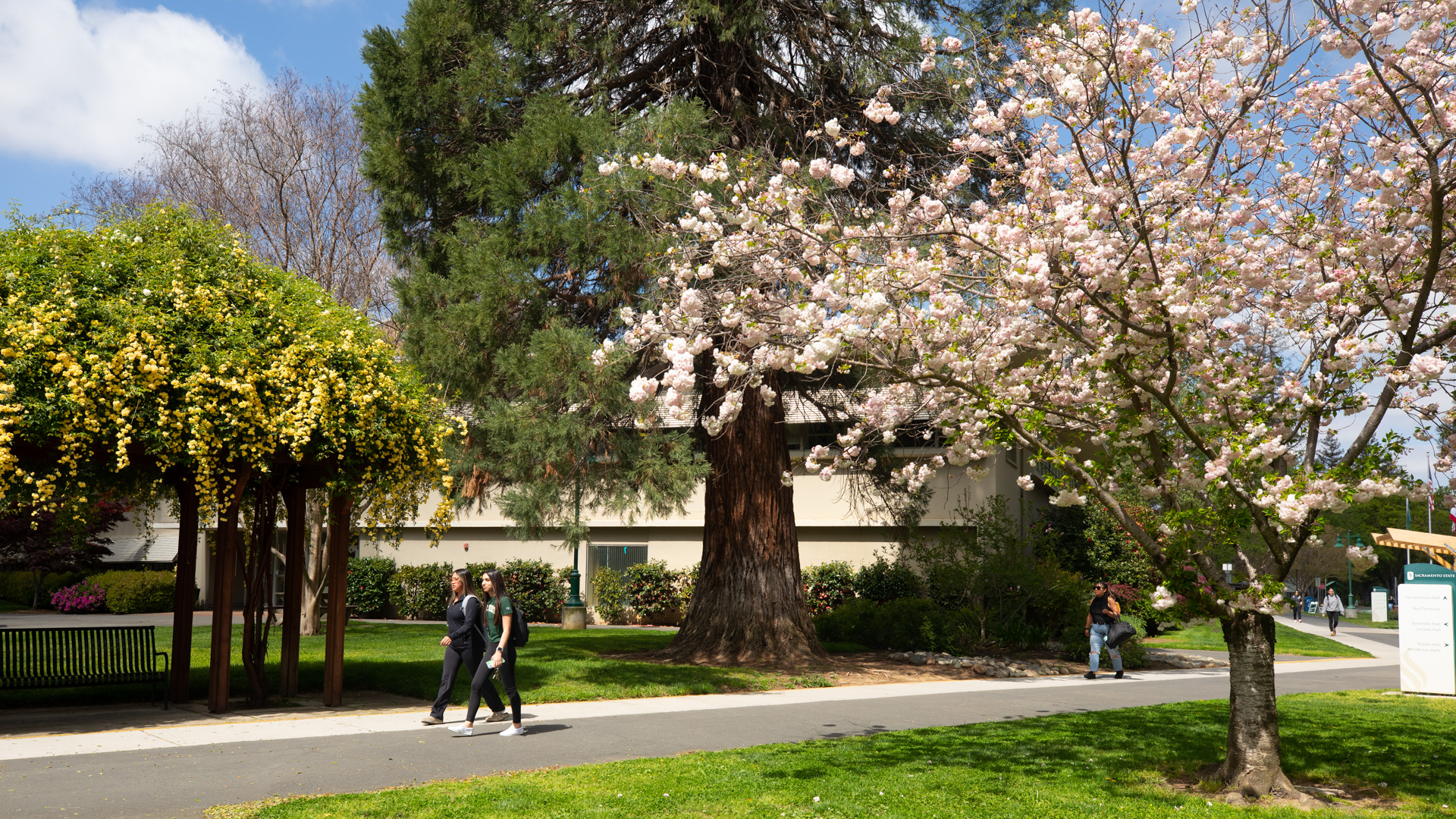 June 15, 2023
It's an interesting and challenging time to be part of the Hornet Family. At Sac State's 75th Anniversary, we recall our creation, consider our history, then come about to look beyond the present, working together to determine what's next.
Michelangelo said he believed that inside the rock he carved the art already existed, waiting to emerge, and he was there to release the form within the rock, removing that which was not, ultimately, the masterpiece. Maybe that's Sac State, being released bit by bit, surely and purposefully.
Then there's the idea of change, that constant process at Sac State since its 1947 birth. Changes have been large and small, conspicuous and subtle, practical and high-minded.
Both ideas, emergence and change, ring true for the University. Refinement, also. We know perfection is out of reach, but accomplishing something grander, fairer, better – that is doable.
We look to each other to keep change coming, to refine the good into what is better, then best. Because, without question, this is a group effort, a family thing, and that's why turns, detours and sidetracks sometimes characterize our path forward.

-- Brian Blomster, director of News and Communications, Sac State Magazine editor and Sac State graduate 
As we celebrate this milestone academic year, we see the University, always a place of consequence, coming into its more graceful self. At the same time, we are present to encourage, elicit, experience, and create change.
Many of our changes have been both abrupt and a long time coming. Some seem to be both.
Take, for example, President Robert S. Nelsen's impending July retirement. He came to Sac State nearly eight years ago, a longer stretch than the five years he originally told his wife, Jody, that he would keep to. We anticipated his retirement, but when the announcement of his planned exit came, it felt like it was too soon, as if 2015 were just a minute ago.
For years across campus, out in Hornet Stadium, football was a nice diversion, and some Hornet teams were pretty darn good, others not as much. Seemingly overnight, though, Troy Taylor became head coach, and his teams laid three straight conference championships on the table. Then we blinked, and he was gone, riding that wild success to Stanford's head coaching position, leaving the Hornets under new management.
Do we expect a falloff? No, because we believe that our football program remains well led by new head coach Andy Thompson, populated by athletic elites, and capable of more excellence. That belief came because as the reality changed, our expectations changed with them.
Other specifics abound. Elsewhere in this publication, we offer for consideration various Sac State achievements, notable students, leaders and alumni, and moments of excellence. Start with the beginning, as Sacramento State was coaxed into being, shepherded from its birth as a sleepy state college through early growth spurts. See how, in its maturing years, Sac State became a place of social debate, protest, and advancement, and how struggles for equality translated into higher mindfulness and innovation. Consider how the Hornet Family is willing the University to become a place of true antiracism, inclusion and equity, all as academic excellence permeates the place.
Challenges remain, and new ones will appear, as they always have, their natures varied and the answers to them sometimes difficult to discern. Yet, we appear capable – and enthusiastically willing – to take them on.
Building on our commitment to provide greater access to the traditionally underserved, we've created dynamic centers that provide support, safety, opportunity, and belonging. Individuals profit from the care they receive in those places, and the whole University grows stronger as a result.
Something as seemingly simple as land acknowledgements for Native Americans' presence on and stewardship of the land now home to the University carries significant weight. A campus Native American center is on the way, another step toward broader inclusion.
Our diversity receives accolades, and the increasing access to Sac State gained by people of color, the undocumented, the underserved, and those with disabilities obtains praise.
That approbation is nice, but the important part is that we see and embrace ideals that we want to become part of ourselves, like our heartbeat.
We look to each other to keep change coming, to refine the good into what is better, then best. Because, without question, this is a group effort, a family thing, and that's why turns, detours and sidetracks sometimes characterize our path forward.
But hasn't it been an amazing 75-year journey?
Even if Sac State is not yet a completed masterpiece, we can sense our excellence becoming more visible and coalescing while we chip away that which is not us – and that is change worthy of our University and us. Stingers Up!