Financial Aid Important Updates: FAFSA and CADAA
Both financial aid applications, Free Application for Federal Student Aid (FAFSA) and the DREAM Act Application (CADAA) are going through a big change in the coming year to increase the number of students that may be eligible for Federal Financial Aid and to simplify the process for students and parents.
Application Delay
Traditionally, the FAFSA and the CADAA are released on October 1st for students to complete and submit for the following academic year. However, due to the changes, there has been a delay in the opening date of the FAFSA and CADAA applications.
THE FINANCIAL AID APPLICATIONS FOR 2024-2025 WILL BE AVAILABLE ON DECEMBER 31, 2023.
Priority Deadline Delay
Due to the delay in the availability of the 2024/2025 applications, the traditional priority filing deadline of March 2nd has been extended and the priority deadline will now be April 2, 2024.
How to Prepare for the Change
A big change for FAFSA filers is that ALL members providing information on the financial aid application i.e. student/student's spouse or student's parents MUST now have individual Federal Student Aid FSA ID's.
The FSA ID is a username and password that is required to log in and access all Federal Student Aid websites, including the FAFSA. The FSA ID also serves as a legal signature when you submit your FAFSA.
You and one or both of your parents must create an FSA ID before starting the FAFSA. If you are an independent student, you will not need to have your parent create an FSA ID. If you have a sibling who attended college before you, your parent may already have an FSA ID.
For those that may not have an FSA ID as of yet, now is the time to get the FSA ID set up so that you are prepared to complete the FAFSA as soon as it comes out in December.
Once you create your FSA ID and password, be sure to SAVE the information in a safe place as you will need to use this information throughout the time you are in college.
Who Needs to Create an FSA ID?
All students need to create an FSA ID. When you fill out the FAFSA, it will determine if you need to include your parent's information. Generally, unmarried students under the age of 24 are considered dependent upon their parents. Use the information below to determine who needs to create an FSA ID.
Contributors
Student: All students must create an FSA ID

One Parent:

If you are a dependent student with two married parents who filed a joint federal tax return in 2022.
If you are a dependent student with separated or divorced parents. The parent who provided you with the most financial support in the last year AND parent's current spouse if they married since January 1, 2023, OR if parent was remarried prior to this date but filed taxes separately from the current spouse.

Both Parents:


If you are a dependent student with two married parents who filed separate federal tax returns in 2022.
If you are a dependent student with two parents who are unmarried but living together.

Married Student

Spouse: If you are a married student who filed taxes separately in 2022 from your current spouse.
Student Only: If you are over the age of 24, OR married, and filed joint federal tax returns in 2022.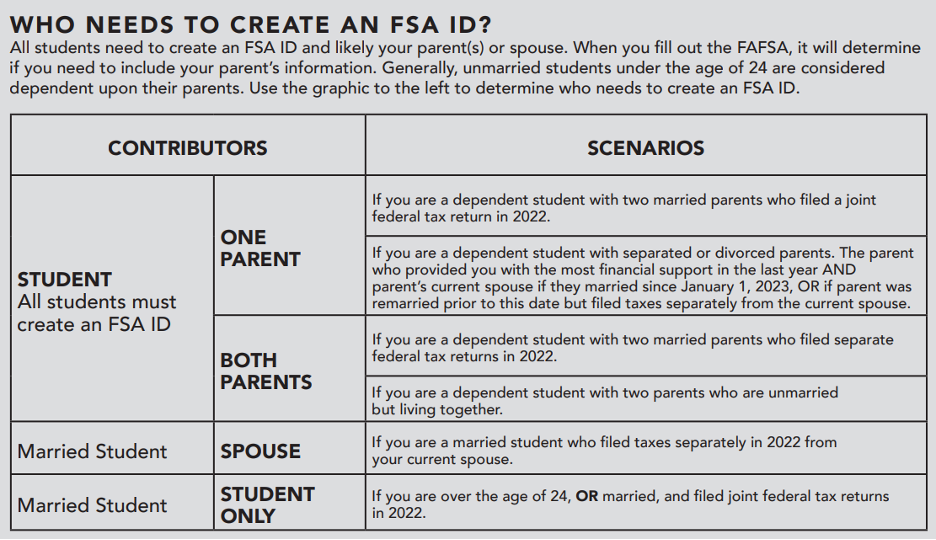 Federal Student Aid Estimator
The Department of Education has created this tool that families can use to estimate how much aid a student may be eligible for starting with the 2024-25 award year.
Stay Informed!
More information will be available soon regarding the changes to the 2024/2025 FAFSA. Please check back to this website for updates.
In-Person and Zoom Workshops Coming Soon!!!!
As we get closer to the FAFSA and DREAM Act applications being released, we will be holding workshops to review the new FAFSA and DREAM Act application and review some of the changes that have been made to the process.