Hispanic Heritage Month 2023
Friday, September 15 - Sunday, October 15
About Hispanic Heritage Month
September 15th to October 15th is National Hispanic Heritage Month (HHM) – a time to honor and celebrate the invaluable contributions, diverse cultures, and histories of the Latinx/Hispanic community. HHM started in 1968 as Hispanic Heritage Week under President Lyndon Johnson and was expanded to 30 days by President Ronald Reagan in 1988.
September 15 is significant because it is the anniversary of the independence of Latin American countries Costa Rica, El Salvador, Guatemala, Honduras, and Nicaragua. In addition, Mexico and Chile celebrate their independence days on September 16 and September 18, respectively. To learn more, visit the Hispanic Heritage Month Website.
Campus Events
September 14, 2023
El Grito - Mexican Independence Day Celebration
Featuring Banda Uriense and DJ LG
7:30 pm
Serna Plaza
September 15, 2023
Hispanic Heritage Month begins!
September 20, 2023
La Bienvenida (The Welcome)
This annual event welcomes incoming and returning students to the Hornet familia and celebrates Chicanx/Latinx culture
2:30 - 4:30 pm
Library Quad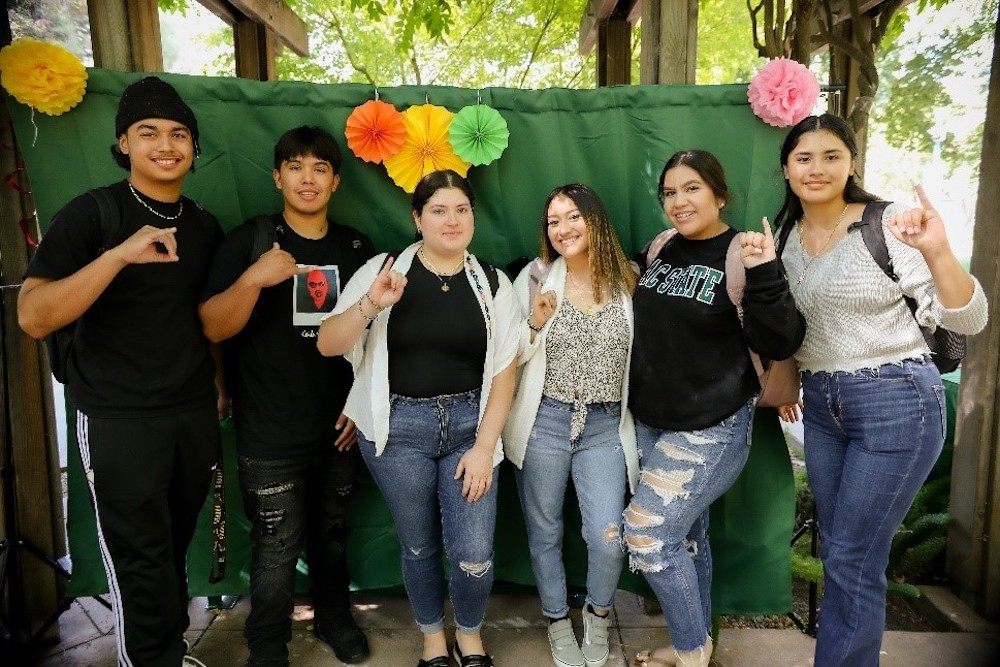 September 22, 2023
Chicanx/Latinx Faculty Staff Association (CHLFSA) Social for Faculty and Staff
5:00 - 8:00 pm
Casa de Español (1101 R Street)
September 26, 2023
Green & Gold Speaker Series
Beats of Belonging: Latine Revolution & Restoration (Featuring Las Cafeteras)
Interactive Workshop
2:30 - 4:00 pm
Concert Performance
6:00 - 7:30 pm
Union Ballroom
September 28, 2023
Student Health, Counseling, & Wellness Services' Free Latin-themed Cooking Demo
4:00 - 5:00 pm
The Cove Kitchen, 1st floor of The Well
Sac State Nutrition Student y su Mamá: Carolina y Maria
September 29, 2023
Seal of Excelencia Watch Party
Live broadcast begins at 8:00 am
Refreshments will be served.
Global Lounge, Library Breezeway (next to Grumpy Mule)
October 2, 2023
CHLFSA Panel: What does it mean to be a Hispanic Serving Institution (HSI)?
12:00 - 1:30 pm
Join CHLFSA Panel: What does it mean to be a HSI (virtual)
Every Wednesday starting on October 4, 2023
Voz Latina Peer Support Group
1:00 - 2:00 pm
Dolores Huerta Boardroom, Serna Center
October 4, 2023
Café y Conversación (Coffee & Conversation)
A social group that provides a space for interaction and connection amongst Latinx students at Sacramento State
3:30 - 5:00 pm
Serna Center, Dolores Huerta Boardroom
Register for Café y Conversación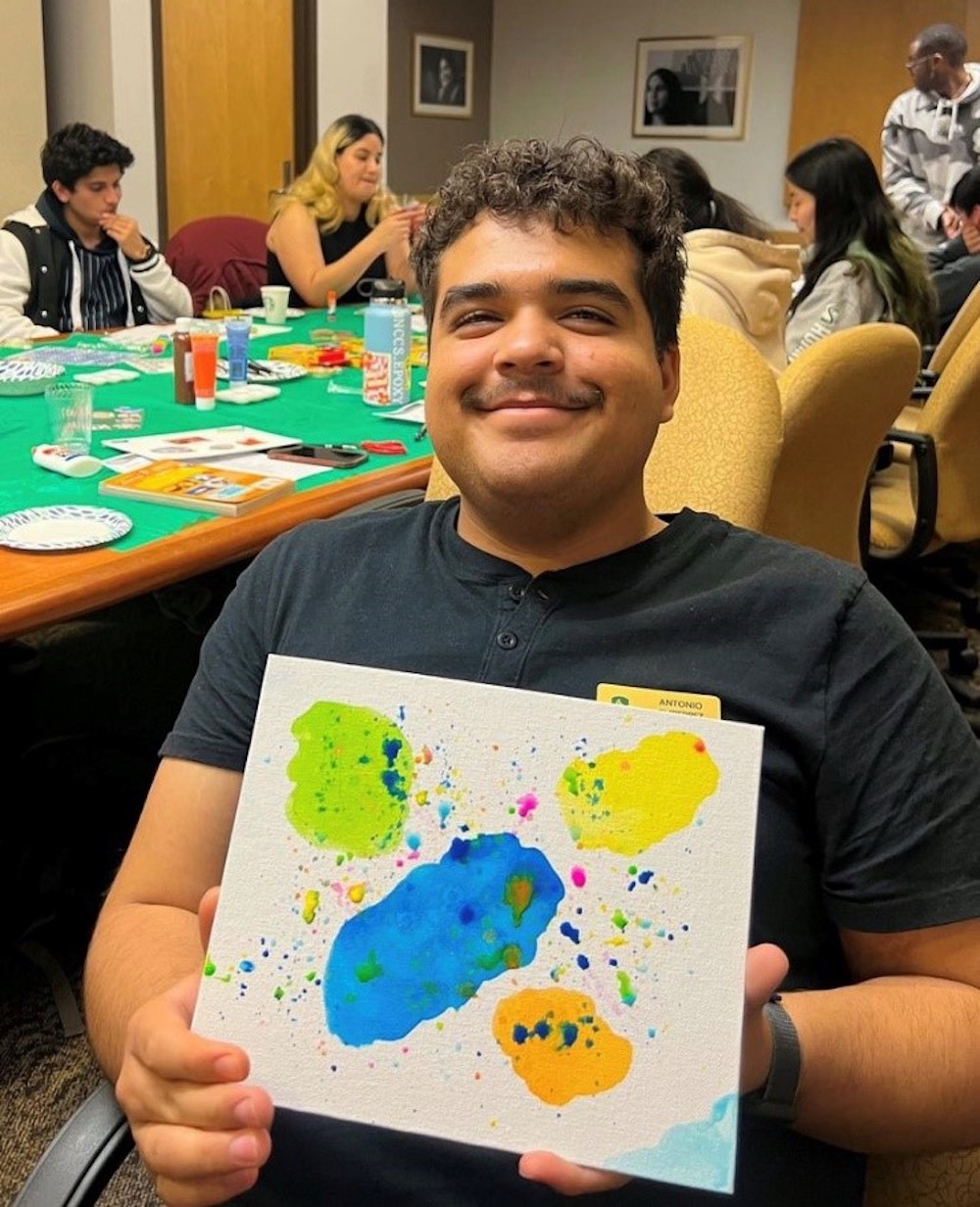 October 7, 2023
Feria de Educación
Free college fair for Latinx students and families
9:00 am - 2:00 pm
University Union
October 9, 2023
'Conversatorio' with Matías Mera and Dr. Juan Miranda
Presented by the World Languages and Literatures Department
4:30 - 5:20 pm
Auburn Room, University Union
October 9, 2023
Panel on Intersectional & Evolving Chicanx/Latinx Identities
Presented by the Chicanx/Latinx Faculty and Staff Association
12:00 - 1:15 pm
Join the Panel on Intersectional & Evolving Chicanx/Latinx Identities (virtual)
October 9 2023
Engage & Empower Series - Presented by Young Invincibles
The series will promote a greater understanding of the different elements of civic engagement, and encourage students to be good citizens and leaders
"Take Action: By Us, For Us!"
3:00 - 4:30 pm
Forest Suite, University Union
Register for "Take Action: By Us, For Us!"
October 11, 2023
¿Y Luego Que? Exploring Career Paths, Graduate Programs, and Options after Graduation
Webinar #1: Applying for State Jobs
Rita Gallardo-Good (Senior Associate VP, Public Affairs and Advocacy)
1:00 - 2:00 pm
Webinar #2: Working for the State
Laura Zaragoza (Manger, California Department of Social Services)
2:00 - 3:00 pm
October 12, 2023
Millennial Lotería Social
12:00 - 2:00 pm
Serna Center lounge
Register for Millennial Loteria Social
Award Ceremony - Voces de Sacramento Writing Contest
Orchard Suite, University Union
6:30 - 8:00 pm
Torchbearer Series
Discussion #1
You Made It, Are You Still Facing It? Educated Latinas Experiencing Impostor Phenomenon and Multiple Microaggressions in the Professional World. Dr. Isabel Acosta (Twin Rivers Unified School District)
Discussion #2
Voices of New and Underprepared Teachers Serving Marginalized Students: Lived Experiences, School Leader Perspectives, and Suggestions for Change. Dr. Konstantina Caster (San Juan Unified School District)
5:30 - 7:00 pm | Refreshments provided.
Multi-Cultural Center (Library Breezeway)
October 15, 2023
Hispanic Heritage Month ends.
Community Events
September 15, 2023
El Grito de Dolores (Cry of Independence)
5:00 - 9:00 pm
West Steps, State Capitol
September 15 - October 1
Crocker Art Museum's Estampas de la Raza Exhibition
Contemporary prints from the Romo Collection and Royal Chicano Air Force
216 O Street, Sacramento, CA
September 16, 2023
Sac Republic FC's Noche Latina
7:00 pm
Heart Health Park
1600 Exposition Blvd, Sacramento, CA 95815
September 18, 2023
Cheech Marin: Art, Comedy, and the Chicano Movement
6:00 - 7:00 pm
Register for the Cheech Marin: Art, Comedy, and the Chicano Movement
September 20, 2023
Latino Behavioral Health Week Luncheon
Join La Familia Counseling Center's luncheon and panel presentation on mental health in the Latino community
12:00 - 1:30 pm
Maple Neighborhood Center
September 28, 2023
Hispanic Heritage Month 5K Run/Walk (with Latinos Run)
6:00 pm
6610 Folsom Auburn Rd, Folsom, CA
Every Tuesday in September, October, November
3-Month Salsa Crash Course
7:00 - 8:30 pm
887 57th Street Ste B, Sacramento, CA