Current and Upcoming Exhibitions
LIBRARY GALLERY
Everything is Possible, Nothing is Probable: The Legacy of the Candy Store Gallery
March 15 – May 27, 2022

Blowback: New Work by MA in Studio Art Graduates 2020 & 2021
May 3 – 27, 2022


ELSE GALLERY
Senior Exhibition
May 3 - 13, 2022
with Art Ball, Friday May 13
Everything is Possible, Nothing is Probable: The Legacy of the Candy Store
The exhibition celebrates the enduring impact of the Candy Store Gallery founded in 1962 in Folsom, CA under the irreverent eye of gallerist Adeliza McHugh. The exhibition features works from the Sacramento State Art Collection.
Blowback
Featuring new work by 2020 & 2021 M.A. in Studio Art graduates: Liliana Karavay, Bliss Morton, Matthew Pugh, Kat Rios, and Seongmin Yoo.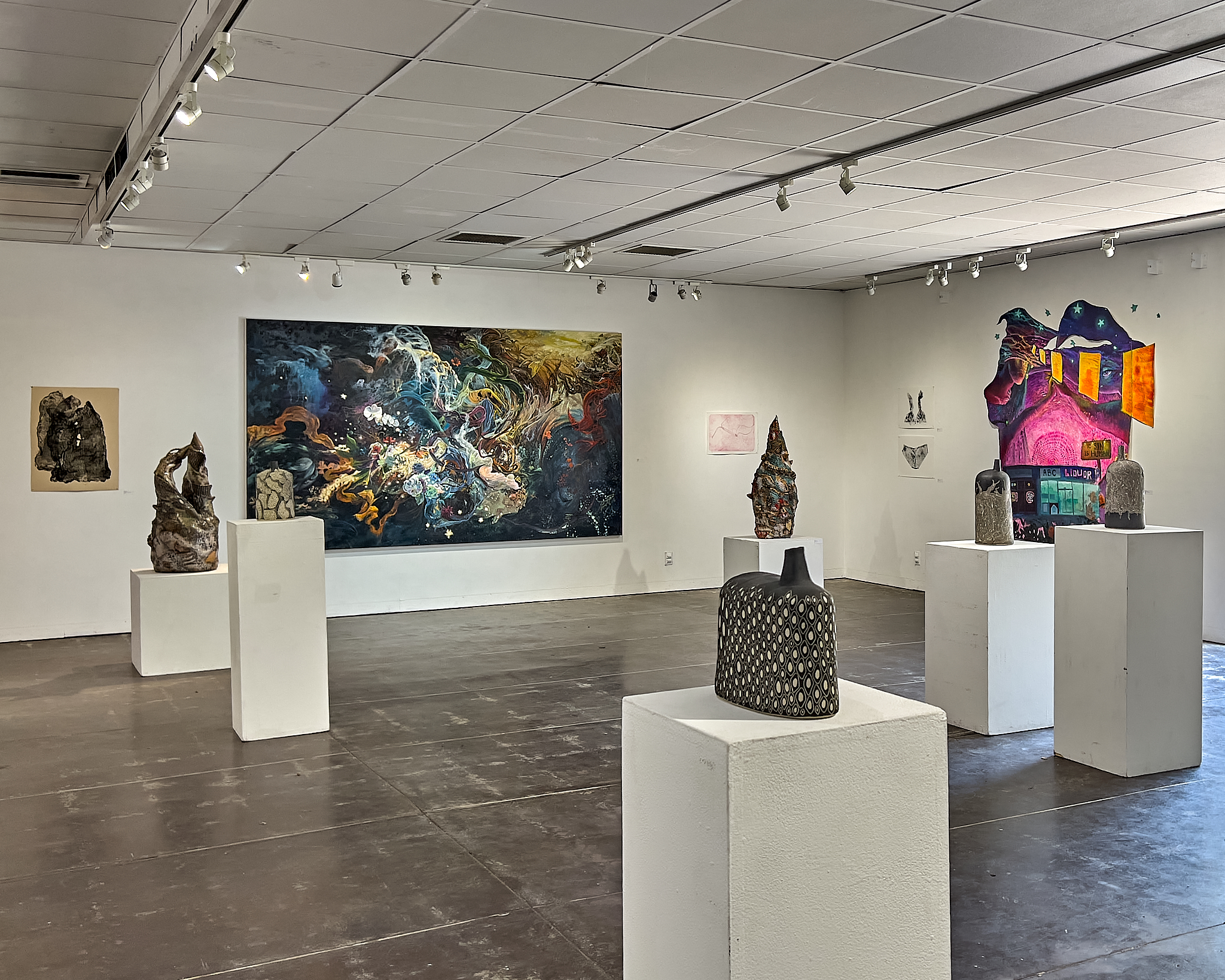 Senior Show 2022
May 3 - May 13, 2022
The graduating artists from the Art Department will be showing their work in the Witt and Else Galleries at Sacramento State. Included in the show are works in ceramics, drawing, painting, printmaking, new media, and sculpture/installation.
Else Gallery & Witt Gallery
Reception Friday, May 13, 6 - 8PM
https://www.trumba.com/calendars/sac-state-department-of-art.json
University Galleries Fall Internship
The University Galleries is pleased to offer a paid internship opportunity for Fall 2022.
The internship will provide an introduction to collection care, exhibition curation, and gallery management. The internship can be customized to student's particular interests in collections, curating, art education or exhibition production. Open to students currently enrolled at Sacramento State. Each internship is 3 units of academic credit (9 hours per week) and is paid. For more information, download the application.
Visiting
Please refer to the CAMPUS MAP for the closest parking structures to the galleries. Also included are instructions on how to purchase a parking permit.
About the Galleries
The University Galleries includes the University Library Gallery, the Robert Else Gallery, and the RW & Joyce Witt Gallery.
Gallery Hours
The University Galleries are open during the academic year and closed to the public for the summer months.
Library Gallery
Tuesday - Friday, Noon - 4PM (currently closed)
Else Gallery and Witt Gallery (Kadema Hall)
Tuesday - Friday, Noon - 4PM (currently closed)
Galleries are closed on Monday.
Connect with [Name]
Find Us
University Galleries
Library Building, Library Gallery