ABA AWARDS & RECOGNITION
Facilities Services Recognizes Employees of the Month
May 2013 - Robert Toal, Electrician
"Robert's strong work ethic and concern for the University earned him this month's award. There was a campus wide power outage on April 4, 2013. The entire electric shop responded quickly to restore service and begin troubleshooting.
Robert was determined to figure out what happened. Using binoculars, he scanned nearby power lines and the embankment underneath. He discovered a group of partially melted Mylar balloons that were settled in the weeds not far from the power lines, the likely cause of the campus outage. Because of Robert's determination, self-motivation and persistence, we were able to close the case on this mysterious and serious incident."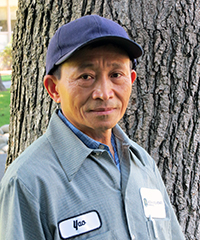 June 2013 - Yao Saechao, Custodian
"Yao's pattern of attendance is perfect and productive. Yao is always on time, never late, shows up ready to go and has an excellent work ethic. His coworkers and supervisors alike view him as a 'Superstar'!
Everyone wishes to have Yao on their team, which gives evidence to his ability to foster positive relationships. He is a great team player as well as an effective project leader. He treats everyone with respect, and is very well respected."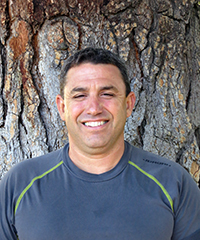 July 2013 - Auggie Johnson, Facilities Project Supervisor
"Auggie is punctual, constantly prepared for the task at hand, and fully engaged and accessible throughout his shift. Auggie has proven that he is committed to maintaining his accountability for delivering quality customer service.
He keeps his staff productively focused on the task at hand, and efficiently balances the need for meeting the University's mission in the most competitive manner possible. Auggie's leadership as a change agent is very much needed and valued."

August 2013 - Linda Deegan, Gardening Specialist
"Linda is someone who will pick up right where she left off on a pruning project, cleaning out a flower bed, or repairing an irrigation system, thus making regular full circles throughout her assigned zone. This in turn helps keep the area in top shape year round and really assists us in our goals.
Linda works side by side with three Grounds workers that are assigned within her larger zone. Linda possesses a strong background in Horticulture and she has consistently shared this knowledge with her co-workers while they complete their daily tasks together. This contributes to a progressive and enlightening work atmosphere for those around her."
Public Safety Honored by MADD
On June 1st, Nathan Rice and Matt Light were honored by representatives of Mothers Against Drunk Driving (MADD) for their role in reducing the number of drunk drivers in California.
As Police Chief Mark Iwasa explains "The MADD Award recognizes law enforcement officers for their key role in reducing the impact of drunk drivers in the state.
Sacramento State Police Officers Light and Rice vigilantly patrol our jurisdiction and root out this dangerous element. Although a drunk driving arrest is costly to the driver, it pales in comparison to the death and destruction that impaired driving can and does cause."
View the Winners of the 2013 ABA Staff Peer Awards
The ABA Staff Peer Awards Program is a recognition program that allows ABA staff to recognize the valuable contributions of their colleagues. Awards are presented annually in the following categories: Customer Service, Problem Solver, Teamwork, Positive Attitude, Professionalism, and Innovation.
Awardees are recommended to the vice president by a selection team, many of them 2012 award recipients.
To view a full list of this year's awardees and the selection team, click here.
Public Safety Recognizes Employee and Student of the Quarter
Each quarter, Public Safety recognizes one student and one employee for the employee and student of the month program. The winners are recognized publicly amongst their colleagues and treated to an office potluck. The latest winners are:
Employee of the Quarter, 2nd Quarter 2013 - Paul Skrinie
"Officer Skrinie always arrives to work in a cheerful and positive manner. He works very hard each day to accomplish something positive for the department. He is a pro-active officer who is a great teammate as well. Officer Skrinie is professional, hard-working and he always has the best interests of the campus community at heart. His positive attitude is infectious and he helps to make this a great place to work."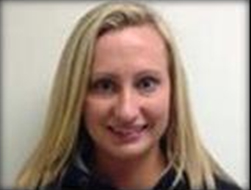 Student of the Quarter, 2nd Quarter 2013 - Aleksandra Blagadarova
"CSO Aleksandra Blagadarova was working the graveyard shift at the Residence Hall when she observed a suspicious male subject loitering in the quad area. She did not believe the subject to be a student, so she provided clear and concise radio traffic of the subject's actions, descriptions and direction of travel that were beneficial to the responding officers.
Once officers arrived at the scene, they were able to immediately identify the subject. Based on CSO Blagadarova's action, we were able to identify and stop a potential bicycle thief. CSO Blagadarova did an excellent job maintaining her officer's safety awareness by not attempting to contact the suspicious subject herself. Great job Aleksandra!"