ABA'S GOT TALENT!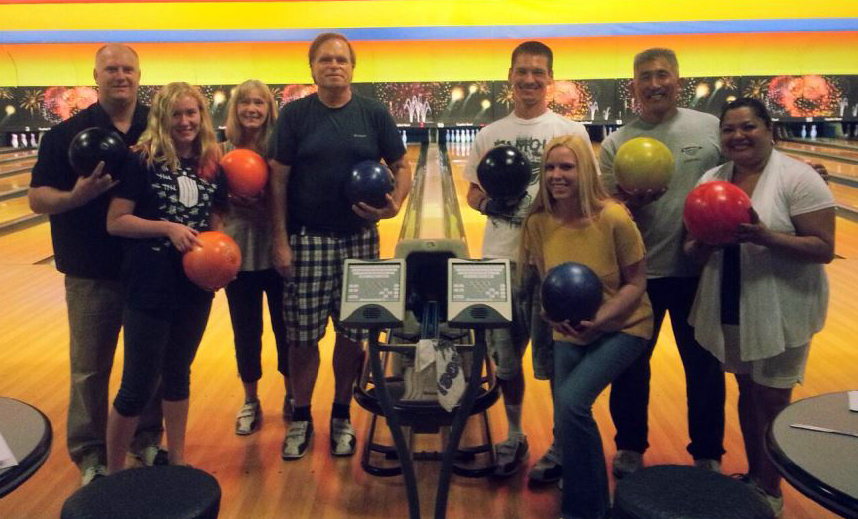 League Strikes Again
ABA's talented bowlers took on another season of play this year, challenging each other and a few outsiders to weekly matches. Organized by Serena Fuson, Public Safety, and promoted by the department, the league recently concluded its 2013 finale.
Capitol Bowl is where the action is, and bowlers have gathered there since the summer of 2012 to showcase their skills. Handicaps are de rigueur, as all but the most serious are there for the camaraderie. But no sandbaggers here.
ABA is reported to have some serious "scratch" bowlers (i.e., talent) on their side, but this year's champion was crowned, hailing from Intercollegiate Athletics. The team included: Gergana Avramova, Brock Bergstrom, Jennifer Bergstrom, Cheryl Boyes, Kylie Hurn, and Rose Welch.
If you are interested, keep an eye on your email inbox, as there are plans to put together a winter bowling league! Contact Serena Fuson for additional information.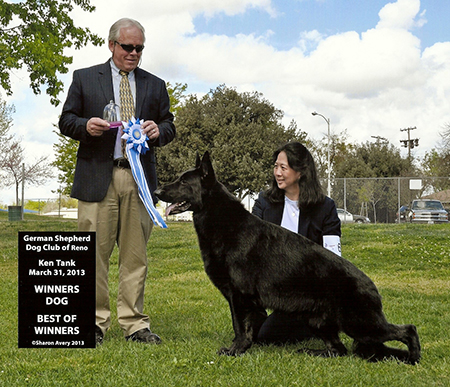 Best of Winners
Stacy Hayano, associate vice president of Budget Planning & Administration, prides herself on both her work and her prize-winning German Shepherd, Jackson.
Jackson has been awarded Best of Winners in two events this year, first in March, and most recently in August. Jackson has been competing since he was just a pup, around nine months old.
Competition for this title is tough. "There are Specialty shows that are sponsored by the various German Shepherd dog clubs which are highly competitive. The judges are usually former or current German Shepherd breeders who also show their dogs," said Stacy. "Then there are the All-Breed shows which have the various dog breeds shows going on throughout the day. Typically, the judges for these shows are not German Shepherd breeders, but they are licensed to judge the breed as well."
Stacy enjoys not only showcasing Jackson, but the community aspect of shows as well. "I love watching the dogs going around the ring, studying their movement, hanging out with all the breeders I've gotten to know throughout the years. The people are really nice and it's fun talking about dogs with them." Good luck to Jackson in future competition!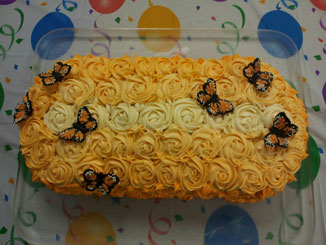 The Cake Artist

It takes a special kind of artist to enjoy having their work destroyed. Elena Larson is that kind. "I'm not the least bit sad to see it cut into. I want the recipient to be pleased, and I want it to taste good." This is, after all, a cake we're talking about, even though it could easily pass for ceramic sculpture.
Elena, assistant director of the Student Financial Services Center and Collections, has been decorating cakes, cupcakes and cookies for just four years now, but has always loved cooking and baking. She has one "beginner" class under her belt, but is mostly self-taught.
Elena has no plans to transition her hobby into a business. Although she does take requests for friends and family, "It is just for fun," she says. "I really enjoy the whole process. I like doing the research to come up with an idea, sketching out designs, and then creating something fun that is also edible!
Elena is a purist, using either cream cheese or buttercream frosting (no shortening), rather than the cake decorators Play-Doh called "fondant." Fondant is the perfectly smooth cake cover that you can do some really cool things with, but it doesn't have the rich flavor of a true frosting, according to Elena.
The beautiful piece above, crafted by Elena, was devoured at Tomoko Matsuda's retirement party in June.  
BBQ King is Two Time Champ

For the second consecutive year, ABA organized a BBQ cook-off which was held at the annual Spring Social. Contestants prepared BBQ chicken, beef tri-tip, or pork ribs, which were sampled by a panel of judges selected from among their fellow ABA colleagues.
Prizes are awarded to winners in each category, and to one grand-prize winner with the highest overall scores.
Public Safety's Police Chief Mark Iwasa placed first in the pork ribs category, and also took home the cook-off's grand-prize trophy for the second year in a row. The two-time winner was challenged by stiff competition this year, with several dishes scoring very high.
The ABA BBQ cook-off was such a success that it is scheduled to return next year. The question everyone is asking is - "Will anyone top the two-time winner next year!?" Alternative cooking-related competitions are being considered for other future ABA events. Stay tuned!
Passing the Bar

In a previous issue of The FOCUS newsletter, we featured Public Safety's Nooria Kakar, highlighting her educational goals of earning a law degree. We wanted to update you on her progress. In June of 2012, Nooria graduated law school after attending classes part time for four years! After taking the bar exam in February, Nooria passed on her first attempt and was sworn in on June 5th, 2013!
After having passed the bar exam and receiving her degree, Nooria is now a licensed California attorney! Congratulations Nooria!