Global Navigation
VOL.5 ISSUE 2 FALL 2011
Page Content
TECH TIPS
ACCESSING SACFILES FROM A REMOTE COMPUTER
Did you know it is possible to access your personal work files from home? With SacFiles, you have that flexibility! SacFiles is a service that allows students, faculty, and staff to store personal files on Sac State servers that can be accessed from any computer on or off campus. This service is ideal for users who lack personal storage devices, such as flash drives, those who wish to back up existing files securely, and those who want the the ability to work from home or on the go.
Please note: the following instructions are for computers with Windows operating systems, including XP, Vista, and 7. The instructions are intended to create a temporary connection, for instructions on how to create a permanent connection to your SacFiles, or how to connect with a Mac, visit IRT's support page here.
To use this service, the first step is saving files to the proper location so they can be accessed later. All employees, and anyone with a SacLink account, can use this service by locating their "U: drive." To view your "U: drive," select "My Computer" from your work station's desktop, you should see something similar to this:



This is the location where you must save any file you wish to access remotely. Staff have access to 2.0 GB of memory by default. To access your "U: drive" files from another computer, on campus or off, follow these steps:


1. From your off-site computer, open "My Computer" and type the following in the upper address bar: ftp://ftp.saclink.csus.edu. Then hit "Enter."

2. This will bring up a menu prompt for your SacLink username and password. Enter your SacLink username and password.
3. After entering your username and password, your files will appear in the window. This will allow you to access any of the files contained therein. However, don't forget - if you make any changes to the files, make sure to save them back to your SacFiles so that you can retrieve the revised version.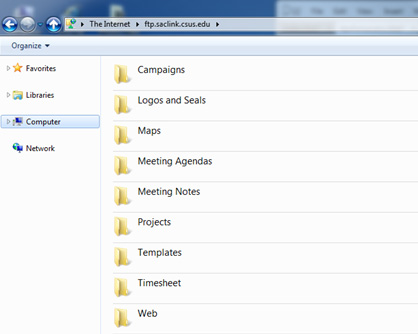 For more information, including alternative methods for accessing your SacFiles and frequently asked questions, visit IRT's FAQs page here.