Print
University Print is Sacramento State's official print shop, offering one-stop copying and printing services to faculty, staff, and students. Our team is committed to providing outstanding customer service, competitive pricing, and high-quality results.
Please note that most print projects can now be estimated through University Print's new online ordering system, Print Shop Pro. If you have not yet attended training or are having difficulty locating your print category, please use the form below to request an estimate for your project.
Your estimate will arrive within 24-48 business hours. Should you have any questions about this form or your work order, please call us at ext. 8-6198.
REQUEST AN ESTIMATE FOR SERVICES HERE
Instructions for setting up Canva files.
Department Office Closure Notice
In the event that your department will be closed during normal business hours (M-F-AM-PM) please click here to Notify us of your Closure. This will enable us to better prepare for deliveries that may be coming to your department.
Copying & Printing Services
Let us help you to plan your next project!
It's never too early to include University Print & Mail in your planning purposes. We can assist your team with reviewing our capabilities, establishing a production schedule, identifying potential cost savings, ensuring mailing compliance, and potential postage-saving opportunities. Please consider including us in your planning meetings.
Here is a list of some of our services:
Acrylic Awards
Black and White Copies
Color Copies
Color brochures, posters, and flyers
Carbonless forms
Comb and coil binding
Easel signs for meetings or conferences
Event invitations and programs
Inserting and tabbing
Laminating
Letterhead, envelopes, and business cards
Magnetic Name Badges
Numbering and perforating
Rigid Lanyard tags or Luggage tags
Single or multi-color postcards & newsletters
Secure exam copying services
Wide-format services: A-Frames, canister banners, vinyl banners, wall wraps/graphics, window perf
Creative Services
Got a message? Our Graphic Design services will craft it into a visual experience your target audience will enjoy and share.
Planning a presentation, conference, symposium, or other specialized events? Use our Design Services to transform your vision into impactful printed and digital pieces. Let us create a suite of graphics that address all of your visual communication needs.
Our expert in-house graphic designer is an industry professional, current with design trends, and well versed in the University's brand guidelines. Design Services can help create new materials or enhance an existing design.
Business Cards, Letterhead & Envelopes
Please note the following when selecting your business card options:
Templates for all business card options can be found in Print Shop Pro.
Faculty: Per the University Brand book (2015), all faculty are required to use the business card option with the official seal. This also applies to the following: President, President's Staff, Cabinet, Faculty, and President Emeritus.
Exceptions to business card standards must be reviewed by University Marketing who will work with the president's designee as needed. Please submit your exception request to universitymarketing@csus.edu.
Staff: University Staff are required to use a business card version that includes the "Sacramento State" logo.
Social Media Back Option: If you select the social media back option, the addresses provided must include SacState. If your department does not have one or more of the social media options, the campus one will be used in its place.
Outside Vendor Policy
Can I use an outside vendor for printing?
Per the University Procurement Manual, University Print has the right to review all print and copy projects for the University.
Should University Print be unable to provide the required service within the necessary timeframe, or price match an outside quote, we have the option of coordinating the project with an off-campus vendor.
Alternatively, University Print may issue the department an approval to use an outside vendor for a specific job. If you would like more information pertaining to the use of an off-campus vendor, please contact University Print directly at extension 8-6198.
Fair Use Copyright Law
What are the rules regarding fair use of copyrighted material?
One of the most frequently asked questions relates to the use of copyrighted works in higher education. This United States Copyright Office document, though not legal advice, provides the basic information to guide you as you contemplate the reproduction of copyrighted material for use in your classroom. We have highlighted in yellow the most critical portions of this document for quick review.
DART (Delegation of Authority & Reports To)
If you are responsible for submitting University Print Work Orders, please take a moment to review the authorized approvers for your department. You can review your Delegation of Authority by logging into MySacState, selecting CMS Campus Solutions (SA) Access under the Faculty/Staff Related Links, select Sac Delegation of Authority, select Delegation Inquiry. Once on the Inquiry page, enter the Department ID and hit "Search." Authorization for Print orders falls under the "Other Category."
If you find that your department's list is out of date, you will need to do a CARS Request. More information on the CARS process can be found here. Keeping this information current ensures that your orders will not be delayed due to the authorization process.
Location
Facilities Building, Rooms 114 & 112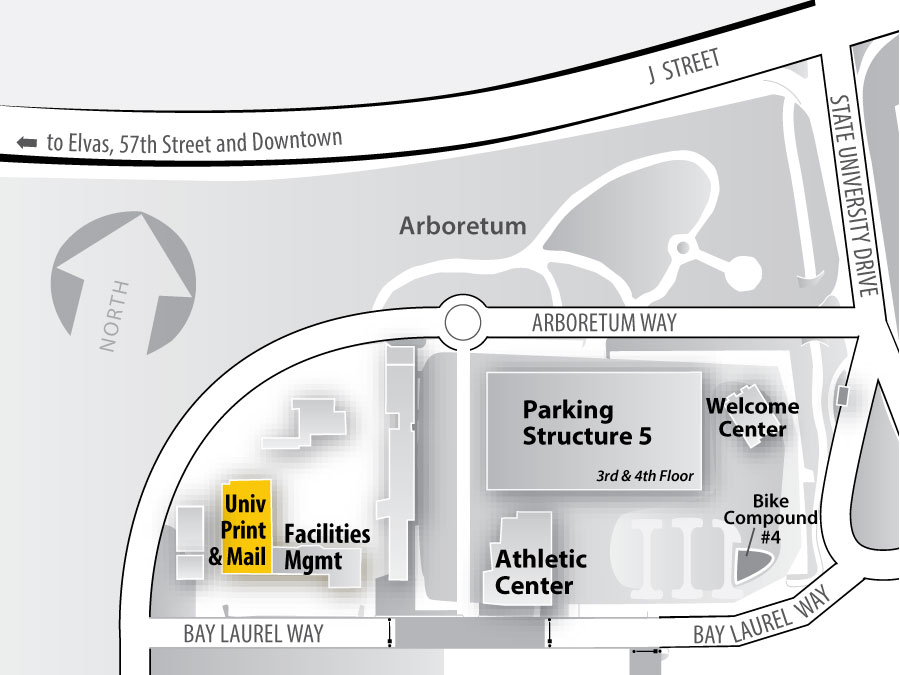 Campus Distributions
Campus distributions are a great way to get your message into the hands of faculty, staff, and administrators at Sacramento State. This service is available to university departments, bonafide faculty/staff/student organizations, and university auxiliaries.
Campus distributions can be requested through Print Shop Pro. You may either request your project to be printed and distributed, or you may verify the count needed for your specific distribution and supply the required number of pieces.
Updating our Distribution Sheets:
Help us keep the campus distribution counts and administrator names current. For each of the categories below, search or scroll down to locate your department mail stop. The administration list includes the names of MPP, Program Director, Associate Dean, and Department Chair contacts for your mail stop. The faculty/staff list includes the count only for each category. Then click here to submit any deletions, changes or additions to your department's information. The lists are updated on a quarterly basis.
Please note: To avoid a common cause of duplicate mailings, do not include MPP, Program Directors, Associate Deans, or Department Chairs in your faculty or staff counts.
MPP / Program Directors / Associate Deans / Department Chairs