Request a New University Logo
Before requesting a new logo, it can be helpful to understand the University's Visual Identity Architecture and the University Marks that are already available.
Core Identity: Logos & Logotypes
The University overall is represented by a set of Core Identity Logos & Logotypes that are available for University faculty, staff, and delegates to use for official University communications as long as they adhere to the guidelines established in the Sacramento State Identity Style Guide.
Formal Logotypes (Formal Voice)
The University's Official Seal is used selectively, and is reserved for events like Commencement and official communications from the University's President. It is available by request only. 
Primary Logos (Standard Voice)
Nickname Logo & Logo Type (Casual Voice)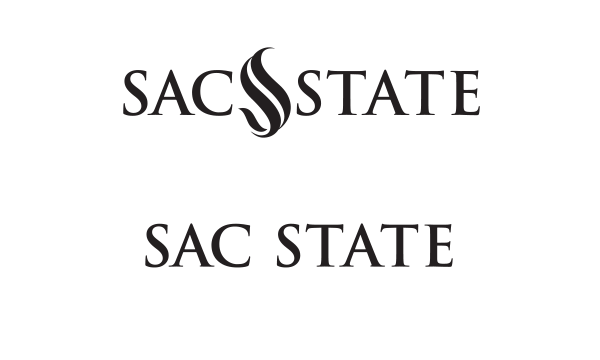 Identity Extensions: Integrated Logos & Logotypes
Identity extensions, units or programs that directly support the University's primary function, can use Integrated Logos & Logotypes in place of core identity marks, if desired.
Identity extensions include administrative units, colleges, departments, programs, centers, initiatives, projects, and others. The integrated logos and logotypes include the unit name combined with a primary University logo or formal logotype. They can be for a single unit, or for two. For instance, just a college or both a college and one of its department.
One-Position Integrated Logos & Logotypes for the University's primary administrative units and eight colleges are available for download and must be used in accordance with the guidelines established in the Sacramento State Identity Style Guide. 
To see the additional integrated logo variations available, visit Logos & Logotypes in the Brand Toolkit. Scroll down for of one- and two-position Integrated Logos and Logotypes.
Because of the many options and variations for one- and two-position integrated logos, they are created by request only.  University Marketing is the only unit authorized to create integrated logos.
To request a new integrated logo
Email universitymarketing@csus.edu to request an integrated logo or logotype. 
Refer to the logos you would like to have created by the specific name (e.g. Primary Horizontal Integrated Logo with One Position). See examples and logo names here, logo names are in green text, all caps. 
For a two-position integrated configuration specify the name for each position. For example:  First position – College of Health & Human Services; Second Position –  - School of Nursing. 
Allow a minimum of 10 working days for production.