Crime Prevention & Safety Tips
If you are new to Sacramento State or, perhaps, a concerned parent with a son or daughter attending the university, the following strategies may help prevent you or your child becoming a victim of crime in the college environment.
The suggestions contained here are specific to Sacramento State, and are a result of over 20 years' experience in the investigation and analysis of campus crime.
These suggestions are being made to help increase awareness about the most common crimes at the university.
Stay Connected & Stay Safe!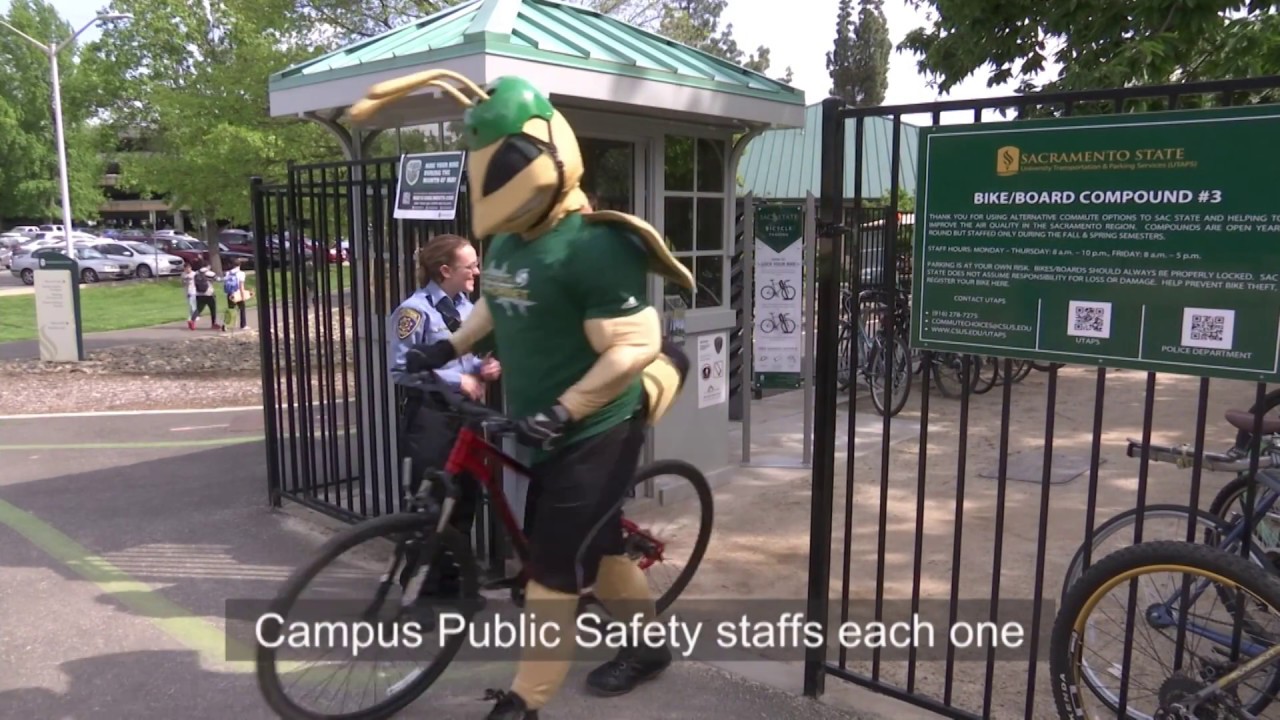 Bicycle Theft
Always lock your bicycle to a fixed metal rack in a designated bicycle parking area. A metal U-type lock is recommended.
Take with you any parts that are quick-release and cannot be secured.
Always record your serial number. It is a good idea to engrave your frame with your driver's license or identification card number. The department has an engraver and can loan it to you at the front counter.
It is recommended that you register your bicycle with the Sacramento State Police Department so that the serial number and description is readily available just in case the bicycle is stolen. The Police Department is open 24 hours for bicycle registration. The chances of recovering a stolen bicycle increase when a serial number has been entered into the California-wide stolen property data base.
Minimize your losses ahead of time. Do not ride to campus on a high dollar bicycle.
Campus Safety Tips
Walk in groups or pairs when you are out at night. Consider carrying a flashlight, whistle, pepper spray, or a cellular telephone when you go out.
Program the Sacramento State Police Department's dispatch number, (916) 278-6000, into your cellular telephone.
Learn the location of the nearest emergency "blue" phones on your walking routes through the campus.
Utilize the Hornet Night Shuttle (916) 278-7260 or contact the Sacramento State Police Department for an escort when on campus at night.
Report any occurrence of inappropriate behavior, suspicious activity, or criminal acts to the Sacramento State Police Department immediately. Delays in reporting only slow the investigation and will lessen the chance of an arrest.
Don't consume intoxicants to excess. An intoxicated person is much more vulnerable to criminals than a sober person.
Never place yourself into a situation in which you feel uncomfortable or would have difficulty removing yourself.
Always be aware of your surroundings, and always know where you are.
Watch for suspicious people or vehicles, and go to a place of safety if approached by a suspicious person or vehicle.
When driving at night, stay on main streets. Don't wander into neighborhoods you don't know, keep your car doors locked, and let friends or relatives know you are on the road.
Never be afraid to make noise if you are attacked; yell, scream, and try to attract attention. The last thing an attacker wants is to have someone notice them.
Never give out personal information to someone you don't know.
Opportunity Theft
Opportunity theft is the most prevalent crime on any college campus.
Always maintain possession of your books and valuables.
Never leave them unattended to search for a book or leave to use the restroom.
Victims often tell us that they left only for a minute and came back to find their property gone. One solution is to ask a friend to watch your gear if it is not practical to take with you.
Crime & Suspicious Circumstances
Always report crime and suspicious activity immediately. The Sacramento State Police Department's dispatch number is (916) 278-6000. The chances of an apprehension and recovery of property greatly increase when citizens call the police right away.
Motor Vehicle Theft
Always lock your vehicle and use a club-like device to lock the steering wheel.
Equip your vehicle with an alarm system that includes a flashing LED that can be seen from outside the vehicle. This, at least, puts the amateur vehicle thief on notice that taking the vehicle may not be worth the hassle.
Arrive early and park smart. That is, park in an area with a high concentration of foot traffic or with people present. Or, if you park at night, park closer to areas that have the best lighting, with good visability.
Consider adding a vehicle anti-theft system to your vehicle such as Lo Jack or one that works with a global positioning system. Each system allows the vehicle, if stolen, to be tracked by the police for a speedy recovery.
Also, be informed. Check with your insurance company to see what makes and models are the most often stolen.