Online iMBA
A Fully Online, One Year, Cohort-Based, AACSB Accredited Program
New Program for Fall 2021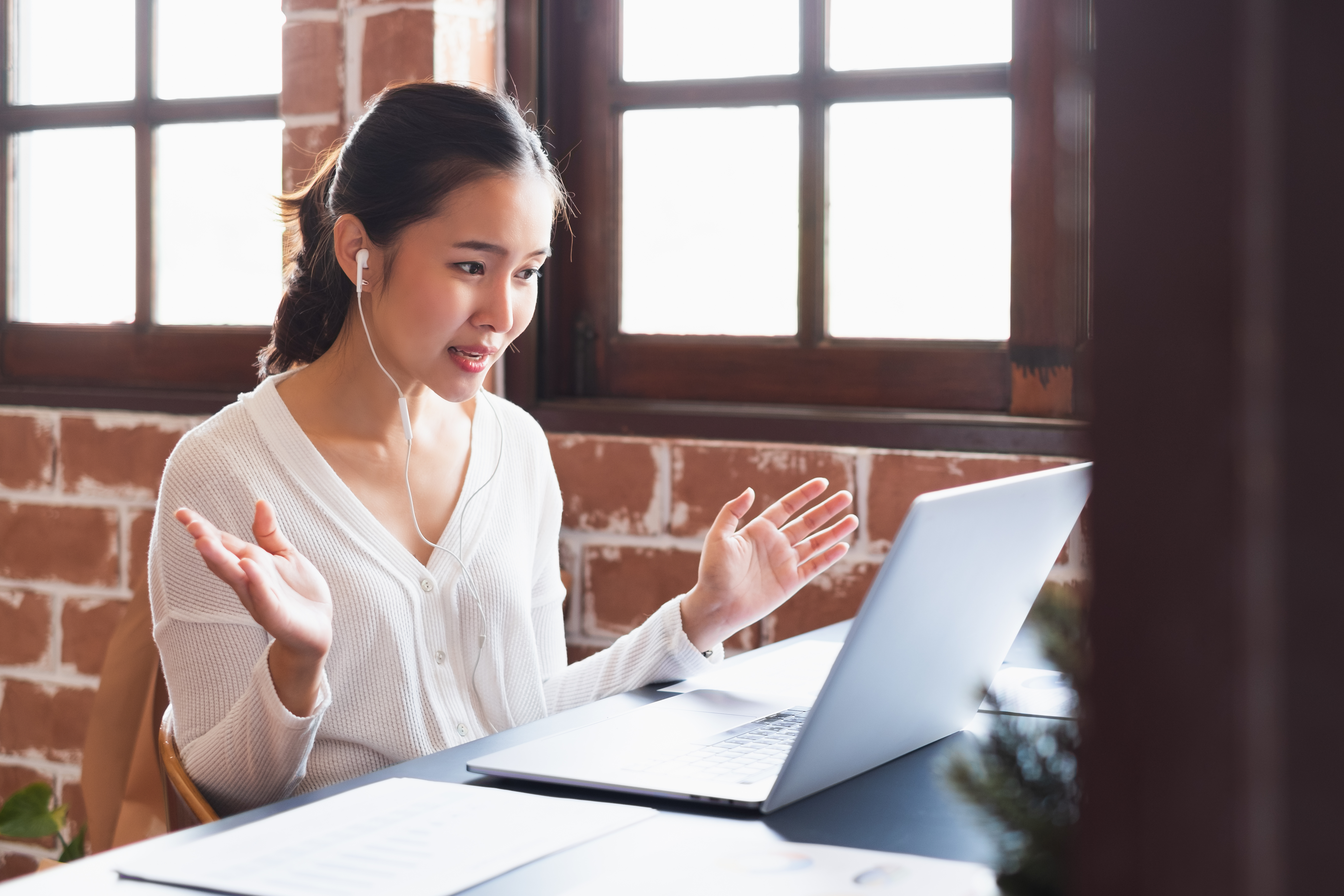 Master best practices in business enterprise, expand your network, and accelerate your career.
The AACSB accredited online iMBA program at Sacramento State prepares students from the United States and around the world to be business leaders in the global marketplace. Advances in technology have opened commerce to an international scale and heightened the competitiveness of business everywhere. As a result, the demand for well-educated executives and managers has grown at phenomenal rates. The online iMBA program provides students access to in-depth learning and practices in different business functions leading to successful international enterprises.
International students will not be issued an F-1 student visa for this program as it is a completely online program.
Now Accepting Applications for Fall 2021!
You can begin your Fall 2021 application and submitting the necessary documents now.
Fall 2021 application deadline: June 26, 2021
For more information regarding admission requirements, discuss curriculum information and get connected to current students, alumni, and faculty, please contact Claire Goldsby at goldsby@csus.edu.
Download the Online MBA Fall 2021 Schedule
Application Information - Fall 2021
1. You are required to submit two applications (one for the College of Business and one for California State University, Sacramento). You can begin your COB application by registering and submitting the necessary documentation through the
COB Application for Fall 2021
Once you submit your COB application, you will be given the opportunity to log back into your application student center and see a checklist of items needed including 2 letters of recommendation, resume, transcripts, and test scores. There is no fee associated with this application.
2. You will also be required to submit an application via Cal State Apply and pay the $70 fee. Once you create an account, select the term — Fall 2021 — and the campus — Sacramento State. You will then see the program listed under "Sacramento Extension".


Official transcripts should be sent to address below.
Office of Graduate Studies
California State University, Sacramento
Riverfront Center, Room 215, MS 6112
6000 J St.
Sacramento, CA 95819
Electronic transcripts submission systems; that allow for you to enter an e-mail address; please use the following e-mail address: gradtranscripts@csus.edu
U.S. Residents with international documents/transcripts AND international applicants must submit their transcripts for evaluation at least one month prior to the listed deadline. Additional Evaluation Information for Domestic Applicants with Foreign Documents.
Please visit the Office of Graduate Studies for more information regarding foreign documents.
Minimum Admission Criteria
Have earned a 2.5 cumulative GPA en route to an undergraduate degree from accredited institution;
Meet the English Language Requirement for students who earned a degree from an Institution located in a nation where English is not the official language.)
Application Checklist
Below is a step-by-step guide that details how to apply to the online iMBA program. Please submit your whole application package, including supplemental application documents (resume, statement of purpose, letters of recommendation, and official transcripts) by the deadline. Additional materials may also need to be submitted for visa processing and to enroll in the program.
The College of Business has decided to waive the GMAT/GRE admission test requirement for the Fall 2021 application cycle.
Steps
Description
Complete the Cal State Apply Online Graduate Application
Complete the online application via Cal State Apply. You must pay the application fee of $70 and press the "Submit" button to be complete the application.
California Resident Applicant Instructions | (FAQ) 
Create a SacLink account and email address
An email will be sent to you approximately one week after you submit your Cal State Apply application. The email will come from the University Office of Graduate Studies and contains instructions on how to create a SacLink account and Sac State email address.
Create your Supplemental Application 
The Supplemental Application for Fall 2021 can be found here. Create an account and then confirm your account creation though the email sent to you. Please check your junk folder in case it accidentally gets filtered.  Complete the required information in all sections except the "Requirements" section. Click the "Submit" button to submit your basic supplemental application information without uploading any of the supplemental application documents.
Request Letters of Recommendation
Applicants are required to submit at least two (2) letters of recommendation. Follow the instructions in the supplemental application to send recommendation invitations to your two recommenders. Your invitations will be sent when you submit your supplemental application.
Upload supplemental application documents to complete your application
Applicants are required to upload the following as part of their Supplemental Application:
1) Current resume;
2) 1-2 page statement of purpose;
3) Student copy documenting English Language Requirement when applicable (TOEFL, IELTS or ELI).
Once you have completed your basic supplemental application, you will be able to access your Student Self-Service Center. From the "Applications" tab, click the "Summary" button. You will then see a summary of your application, permitting you to see the status of your required documents and providing an upload option. Please use the Student Self-Service Center to upload your required documents and complete the remainder of your supplemental application.
Mail unopened copies of all official transcripts
You must send transcripts from ALL colleges and universities attended to the Office of Graduate Studies. Sacramento State current students or graduates: only submit transcripts not previously submitted to the university or from institutions attended after graduation. Transcript Mailing Instructions
Program Highlights and Costs
Accelerated Format
12-month program 
One course at a time (each course is 3 weeks long)
Flexible Scheduling
100% Online 
Classes are held on Fridays (3-7pm) and Saturdays (8am-2pm)
Cohort-based Learning
Stimulating networking environment
Group work
Outstanding faculty
Scholar with industry experience
Executive co-instructors & guest speakers
Quality Accredited Program
AACSB accredited program
Assurance of student learning
Program Cost
The total cost for the program is $29,500 which includes textbooks and course materials. The program will be billed in installments per class and a fee schedule will be provided for you based on the admission term.
Financial AId 
Financial Aid may be available for students pursuing the MSA degree. We recommend starting the financial aid process as early as possible by completing the Free Application for Federal Student Aid (FAFSA). More information can be found here.
Online iMBA FAQ's
What is the degree name on the diploma?
The online iMBA graduates earn an Master of Business Administration (MBA) degree upon graduation. There is no concentration. 
What is the class schedule and asynchronous/synchronous work?
Each class spans 21 days with 15 asynchronous days and 6 synchronous days. The synchronous class time meets on Fridays from 3pm - 7pm and Saturdays 8am - 2pm. Students are expected to attend online class meetings on Fridays/Saturdays. The Fall 2021 calendar can be found here. 

How much is tuition and what is the payment schedule for tuition?
The online iMBA program is $820 per unit with a total of 36 units (12 classes). The total cost of the program is $29,520. Tuition payments are per class. A payment schedule can be found here.

What is included in the tuition?
The online iMBA tuition is all-inclusive and includes all textbooks, course materials, student fees, and access to Sac State campus facilities/resources (e.g., library, career and advising services, and networking events).

Is work experience required for admission?
Work experience is NOT required for the online iMBA program.

Is Financial Aid available for the online iMBA program?
Yes, financial aid is available through the FAFSA process. Please visit the College of Continuing Education's website for more information regarding financial aid. 
Online iMBA Academic Curriculum
Online iMBA curriculum focuses on international business management and global mindset. Course descriptons can be found in the current Academic Catalogue.
| Course Number | Course | Units |   |
| --- | --- | --- | --- |
| Bootcamp | Statistics |   |   |
| Bootcamp | Financial Accounting |   |   |
| Bootcamp | Economics |   |   |
| IMBA 215 | Info Tech Management | 3 |   |
| IMBA 217 | Business Law and Legal Environment | 3 |   |
| IMBA 216 | Human Resource Management | 3 |   |
| IMBA 244 | Project Management | 3 |   |
| IMBA 210 | Managerial Accounting | 3 |   |
| IMBA 241 | Comparative International Management | 3 |   |
| IMBA 243 | Global Supply Chain Management | 3 |   |
| IMBA 213 | Marketing Management | 3 |   |
| IMBA 242 | Multinational Corporate Management | 3 |   |
| IMBA 214 | Statistical Decision Making | 3 |   |
| IMBA 211 | Global Corporate Finance | 3 |   |
| IMBA 500 | Leadership and Change Management | 3 |   |
Current & Admitted Student Information
Contact Information
Prospective Students & Admissions
Claire Goldsby
(916) 278-2895
Tahoe Hall - Room 1020
imba@csus.edu
Program Curriculum
Eric C. Lin, PhD, CFP®
Faculty Director
(916) 278-7229
Tahoe Hall - Room 2058
lin@csus.edu
Academic Advising;
Serena Hoffman, M.S.
Academic Advisor
(916) 278-6391
Tahoe Hall, Room 1020
imba@csus.edu
Mailing Address
California State University, Sacramento
College of Business Administration
Tahoe Hall, Room 1020
6000 J Street, Sacramento, CA 95819-6088, USA