Ken Kerri Endowment Fund Annual Luncheon
Every year in spring semester, the Department of Civil Engineering hosts its Annual Ken Kerri Endowment Fund Luncheon in memory of the late Professor Ken Kerri and his immeasurable contributions to the Department and civil engineering community.
The Department of Civil Engineering is hosting its 14th Annual Ken Kerri Endowment Fund Luncheon on April 12, 2023. Sponsors are needed for the event to build the endowment fund.
Click here or on image below for registration packet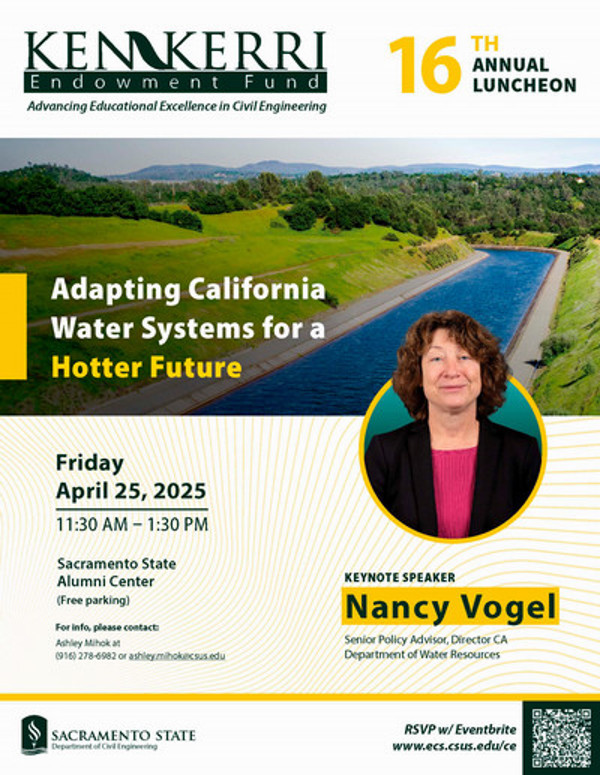 SPONSORSHIP OPTIONS
EVENT SPONSOR — $500
Two reserved seats at the luncheon.
Recognition as event sponsor on luncheon materials.
Company logo on Department's website and promotional material as event sponsor.


ANNUAL DEPARTMENT SPONSORSHIP
The department's Annual Sponsorship Program allows firms to make a single donation for multiple events held during the calendar year. You may designate the donation be directly deposited into the Ken Kerri Endowment Fund on the web or via the sponsorship form.
KEN KERRI ENDOWMENT FUND GOALS
Attract top students to the CE program.
Provide assistantship opportunities for undergraduate and graduate students to participate in research projects as part of faculty scholarly activities.
Improve teaching and learning by allowing the Department to bring educators and scholars of distinction on a sabbatical leave for temporary assignments.
Provide start-up support to faculty members to develop their teaching and scholarship activities.
Support the development of new and specialty courses.
Provide for start-up funds for CE faculty to pursue grants and other funding opportunities, Purchase research and lab equipment.
For more information, please contact: Ashley Mihok at (916) 278-6982 or ashley.mihok@csus.edu