Interprofessional Stroke and Neuro Resource Program
The Interprofessional Stroke and Neuro Resource Program blends an interprofessional team-based curriculum with collaborative training for multidisciplinary students in a university, community service program. This experiential learning is accomplished by providing holistic services for community members living with chronic conditions due to a stroke or other neuro diagnosis such as acquired brain injury and progressive disorders (e.g., Alzheimer's Disease, Parkinson's Disease, ALS, etc.).
Program Overview
The CSUS CHHS Interprofessional Stroke and Neuro Resource Program achieves the following: (a) Aligns and supports the University Strategic Plan, (b) Enhances the criteria of the CSUS Anchor University, and (c) Meets accreditation requirements across disciplines. For additional details, see below:
(A) Aligns and supports the University Strategic Plan
Goal 2: Foster Innovative Teaching, Scholarship, and Research Strategies
1.Develop and implement shared learning goals and assessment processes across curricular and co-curricular programming
3.Revise curriculum to reflect contemporary learning modalities and topics
5.Expand the development of community-focused, hands-on experiential learning opportunities for students
7.Promote impactful research and scholarship that involves students
8.Develop multidisciplinary programs that reflect the future needs of our region
Goal 3: Commit to Engaging the Community by Building Enduring Partnerships to Strengthen and Enrich the Region Indicators of Achievement
Increase student participation in credit-bearing internships and service learning projects by 20% by 2020
Increase the number of formalized partnerships by 20% by 2020
Source: https://www.csus.edu/president/mission- mperatives/_internal/_documents/sac_state_sp.pdf
(B) Anchor University
"An anchor university wants to see true, lasting change through civic engagement," he said. "It seeks solutions to poverty, hunger, inadequate education, unemployment, and health deficiencies. It overcomes the fragmentation of departments, colleges, divisions, and disciplines. Instead, it marshals all of the University's knowledge and expertise and strives to solve real-world problems… and, in solving those problems, it creates new knowledge, advancing research, learning, and teaching, as well as service."
Source: https://www.csus.edu/news/articles/2018/8/23/President-Nelsen's-Fall-Address-points-to-exciting-future-.shtml
(C) Accreditation Standards
Pharmacy: ACPE 2016, Standard 11
Medicine: LCME 2015, Standard 7.9; AOA 2014, Standard 6.4
Nursing: ACEN 2013, Standard 4.6; AACN 2008, Essential VI
Dentistry: CODA 2014, Educational Environment
Physical Therapy: CAPTE 2016, have 6 standards in relation to IPE that are Required Elements effective January 1, 2018
Social Work: Council on Social Work Accreditation (CSWA, 2008), Council of Social Work Accreditation and standards, Educational policy M2.2.
Public Health Accreditation Board: Standards and Measures Version 1.5, 2013
Communication Sciences and Disorders (CSD/CSAD): CAA Standards for Accreditation of Graduate Education Programs in Audiology and Speech-Language Pathology, 3.1.1A/B Professional Practice Competencies; 3.1.6A Intervention; 3.1.6B General Knowledge and Skills


Theoretical Framework
The Interprofessional Stroke and Neuro Resource Program is grounded in the The Innovative Care for Chronic Conditions Framework: Building Blocks for Action (WHO, 2002) which is centered around the idea that optimal outcomes occur when a health care triad is formed. This triad is a partnership among:
Patients and families
Health care teams
Community supporters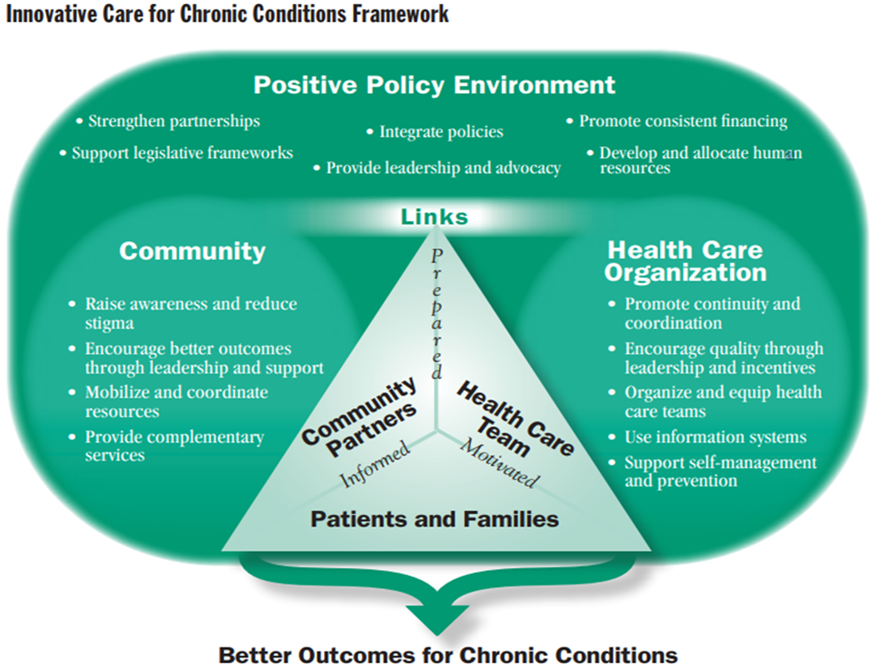 Source: Pruitt, S. (2002). Innovative care for chronic conditions: building blocks for action: global report. World Health Organization.