Sacramento State Planetarium
Jump to:
•Public Shows •Mission •Field Trips •Giving •Contact Us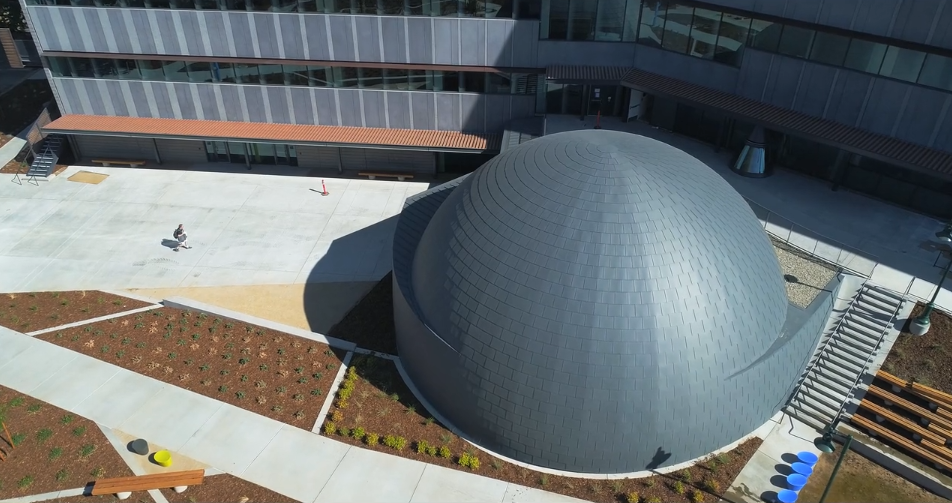 Construction completed in summer 2019 on the Ernest E. Tschannen Science Complex at Sacramento State. The centerpiece of our campus' newest academic building is a state-of-the-art planetarium. The Department of Physics and Astronomy is proud to welcome the Sacramento community to this new facility and see all that it has to offer!
The Sacramento State Planetarium features a 40-foot diameter dome with virtually invisible seams crafted by Spitz, the world's leading provider of dome projection screens. This dome offers visitors a full 360 degree viewing experience and is illuminated by two Sony ultra-high-definition (4K UHD) projectors. Each projector is fitted with custom optics that allow the system to create a perfect image on the curved surface of the dome. It takes five high-end computers running together in perfect synchronization to power these projectors and correctly place the almost twenty million pixels that fill our dome. These "tech specs" are certainly impressive, but the view from inside is something that one must really experience to truly appreciate.
Public Shows & Public Show Ticketing
The California State University system has transitioned the vast majority of classes to a virtual format and campus will remain closed to the public for the remainder of the 2020-2021 academic year. At this point we are still unsure when we might be able to safely reopen the planetarium for public shows. Rest assured we will let everyone know as soon as know ourselves.
When we reopen, public shows will again be held at the Sacramento State Planetarium every month. All ticket purchases are made through the Hornet Ticket Office, or you can call directly at (916) 278-4323. All public shows run 60 minutes in duration, unless specifically stated otherwise.
For our opening year (2019-2020) we are featuring extremely affordable ticket prices. General admission is only $5, while Sacramento State students (with OneCard) and kids 12-and-under are free (though a ticket still needs to be ordered for admission). We are working with donors and potential sponsors to try and keep our tickets prices low moving forward, keep an eye on this page or our social media channels for more information.
Mission
The mission of the Sacramento State Planetarium is threefold:
First, the facility will serve as a classroom for introductory astronomy courses for our own Sacramento State students. Hornets should look for three-unit lecture courses from the Astronomy 4 series, including "Astronomy 4A - The Solar System," "Astronomy 4B - Stars, Galaxies, and Cosmology," and "Astronomy 4C - Astrobiology." If you are a Sacramento State student, come take a class with us in the best lecture hall on campus!
Second, the planetarium will host field trips for student groups and classes of all ages, from kindergarten all the way through high school. We have a variety of programming available to meet the pedagogical needs of just about any class, and our top-of-the-line system can even prepare custom interactive lessons on a topic of your choice. If you are a teacher, scout troop leader, homeschool parent, or student group director, check our section below for more info and a link to our field trip booking system.
Last, but certainly not least, the planetarium will host public events open to anyone from the Sacramento area community. Public weekends will be held at least once a month, featuring several one hour shows over the course of the weekend. Shows will vary in content, but in general this is what you can expect: the show will be hosted by a member of the faculty from Sacramento State's Department of Physics and Astronomy; the show will contain three segments (a live and interactive exploration of some aspect of our universe, a professionally produced full-dome movie, and a time for audience Q&A with your host); the show will be out of this world! Yes, shows may contain bad space jokes.
Disclaimer regarding viewing planetarium shows: Planetarium shows may cause dizziness, disorientation and/or seizures in certain individuals. If you have any concerns or questions about the show's content or nature, please ask the operator/educator before the program begins.
Booking Field Trips
Are you a K-12 educator interested in booking a field trip for your class or student group to the planetarium?
The Sacramento State Planetarium hosts field trips during the academic year. Field trip reservations are normally available mornings and afternoons, five days a week. We utilize an online booking system for reservations. At this time we are closed for the remainder of the 2020-2021 academic year due to the COVID-19 pandemic.
We request a minimum of 20 people to book and can accommodate up to 90 people at once. All planetarium shows are booked as 60-minute appointments and can include a variety of different programming depending on the age of the students and the pedagogical desires of the instructor.
Field Trips feature:
Show full-dome movies on telescopes, flight, climate change, and of course, astronomy
Run interactive explorations to the planets of the solar system, or a study of the stars and constellations of the night sky.
Depending on your host, there may also be the possibility of a Q&A where your students can bring questions about space that they would like answered.
As a special offer during our first year, admission for field trips is free! Groups will need to arrange their own transportation and parking, but there is no charge for the planetarium.
Because of our offer of free admission for field trips, we are reliant on support and donations to pay for the operating costs of the planetarium. If your school is able, we would love for you to consider supporting the planetarium
Giving
It is the goal of the Sacramento State Planetarium to offer science education to everyone in the greater Sacramento area. It is important to us that cost not be a barrier to enjoying a public show at the planetarium. This is why our ticket prices are so low. This also means that our revenue cannot cover the costs that come with running and maintaining such a fine facility. We are reliant on the support and donations of our Sacramento community to keep this planetarium open for years to come.
Make A Donation to the Planetarium
Donors may also be interested in our "Seat Under the Stars" campaign, where a $1,000 donation will allow you put your name, or the name of a loved one, on a plaque that will be permanently affixed to one of the seats in the planetarium.
Contact Us
Still have questions? You can get in touch with the planetarium team by email or phone:
Call us at (916) 278-4586