Sacramento State Planetarium
May at the Sac State Planetarium
May at the Planetarium will feature a brand new show, all about your favorite star and mine - The Sun! "The Sun, Our Living Star" will teach you about the star that supports all life on Earth, but is also very much alive in its own way. Tickets go on sale Friday, May 12th at 12:00 noon! More details below in the Public Shows section.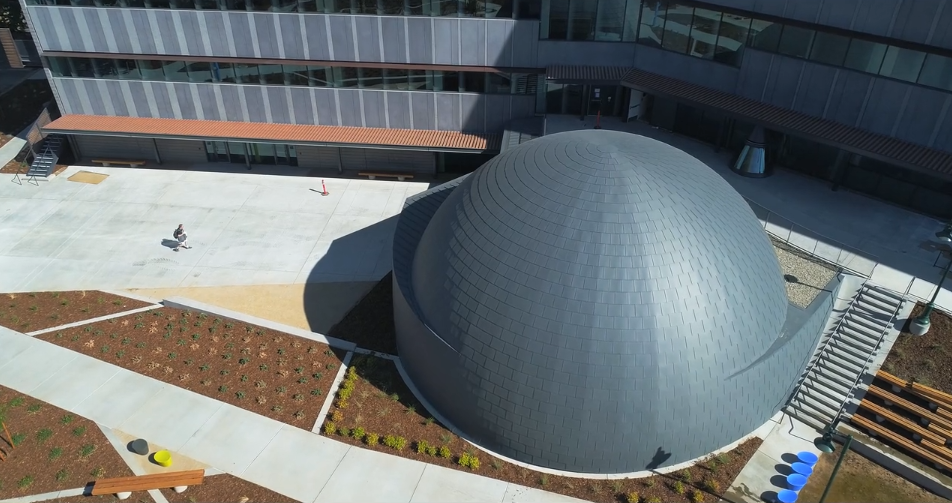 The Sac State Planetarium is located on the east side of campus, just north of Parking Structure II and the Hornet Bookstore. Interested in coming? For K-12 students, talk to your teacher about coming for a field trip. For Sac State students, come take an astronomy class IN the planetarium. For the general public, come see one of our public shows! Join our email list or follow us on social media to stay up to date, and check below for more info on each of these ways to visit the planetarium!
Public Shows & Public Show Ticketing
Public shows are held at the Sacramento State Planetarium every month. Unless otherwise noted, all shows are hosted by Sacramento State faculty members from the Department of Physics and Astronomy. As such, schedules vary from month to month depending on the availability of our faculty, but generally shows are offered on one or two weekends per month. All ticket sales are made through the Hornet Ticket Office website, or you can call directly at (916) 278-4323. All public shows run 60 minutes in duration.
Information on each month's public show offerings is made available around the beginning of that month. This website is updated monthly, and interested guests can also sign up for our email list or follow us on social media to be sure to always have the latest information. General admission is only $5, while Sacramento State students (with OneCard) and kids 12-and-under are free (though a ticket still needs to be "purchased" for admission).
May will feature shows on the last weekend of the month. Tickets for our brand new show "The Sun, Our Living Star" will go on sale Friday, May 12th at 12:00 noon at the Hornet Ticket Office link below. If you do not already have an account with axs.com you can make one ahead of time to expedite the purchase process.
Booking Field Trips
Spring 2023 field trip reservations are now completely booked. You can check the link below to see if there have been any cancellations, but if you see "No Times Available" it is because we are fully booked through the end of the academic year. Join our email list to be among the first to know when fall field trips become available for booking.
The Sac State Planetarium offers field trips for K-12 classes with no admission cost. Classes will still be required to arrange their own transportation and pay for any applicable parking fees, however.
Field trip reservations are available mornings and afternoons, five days a week. We utilize an online booking system for reservations. We request a minimum of 20 students to book the planetarium and we can accommodate up to 90 people at once. All planetarium shows are booked as 60-minute appointments. Your planetarium field trip host will start the show with a live, interactive tour of our solar system and galaxy. Your show may also include a fulldome film, with several options available to choose from, depending on the instructor's desires. To make a reservation for your class please visit our field trip booking website.
Classes arriving by bus should be aware of the bus dropoff procedures. Classes arriving by parent/chaperone cars can click here for info on parking and permits.
Giving
It is the goal of the Sacramento State Planetarium to offer science education to everyone in the greater Sacramento area. It is important to us that cost not be a barrier to enjoying a public show at the planetarium. This is why our ticket prices are so low. This also means that our revenue cannot cover the costs that come with running and maintaining such a fine facility. We are reliant on the support and donations of our Sacramento community to keep this planetarium open for years to come.
Make A Donation to the Planetarium
Donors may also be interested in our "Seat Under the Stars" campaign, where a $1,000 donation will allow you put your name, or the name of a loved one, on a plaque that will be permanently affixed to one of the seats in the planetarium.
Contact Us
Still have questions? You can get in touch with the planetarium team by email or phone:
Call us at (916) 278-4586