Constitution & Civic Engagement Program (CCEP)
California Campus Compact Community Engagement Student Fellowship (CESF)
We are currently seeking 2 fellows that will participate in service and community leadership events and initiatives during Spring 2022. The Community Engagement Student Fellowship (CESF) is a 4-month initiative designed to support student leaders in advancing service, service-learning, and community engagement leadership. Selected candidates (2 students) will receive a $500 scholarship from California Campus Compact. This fellowship is available to sophomores, juniors, and first-year graduate students enrolled in Spring 2022.
The application deadline is Monday, January 10, 2022, at 5 p.m. To apply, please click below and select "CESF" Application.
Civic Engagement Program
September 17th marks the American federal observance of the date the U.S. Constitution that was signed in 1787. In 2005, a bill was passed that requires all publicly funded educational institutions and federal agencies to provide educational programming about this historical event, "Constitution and Citizenship Day." At Sac State, we celebrate this through our Constitution and Civic Engagement Program (CCEP).
ALL IN Campus Democracy Challenge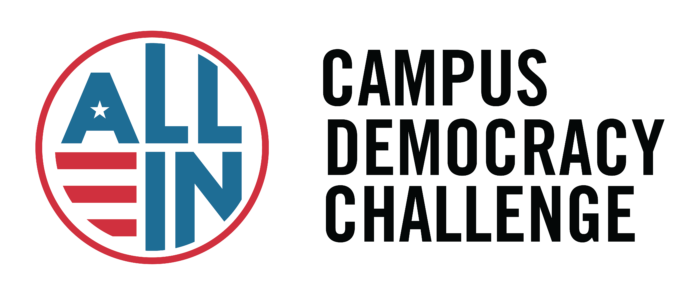 Sacramento State excels in ALL IN Campus Democracy Challenge
Please join us in celebrating the great news that Sacramento State has scored in the highest category in the ALL IN Campus Democracy Challenge. Evaluated on nine variables including leadership, commitment, goals, and strategy, we placed squarely in the "Established" category, the highest rating.
Our strong performance is an accolade to the campus community and many outstanding community partners. It reflects the hard work and collaborative spirit of many dedicated individuals, departments, and centers. As noted by the reviewers, "This plan is incredibly strong and exciting! The leadership team is vast, the focus on data and evaluation is specific, and the voter registration, education, and turnout ideas are creative."
To learn more about civic engagement collaborations on campus, please contact Marisa Warnock at m.warnock@csus.edu.
Civic and Voter Engagement Workgroup
The Community Engagement Center (CEC) is seeking members of the Sac State community to join the Voter Engagement Planning Committee. In partnership with the Sacramento County Voter Registration and Elections Division, the goal of the committee is to strategize and increase voter awareness and engagement for students through events and activities. Currently, faculty, staff, and student groups plan a number of online and virtual activities to encourage student voting and explore the issues on the ballot. This work group supports and promotes the campus Vote Center, coordinates voter campaigns, provides consistent voter messaging, and encourages cross-campus collaborations.
Join the Civic and Voter Engagement Workgroup on Teams