Constitution & Civic Engagement Program (CCEP)
ALL IN Campus Democracy Challenge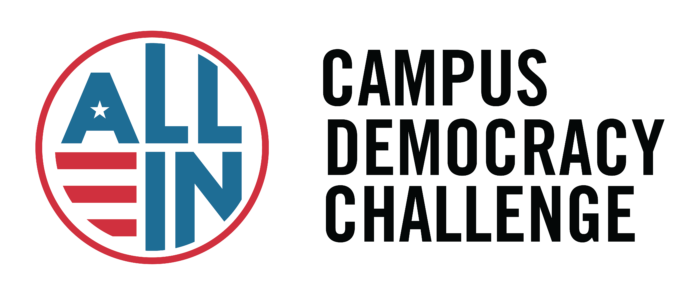 Sacramento State excels in ALL IN Campus Democracy Challenge
Please join us in celebrating the great news that Sacramento State has scored in the highest category in the ALL IN Campus Democracy Challenge. Evaluated on nine variables including leadership, commitment, goals, and strategy, we placed squarely in the "Established" category, the highest rating.
Our strong performance is an accolade to the campus community and many outstanding community partners. It reflects the hard work and collaborative spirit of many dedicated individuals, departments, and centers. As noted by the reviewers, "This plan is incredibly strong and exciting! The leadership team is vast, the focus on data and evaluation is specific, and the voter registration, education, and turnout ideas are creative."
To learn more about civic engagement collaborations on campus, please contact Marisa Warnock at m.warnock@csus.edu.
California Campus Compact Community Engagement Student Fellowship (CESF)
Students from California campuses were selected in January 2020 to participate in California Campus Compact's Community Engagement Student Fellowship (CESF) program, a 4-month initiative specifically designed to support student leaders advancing service, service-learning and community engagement at California Campus Compact member campuses throughout the state.
California Campus Compact secured funding from an anonymous donor to select a special cohort of CESF Fellows in Spring 2020, to coincide with the upcoming elections in 2020. Selected students will be focusing their service on some aspect of voter engagement (ie, voter registration, voter education, youth-centered candidate forums) and youth voice (finding out what young people care about; providing opportunities for young people to be heard on issues, etc). During spring 2020, the CEC will incorporate civic engagement and outreach activities with the following events and initiatives: Sacramento County Voter Outreach 2020, Sac State Alternative Spring Break, Census 2020 and the Democracy 2020 Youth Film Challenge.
For more information, contact Piper McGinley, California Campus Compact's Associate Director.
Spring 2020 California Campus Compact Youth Voice~Youth Vote Student Fellows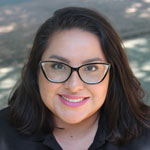 Griselda Camacho is a senior at Sac State, majoring in forensic chemistry. She is currently living in Sacramento but moved there from Norco, a small horse town in Southern California. Griselda is inspired daily by her hardworking parents who immigrated from Mexico to give her the life she has now. Their constant support and encouragement has allowed her to make it this far in her education. Griselda looks forward to being a fellow at Sacramento State University because she knows she will be working with a great group of people to make a difference in the community she is now a part of.
Janneth Magana Gil is a third year student at Sacramento State. She is a first generation college student and lives in Stockton, CA. Her major is Child Development and just recently changed it last semester. Janneth loves being involved with her community which is why she decided to be part of this Fellowship. Before this fellowship, she helped the community of Sacramento by being a behavior Technician for children with autism. She is excited to go through all the new experiences she will encounter through this fellowship.
Sac State Student Fellows are Semi-finalists in the 2020 Youth Film Challenge
Camacho and Gil Magana produced a 2-minute video on voter suppression which has been entered into the Civic Life Project's Democracy 2020 Youth Film Challenge. The goal of the Youth Film Challenge is for "participants to generate well researched, empathetic and compelling videos that rise above entrenched partisanship, increase the awareness of social issues [and help students ] understand how their voice and vote can change society." The video that receives the most vote pledges will win the award for best social media entry. To watch the video, click here.
Voter Engagement
In general, voter consciousness is an issue promoted at Sacramento State in an ongoing way, not just during the election season. Since our last classification, Sacramento State's Community Engagement Center has expanded their Constitution Day effort to a full week of activities, now known as Constitution and Civic Engagement Program (CCEP). Activities routinely include voter registration drives, quiz bowls, days of community service and lectures/ guest speakers. Linked here is a video of a panel in 2018 addressing Proposition 1, the Veterans and Affordable Housing Bond. The panel was moderated by Kim Nalder, Professor of Political Science and Director of the Project for an Informed Electorate (PIE).
Civic Engagement Resource Fair
Join the Community Engagement Center for the annual Civic Engagement Resource Fair and learn how your voice and your vote affects Sac State and your community. Learn about voter registration, initiatives on the ballot, the 100th anniversary of the 19th amendment, and more!
Date: Tuesday, October 6th
Time: 11:30 a.m. - 1:30 p.m.
Location: Virtual!