About Sacramento State
The Region's University
Founded as Sacramento State College in 1947 with 235 students, Sacramento State is now more than 31,000 strong and the sixth largest of the 23 campuses in the California State University (CSU) system. Located six miles from the State Capitol and a vibrant urban core, the University and the region it serves are intertwined. From research that results in impactful legislation, to entrepreneurial ideas that blossom into robust local businesses, Sacramento State provides immersive learning experiences that benefit students, the region, and beyond.
1 in 20 Adults in the Region is a Sac State Grad
"As the region's university, Sacramento State is the opposite of an ivory tower. We aim to connect students, faculty and staff with the community, and in turn, help build and heal that community, achieving lasting solutions and improvements through inclusive civic engagement."
-Robert S. Nelsen, President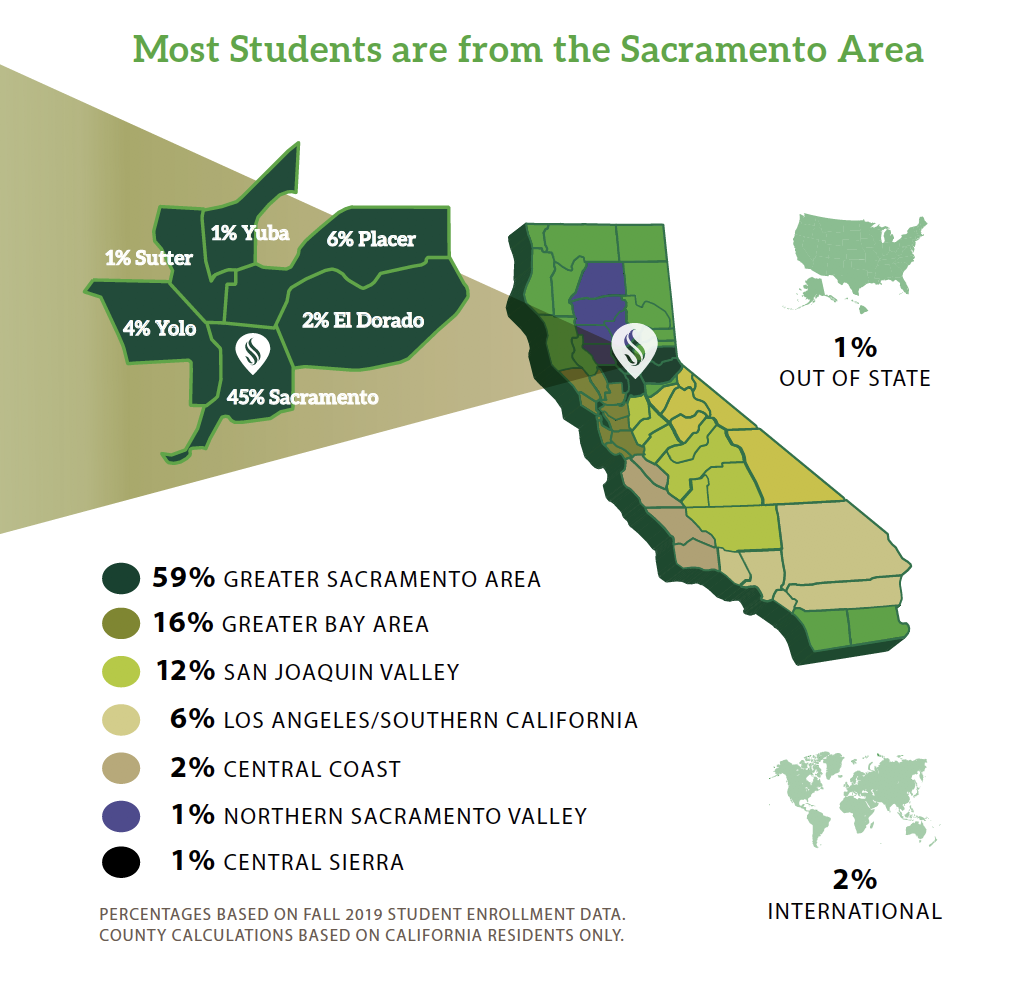 Where Students Come First
Whether they are knee-deep in the American River studying the impacts of drought, or teaching the latest in cybersecurity, expert faculty put students first. This focus on students goes beyond just the classroom. From hiring more faculty, to adding classes, offering summer school grants, and providing more advising, Sacramento State is doing whatever it takes to help students stay on track and graduate.
127% Increase in 4-year Grad Rate Since 2016
"The success of our students and the dedication of faculty and staff are inspiring. Sac State builds a foundation that nurtures learning and sparks new ideas, which amplifies the University's accomplishments now and well into the future."
-Steve Perez, Provost and Vice President, Academic Affairs
A Culture Shift
Finish in Four and Through in Two are incentive programs encouraging students to take 30 units per year. Since they were launched in 2016, Sacramento State has increased graduation rates faster than any other campus in the CSU.
24:1 student to faculty ratio
27 average class size
Change Makers, Difference Embracers
Rich with a diversity of people and cultures, the Sacramento region is home to the hardworking, innovative and passionate. Sacramento State is no different. Officially recognized as an Asian American Native American Pacific Islander Serving Institution (AANAPISI) and a Hispanic Serving Institution (HSI), Sacramento State is where dedicated faculty, staff and students from all backgrounds come together to make an impact on the world.
4th Most Diverse Campus in the Western U.S.
"At Sac State, we strive to embrace each other's strengths and differences and work collaboratively upon principles of cultural humility and respect for all. The goal is to provide equal access to education and create a sense of belonging and community."
-Diana Tate Vermeire, Vice President for Inclusive Excellence
1,400 students are veterans
32% first in their family to attend college
A Great Place to Live and Learn
Surrounded by nature and with easy access to popular shops and restaurants, about 20% of students choose to live on the Sacramento State campus or in surrounding neighborhoods. The seven on-campus residence halls boast amenities such as swimming pools and tennis and basketball courts. Nearby off-campus housing options are also available. As a bonus, tuition and room and board are quite affordable.
Best Bang for the Buck for Western Colleges

Hornet Commons: Uncommon Housing
Hornet Commons is an upper-division housing project being built on the southeast side of campus. With capacity to house up to 1,100 students, it will bring the total beds in residence halls on campus to 3,200. Once finished, it will boast 284 apartments in six four-story buildings that surround a swimming pool and a residents' common building, with cafe, fitness center, and community room.