About Sacramento State
The Region's University, Today and Always
Sacramento State has been educating students and serving California's capital region since 1947. Located six miles from the state Capitol and a vibrant urban core, the University and the community it serves are intertwined. From research projects, entrepreneurship, and service learning, Sacramento State consistently adds value to the student experience, to the region, and beyond.
RECORD HIGH 31,573 ENROLLED IN FALL 2021
Focus on Student Success
Whether in the classroom or online, students come first at Sacramento State. Expert faculty are committed to providing meaningful education with an eye toward excellence. Sacramento State faculty and staff have what it takes to help students excel, graduate, and ultimately experience success in their careers.
187% INCREASE IN 4-YEAR GRAD RATE SINCE 2016
24:1 student to faculty ratio
30 average class size
1,897 full - and part -time faculty
Rising Grad Rates
Finish in Four and Through in Two are incentive programs encouraging students to take 30 units per year.
Rising graduation rates have saved students and their families more than $80 million in the total cost of attendance.
Degrees earned:
8,448 Total Degrees
7,423 Bachelor's
979 Master's
46 Doctorates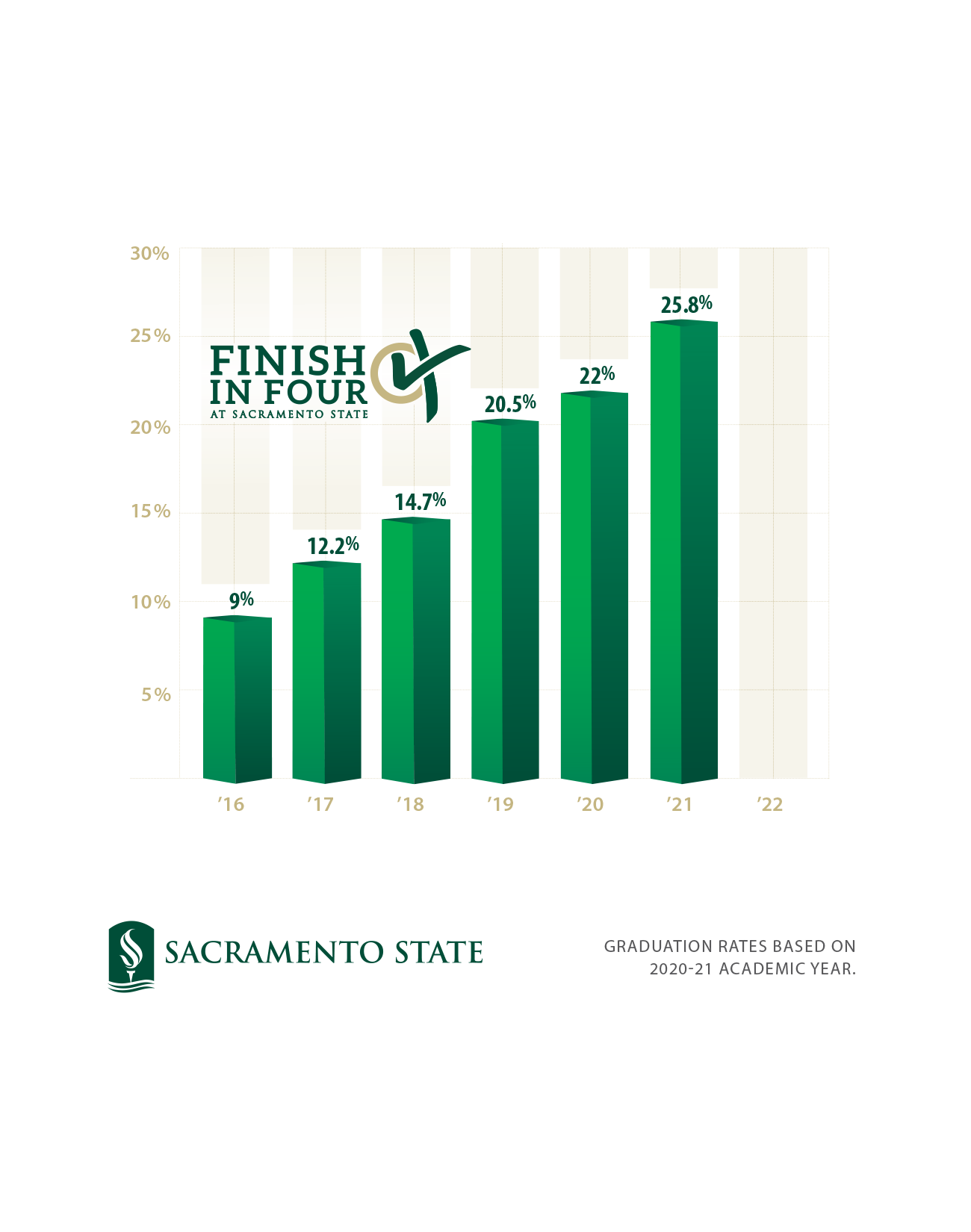 An Inclusive Campus 
Rich with diverse people and cultures, the Sacramento region is home to the hardworking, innovative, and passionate. Sacramento State is no different. Officially recognized as an Asian American Native American Pacific Islander Serving Institution (AANAPISI) and a Hispanic Serving Institution (HSI), Sacramento State is where faculty, staff, and students from all backgrounds come together.


4th MOST DIVERSE CAMPUS IN THE WESTERN U.S. (U.S. News and World Report, 2021)


31% first in their family to attend college
43% Pell Grant eligible
51% receive financial aid