Rankings and Distinctions
Excellence Every Day
Excellence is taking place throughout campus every single 
day in big ways and small, as these rankings and achievements earned by the University and its students show.

1 in 20 adults in the Greater Sacramento Region is a graduate of Sac State.
Sac State ranks 19th for Social Mobility in the Western U.S. (U.S. News & World Report, 2020)
Greater Sacramento Economic Council (GSEC) named
Sac State "Partner of the Year" for its commitment to 
improving the lives of students and the region.
The national Seal of Excelencia was awarded to the University for its commitment to accelerating Latinx student success in higher education.

2nd Most Diverse in the West (U.S. News and World Report, 2020)

9th Most Transformative Colleges (Money.com, 2020)

Top 20 Public Schools in the West (U.S. News and World Report, 2020)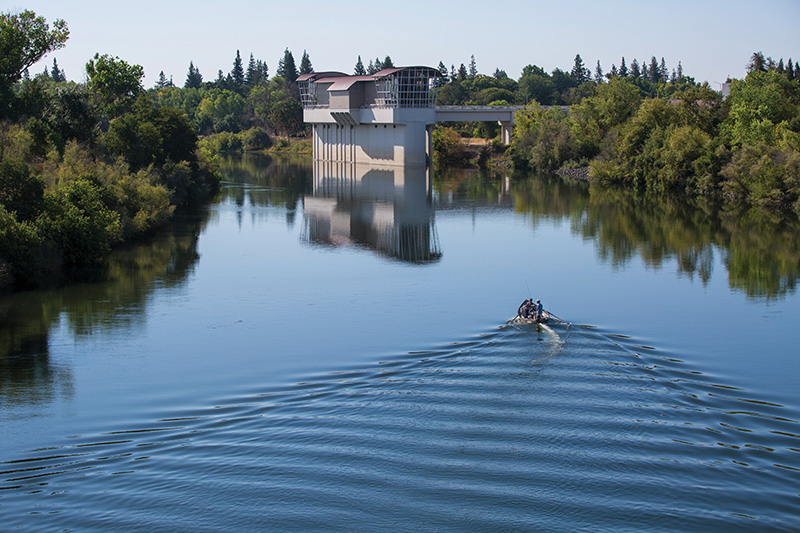 A $2.7 million grant provides research opportunities along the American River and beyond through the Sustainable Interdisciplinary Research to Inspire Undergraduate Success (SIRIUS) project.
Sustainability
With more than 3,700 trees, Sac State has been a Tree Campus USA since 2012.
Sac State's commitment to wildlife earned a Garden for Wildlife certification from the National Wildlife Federation.  

 The newest parking structure on campus (PS5) earned a prestigious Gold certification from Parksmart for promoting sustainable mobility through smart design and innovation.   
The Ernest E. Tschannen Science Complex is the most energy-efficient science building in the CSU system.
Sacramento State is a Bike Campus USA.
The University has a Gold rating from the Association for the Advancement of Sustainability in Higher Education."
Bioretention planters, porous pavement, and bioswales filter 2.9 million gallons of stormwater annually, keeping pollutants from flowing into the American River. 
Academic Excellence
Sac State is ranked 11th for Best Undergraduate in Civil Engineering in the United States. (U.S. News & World Report, 2020)  
School of Nursing averages the CSU's highest first-attempt pass rate with scores higher than UC Irvine and UCLA.
The bachelor's degree in Gerontology is ranked fifth nationally. (College Choice)
The College of Business has been AACSB-accredited since 1963, one of just 5% of the world's 16,000 higher education institutions to have earned this designation. (Association to Advance Collegiate Schools of Business)
The University is home to the first and most comprehensive paramedic program in the CSU system.
Alumna Elizabeth "Tink" Gabler received The Mars Generation's 24 Under 24 Leaders and Innovators in STEAM and Space Award for her work in the aerospace industry. 
Sacramento State vocal jazz ensemble, Vox Now, won the DownBeat Magazine Student Music Award, and jazz voice student Brianne Gonzalez won a 
soloist award.
The Doctorate in Educational Leadership Program has full membership from the University Council for Educational Administration (UCEA), just the second CSU campus and fourth California university to earn the distinction.

The 2020 virtual production of SWEAT, directed by faculty member Nicole Limón, received national recognition with Kennedy Center Citizen Artist Awards in five categories.

The Center for Information Assurance and Security has been designated as a National Center of Academic Excellence in Information Assurance Education since 2007. This designation is jointly sponsored by the National Security Agency and the Department of Homeland Security.

A Green Mobility Career Pathways Boot Camp was developed by the Career Center in collaboration with Sacramento Municipal Utility District and the California Mobility Center to leverage relief funds and promote workforce development. Thirty-nine students participated, ultimately leading to employment for seven students.
In the fall, nursing students administered approximately 2,000 flu vaccinations, using the experience to prepare for COVID-19 vaccine distribution.
Sac State's Academic Offerings
72 bachelor's degree programs with 78 concentrations
59 master's degree programs with 30 concentrations
5 doctoral degrees
19 post-baccalaureate certificates
20 credential programs