Rankings and Distinctions
Natural Beauty
Nature is everywhere at Sacramento State, starting with the emerald canopy of more than 3,586 trees covering the 300-acre campus. Botanical treasures like the University Arboretum and the Sokiku Nakatani Tea Room and Garden feature many of the 1,400 plant species. From composting to energy-efficient new buildings to an award-winning sustainable parking structure, Sacramento State is working toward carbon neutrality by 2040 (five years ahead of California's deadline). These efforts have earned the University a Gold rating by the Association for the Advancement of Sustainability in Higher Education (AASHE).
SAC STATE IS A BEE CAMPUS USA
THE XERCES SOCIETY FOR INVERTEBRATE CONSERVATION
Campus Bee Hives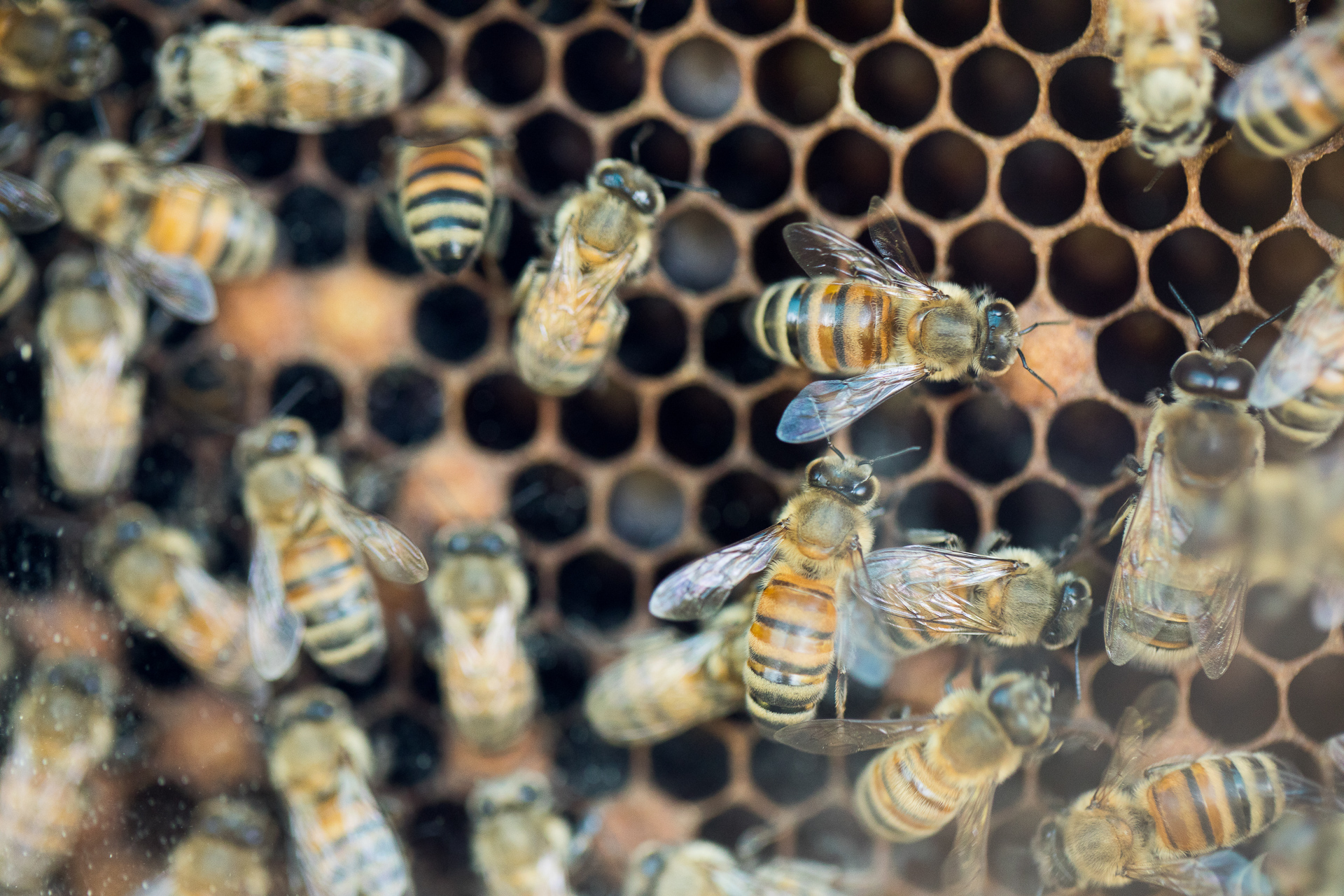 Honey harvested from the EIGHT active bee hives is BOTTLED ON CAMPUS and sold locally, with proceeds going back into the beekeeping program.
Excellence Every Day
Excellence takes place throughout campus every day in big and small ways, as these rankings and achievements earned by the University and its students show.
1 in 20 adults in the Greater Sacramento Region is a graduate of Sacramento State.
No. 21 Top Performers on Social Mobility in the Western U.S. (U.S. News & World Report, 2021).
No. 12 Best Bang for the Buck West (Washington Monthly, 2020).
No. 21 Best Colleges for Veterans in the Western U.S. (U.S. News & World Report, 2021)
Sacramento State's alumni network is more than 270,000 strong worldwide.
$1,022,755 in Summer Session Provost and Finish Line grants were awarded to 2,323 recipients and helped to improve graduation rates.
The U.S. Department of Education awarded Sacramento State $8 million in grants to support Latinx and other underrepresented student groups.
First-generation graduate student Carla Cruz Medina earned CSU's top academic honor as the Sac State recipient of the CSU 2021 Trustees Award for Outstanding Achievement.
Antiracism and Inclusive Campus Plan
Nearly 80 STUDENTS, FACULTY, and STAFF completed a comprehensive ANTIRACISM and INCLUSIVE CAMPUS PLAN.
Academic Excellence
Sacramento State is one of only 27 universities accepted into the Inclusive STEM Teaching Project by the National Science Foundation.
Civil Engineering is ranked eighth in the nation among non-doctorate engineering programs (U.S. News & World Report, 2021).
Sacramento State is the first and only California State University campus to offer a paramedic program. Students consistently rank higher than national averages when taking the National Registry Exam.
Professor Michelle Stevens was named 2021 Environmentalist of the Year by the Environmental Council of Sacramento.
The College of Business has been AACSB-accredited since 1963, one of just 5 percent of the world's 16,000 higher education institutions to have earned this designation (Association to Advance Collegiate Schools of Business).
The Festival of New American Music is the longest-running festival of music composed in the last 20 years by American citizens or residents.
Sacramento State led a new partnership in a statewide effort, funded by a $4.5 million grant, to improve
preparation for early childhood educators and diversify California's workforce of preschool teachers.
A team of researchers led by Sacramento State Chemistry Professor Katherine McReynolds demonstrated that therapeutic agents that appear to block the transmission of HIV might also work against the coronavirus and other potentially deadly infections.
Nursing Graduation
Sacramento is ranked NO. 2 BEST NURSING SCHOOL in California by RN Careers, with a 98.18% National Council Licensure Examination passing rate.
Sustainability
A new solar panel installation in Parking Lot 10, with 3,979 solar panels, will produce approximately 2 million kWh annually.
Sacramento State has been designated a Tree Campus USA by The Arbor Day Foundation since 2012.
Sacramento State is certified by the League of American Bicyclists as a Bike Campus USA.
The National Wildlife Foundation gave Sacramento State its Garden for Wildlife designation.
Sacramento State's edible garden is a three-quarter-acre learning lab that annually produces 2,000 pounds of produce, which is donated to the Associated Students Inc. Food Pantry.
Tree Planting
Sacramento State continues to add to its urban forest by planting hundreds of trees, REMOVING 1.7 TONS OF POLLUTION from the air, producing 237 tons of oxygen, and storing more than 3,000 tons of carbon.
Culture of Giving
Sac State publicly launched On the Rise: The Campaign for Sacramento State in 2021. With a goal to raise $225 million by 2023, the University secured $219.9 million by the end of the year.
On the Rise twice made history by being the University's first comprehensive fundraising campaign and the CSU's first virtual campaign launch.
Over 7,000 alumni, 800 former and current faculty and staff, and 600 parents have donated to the campaign.
More than $2 million in student-scholarship awards supported nearly 1,000 students, contributing to the increased graduation rate.
In just 36 hours on Give Sac State Day, 1,247 people donated over $340,000 — a 60% increase from 2020.
Give Sac State Day
GIVE SAC STATE DAY supported more than 200 CAUSES across campus.
Sacramento State at a Glance
Sac State's Academic Offerings
72 bachelor's degree programs with 78 concentrations
59 master's degree programs with 30 concentrations
5 doctoral degrees
19 post-baccalaureate certificates
20 credential programs