What is Sac State known for?
Community-Inspired Student Leadership
Behind the students at Sacramento State is a community eager to witness their success. For Chi Meng Vang, a Criminal Justice student, his first experience finding inspiration was in the Thai refugee camp where he was born.
Beginning with family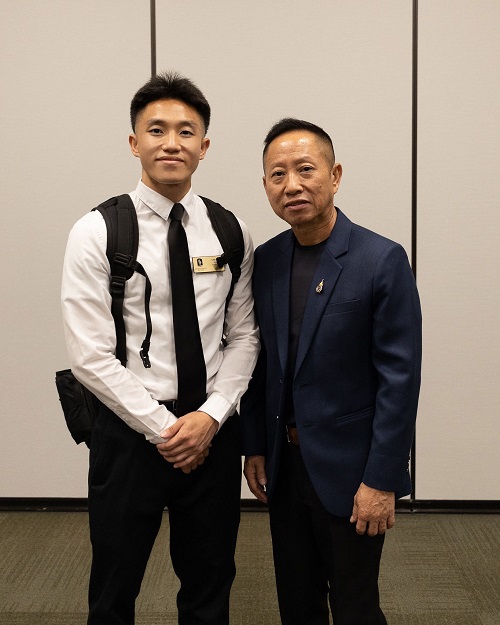 Chi's family farmed in Laos before leaving for Thailand after the Vietnam War. Cha Teng Vang, his father, became a leader in the camp, investigating crimes and resolving issues. His leadership is why Chi studies criminal justice today.

But Cha wanted more for his family.

When Chi was young, the family left Thailand for the United States. To get by, they lived in a four-bedroom house with 21 people and moved around to find work. After some time, they settled in Sacramento, where Chi graduated from high school.

Still wanting more for his future, the family urged him to apply to college — and he chose Sac State.
Becoming a leader
"My dad inspired me," Chi said. "I want to help people."
But making his way through freshman year proved challenging. He had to balance his course load with work to help support his family, a situation that left him considering dropping out. When he heard about a position with the Student Academic Success & Education Equity Program (SASEEP), he pursued it, and that is when his academic experience finally fell into place. Not only was he a student working his way to a life of greater stability, he found that he was a leader.
His work with SASEEP led him to become a peer lead for Project Helping Mentor Our Next Generation, a peer mentor for the Asian Pacific Islander Desi American (APIDA) Center, and chapter president of the Hmong University Student Association.
"I see him as a leader that will bring impact to not just our Hmong community, but the Sacramento community as a whole," said Andrew Yang, program coordinator for the APIDA Center, who has watched Vang's progress.
According to Dr. Chao Danny Vang, Project HMONG Director and Assistant Vice President of Educational Equity Programs and Student Success, Chi's story is Sac State's story. "As a former refugee who came to America in the mid-2000s, his determination and aspiration are contagious and have served him well as a peer leader."
Belonging to a community
As Chi became who he is today, the community surrounding him inspired him to keep moving toward his goals.
His father showed him what a leader looks like. Sac State student support programs helped him learn that he is a leader, too.
Student support programs are made possible, in part, with funding raised during Give Sac State Day. Thousands of donors from across the region collectively come together for this annual giving day to support Sac State causes that make it possible for students to see their futures beginning here. In 2023, they provided nearly $425,000 of support for student success.
Throughout the day, they share notes of encouragement with students, proving the intrinsic value of their support well beyond the dollar amount. One donor shared:
"By following your dreams, you will go far and impact many lives in a positive way. Sometimes, it may seem that the finish line is so far away, but you can do it!"
How you can help
Sacramento State is more than an education — it's where leadership begins.