Managed Care Introduction -- Managed Care Types -- Advantages and Disadvantages -- How to Choose the Right Plan
Challenges Concerning Medical Benefits -- Relationships to Employee Benefit Wheel -- Web Links Page -- Works Cited
Relationship to the Employee Benefits Wheel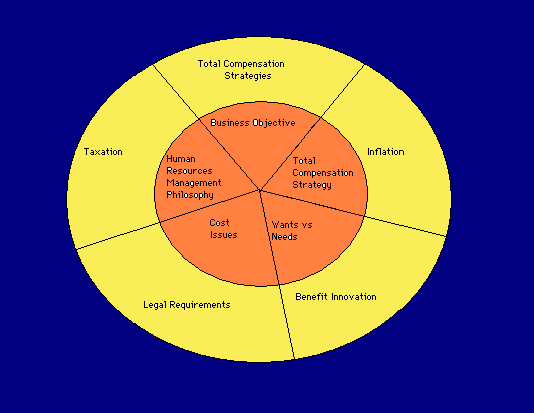 There are many influences that affect the medical benefits offered at any given company; these can be described and analyzed by means of The Employee Benefits Wheel.
External Factors
Competition- Managed health care is provided on the basis that employers would like to attract and retain employees. The external factor of how other firms are providing health care benefits compared to one's own company is a direct reflection of how competitive one wants to be in attracting and retaining employees. Competition can control the types of managed care provided by one's business.
Inflation- This is an external factor that is one of the largest contributing factors to how much and what type of managed health care a company can provide. Due to inflation in the cost of medical insurance premiums, not the procedures, as well as, the cost of prescription drugs, the cost of medical insurance has increased dramatically each year. This is an external factor that can put a company out of business no matter what the competition is doing or what laws are put into place. If a company does not have the financial stability to pay for these costs then it will be put out of business. Likewise, these costs can hamper the ability to attract and retain competent employees; therefore, it will be driven out of business in a different way.
Legal Requirements- as stated earlier, law provides some requirements for insurance. SB-2 is a legal requirement that will make employers provide medical insurance to all or contribute to a fund that will provide medical insurance for employees. Businesses have no control over legislation once its been passed. SB-2 may cause companies to relocate outside of California in order to be able to do business and still be competitive in the market.
Taxation- Managed health care plans provide tax advantages to employees. If an employee must pay for his/her own health insurance or if he/she partially pays for coverage, and the business provides the health coverage, then the coverage is paid for using pre taxed dollars. If the company does not provide health coverage insurance, then the employer may provide flexible spending accounts where some monies go toward health coverage insurance. The graph below shows an example of how an employer can save about $675 dollars for the employee that makes $45,000 a year with a flexible spending account.
| | | |
| --- | --- | --- |
| | Using flexible spending accounts | Not using flexible spending accounts |
| Combined income | $45,000 | $45,000 |
| Health care expenses | ( 1,000) | 0 |
| Dependent care expenses | ( 3,500) | 0 |
| Taxable income | 40,500 | 45,000 |
| Federal income and Social Security taxes | ( 6,075) | ( 6,750) |
| Take home pay | 34,425 | 38,250 |
| Health care expenses | 0 | ( 1,000) |
| Dependent care expenses | 0 | ( 3,500) |
| Spendable pay | $34,425 | $33,750 |
| Tax savings | $675 | |
Benefit Innovation- The benefits "industry" is in constant change as new ideas and "perks" and included in compensation packages. There are always new ways to provide something unique. The main purpose of benefit innovation in managed health care is to provide great service at a lower cost to both the employer and the employee. One type of benefit innovation for managed health care was recently implemented in January 2004. It is the Health Savings Account (HSA). It differs from an MSA because it allows an employee to move from job to job and it rolls over every year. The concept of allowing an employee to change jobs freely is not a way to retain, but possible changes in laws like SB-2, makes saving money more important so that you can pay your employees more. If every business has to provide medical insurance, then it will be more important to provide a higher total compensation strategy.
Internal Factors
In addition to the many external factors that influence employee medical benefits, there are also five internal factors that play a role.
Total Compensation Strategies- Managed health care was first put into place by businesses to attract and retain employees through use of a total compensation strategy. TCS is the total of the wages plus the benefits. Since health care benefit costs are so high, employers that can provide good packages to their employees are providing a better TCS than those companies that pass along the cost to there employees. The cost is either passed on through lower wages, fewer positions available, or transference of the cost, making the employees pay for the benefits themselves.
Wants versus Needs- When dealing with managed health care, the wants and needs are fairly simple. The question is not: do the employees want health insurance or do they need it. The big question for the employer is do we want to pay for it or do we need to pay for it? In order to figure this out you can survey the employees and see how they feel about different total compensation strategies. This is an effective way to find out if employees know the value they are receiving from the managed health care plan, if you are even providing one.
Cost Issues- The increasing costs of health insurance plagues everyone daily. Higher costs for insurance causes lower wage increases. In a study done in Wisconsin, if insurance increases at a rate of 11.04 % annually and a salary for teachers with a BA increases at 3.07 %, by 2014-2015 insurance will be 100.15% of the teacher's salary (Wasb). In order to lower costs for the teachers' insurance, a managed care plan will be adopted. This will allow increases in wages, as well as, provide medical insurance. Cost issues can be quite tricky because without profits, the business does not survive, and without benefits there are no employees to run the business. There is a fine line between what a company "wants" to afford and what is can and should afford.
HR Management Philosophy- This is the underlying philosophy of an individual company. It is established at the beginning of the companies' creation. This philosophy; however, may morph and change as new laws are implemented, costs change, new management presides in top positions, and/or new plans evolve. For example, some businesses hold a progressive view and believe that everyone should have adequate medical insurance. If the company wants to provide medical coverage to retired employees, then it will find a way to provide it no matter what the costs. This philosophy is like the conscience of the company. Some companies have a conscience while others do not, just like people.
Business Objectives- The business objectives of a company usually outline goals for the future of the company; however, they can change. Businesses can be in various stages of life—growth, stabilization, maturity, or decline. Because positions can change over time, objectives can change as well. If a company is involved in an acquisition, it must decide how it wants to incorporate the acquired employees into the current medical plan, or if a new plan will be structured. On the flip side, if a company must layoff workers, there may be a need to restructure the current health benefits and a "take-back" situation may occur.
In the realm of medical benefits and managed care plans there are no easy answers. Each type of plan presents an employer with both advantages and disadvantages. In addition, there are many factors to consider and problems to overcome. Legislation in the medical insurance realm is now becoming a reality—transferring it from a benefit into a mandated social insurance program. Is this really a good idea?