Classroom Technology
More than 450 campus classrooms, labs and informal spaces are equipped to support diverse pedagogies including in-person, hybrid, hyflex, and remote teaching modalities. Thanks to CARES/HEERF grants, an $8 million campus classroom upgrade project added additional cameras and microphones, as well as recording, collaboration, and device options. The IRT Academic Technology and Learning Space Services teams are your go-to resources to explore and learn how to optimize these tech-forward spaces!
Campus Classrooms + Using Technology
Sacramento State offers a variety of classrooms and learning spaces, varying in size, purpose, built-in technologies, and more. Generally, spaces are outfitted within three categories:
Podium classrooms
Typically feature a PC, laptop connections, document camera and microphone system with a projector.
BYOD classrooms
Faculty must bring their own laptop or device, but several different connections are available to the projector.
Special use-case rooms
Typically include a TV monitor with use-specific features.

Search and filter campus classrooms based on a number of criteria, including location, size, and included technology equipment:
View Campus Classroom Inventory

The Classroom Equipment table includes how each classroom is equipped, along with links to step-by-step setup instructions on how to use Zoom, the AV system, and more: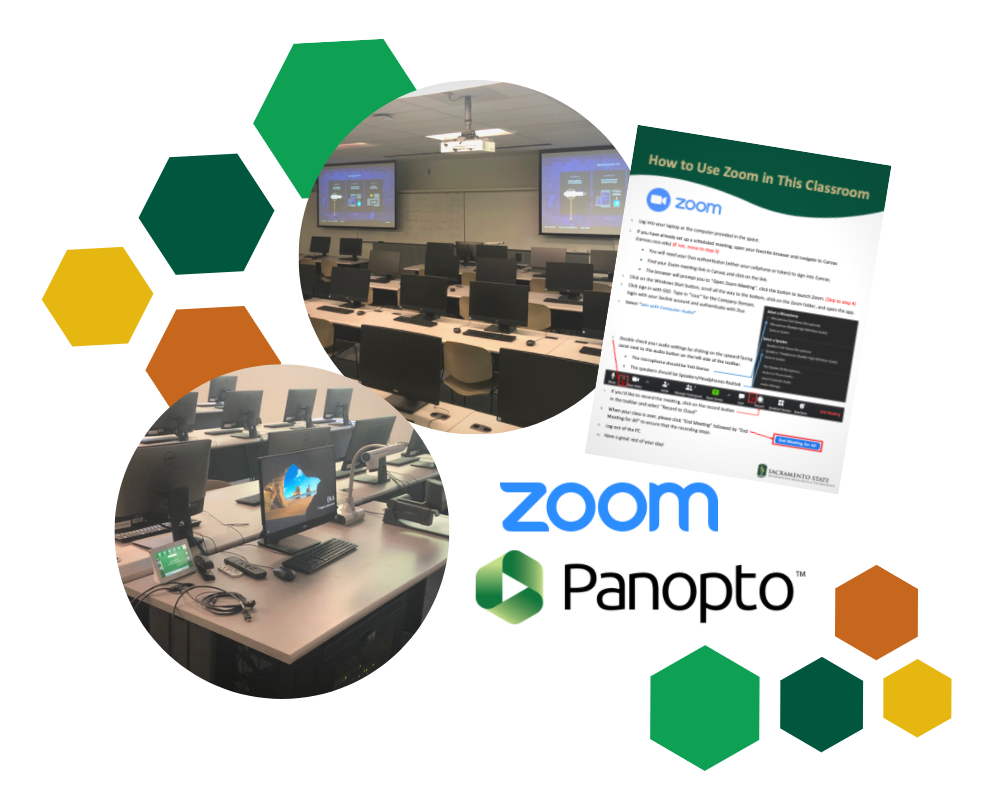 Hybrid/HyFlex Classroom Upgrades
Classroom upgrades support hybrid, hybrid-flexible, and blended teaching
To support in-person and hybrid instruction (HyFlex), IRT partnered with campus divisions to enable a flexible and supportable A/V and video standard to selected University instructional spaces.
What is HyFlex Learning?
A hybrid flexible (HyFlex) course format combines face-to-face and online learning. Each class session or learning activity is offered in-person, synchronously online, and asynchronously online. This model supports student success, and can support educational and research activities during a disruption.
Classroom upgrades include large and small to mid-sized room configurations, and include the upgrade, installation, and training on new technologies including:
USB cameras, microphones and adapter accessories
Hand-held and ceiling mounted microphones and cameras
Upgraded tethered sit/stand desk and PC configuration with 2x the webcams (faculty and student facing), and an additional HDMI connection
Classroom Technologies
Lecture Capture
Panopto
Built-in lecture capture technology allows instructors to easily record and live-stream lectures and presentations in selected learning spaces on campus. Recordings can then be shared with students in various ways such as a direct link, or through integration with Canvas. Panopto can record the classroom video, audio (i.e., the instructor lecturing), and the podium output (from PC, laptop, or document camera) that displays on the classroom projector.
View Lecture Capture-ready Classrooms
Zoom
Zoom is a cloud-based audio/video web conferencing and recording application that facilitates courses and meetings for groups from 2-300. Hosts and participants can Zoom from a desktop, laptop, tablet, or a smartphone. Conduct live webinars, or pre-record and post on-demand videos or presentations. Zoom can also be conveniently managed through Canvas.
Zoom's interactive tools and built-in accessibility features help engage audiences, such as:
Screen share
Live chat
Polling and breakout rooms
Automatic live captioning, screen reader support, and automatic transcripts

ShareLink Wireless Classroom
ShareLink Wireless technology enables you to transform any classroom into a collaboration space. Display content from anywhere in your classroom with a laptop, smartphone, or tablet. ShareLink works on:
Windows PCs and Macs
Apple and Android smartphones and tablets
ShareLink cannot be used simultaneously with Zoom
Get Support
The IRT on-call team provides Smart Classroom training and just-in-time support on how to use podiums, control panels, laptop connections, playing media, and more.