On walls and elsewhere, campus comes alive with public art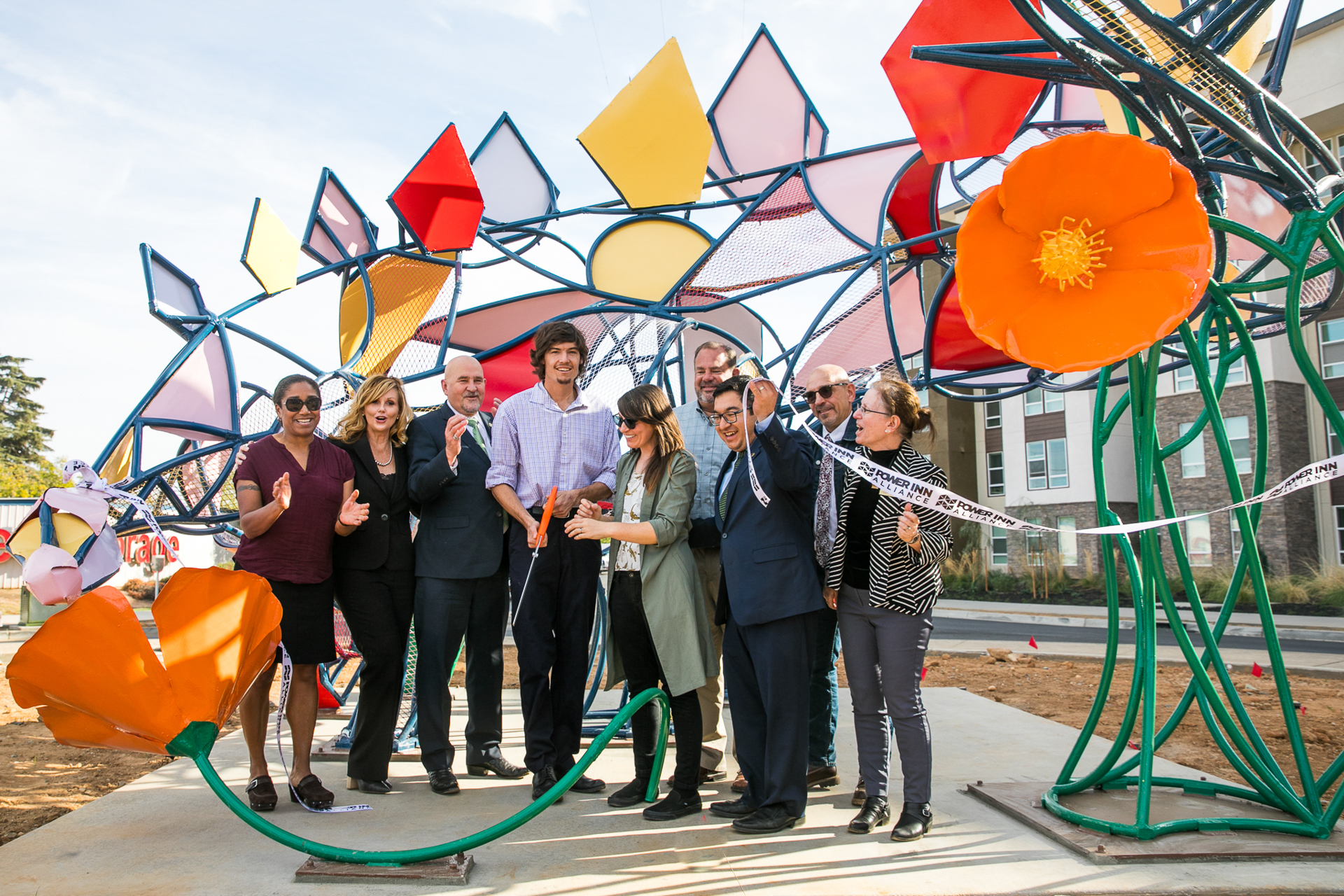 June 15, 2023
You might say art is in the air at Sac State, but actually, it is on the walls, and many other receptive surfaces.
Public artwork has long been a part of the University's culture, but the "SACRAMENTO" mural, painted for the 2018 Wide Open Walls (WOW) festival, connected Sac State to the world of large, public works of art.
Since that bold addition — some murals have graced campus walls for decades — Sac State has added murals, sculptures, wraps, and other outdoor works that augment those found in indoor spaces.
"This is a lovely park-like space. It should be filled with public art." - Sheree Meyer, dean of the College of Arts and Letters
In October 2022, Sac State and community artists painted eight murals on the south side of Santa Clara Hall in support of the University's Antiracism and Inclusive Campus Plan (AICP). 
"I think they turned out great, and the response has been really positive," said Marketing and Communications specialist Carol Nicknig, who organized the AICP mural project. "It's to get people thinking, you know, versus something written that's so literal, they can look at it and interpret it."
During the 2019 WOW festival, three murals were painted at Brighton Hall, the Studio Theatre, and Lassen Hall.
Most recently, the sculpture "Tributary" was installed on the campus Welcome Center plaza.
The University has several reasons for emphasizing large, public works of art, beyond enhancing campus aesthetics, said Sheree Meyer, dean of the College of Arts and Letters. The art also amplifies stories and messages to make the campus more welcoming for the wider community.
"For too many years, a lot of art appeared and occurred only in fairly closed, somewhat elitist spaces," Meyer said. "Monuments that appear, and all that is contested about monuments, really comes from and is shared by the public in a way that museum art is not."
Sac State-created art also graces off-campus land. "Poppysaurus," a color-splashed stegosaurus made of metal tubing, sits in the middle of the Ramona Avenue roundabout south of the University.
Meyer said the University is working toward hosting more temporary public art events and developing a public art policy to ensure temporary and permanent public art is brought to campus in a caring and responsible way.
"This is a lovely park-like space," she said. "It should be filled with public art, and in an educational way, mapping that art so that folks have a sense of its history."
Construction soon will begin on a new art building, which will replace the current Art Sculpture Lab facility and provide new opportunities for students to create and display even more of their work, Meyer said.