Familiar, experienced women picked to lead NSM, HHS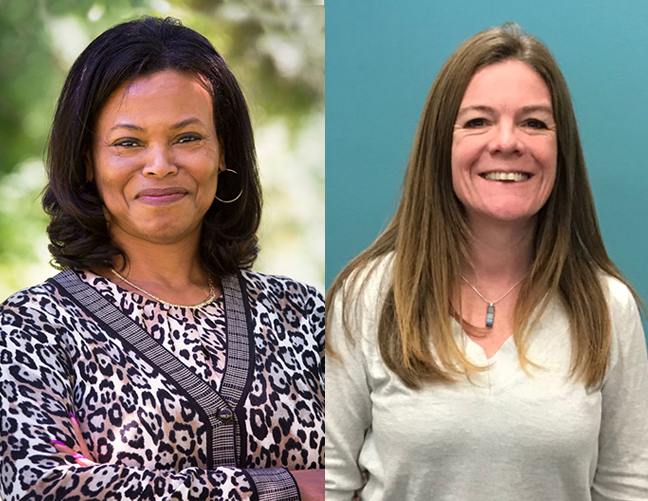 December 21, 2020
The College of Natural Sciences and Mathematics and College of Health and Human Services have new deans, and both are longtime leaders at Sacramento State.
Lisa Hammersley, NSM's interim dean, and Robin Carter, interim dean of HHS, were selected for the permanent posts following a national search, said Steve Perez, provost and vice president for Academic Affairs.
Both women already have made significant marks on their colleges.
Hammersley came to Sacramento State in 2003 as an assistant professor of Geology. She holds an undergraduate degree in Geology from the University of Birmingham in England and a doctoral degree in the same discipline from UC Berkeley.
Carter was "Made at Sac State," earning her bachelor and master's degrees in Social Work at the University before completing a master's and doctoral degree in Public Administration at the University of Southern California.
At Sac State, one of Hammersley's passions has been broadening participation in science, technology, engineering and mathematics (STEM) fields among underrepresented groups. She is project director for the CSU Louis Stokes Alliance for Minority Participation program, which is dedicated to providing support for students from underrepresented populations in STEM disciplines.
She also has served as a faculty fellow in NSM, as well as associate dean for Student Success.
At a time of unprecedented challenges brought on by the coronavirus pandemic, Hammersley said she remains committed to continuing "the incredible work the faculty, staff and students of the college do every day."
"The pandemic has been a challenge, especially for a college with so much lab-based, hands-on learning," she said. "It will continue to challenge us for a while, but we will come through this."
Hammersley became NSM's interim dean in August 2019, shortly before the opening of the Ernest E. Tschannen Science Complex.
"I am honored to be asked to lead the College through the challenges of the pandemic, and excited to continue to build on our strengths and grow as a dynamic, innovative, inclusive, and student-focused college," she said.
Carter served as interim dean of HHS since July 2019.
"The college's programs operate on the cutting edge of innovation," she said. "Our connections to the community are deep and vast. We have nearly 800 students doing fieldwork, internships, and clinicals all over the region, adding value to the agencies and providing great hands-on training to our students."
Carter returned to Sacramento State in the late 1980s as a professor of Social Work. She also served as director of the graduate program, project manager of a child welfare-training grant, and associate dean of the college.
Carter was the University's inaugural interim executive director of Diversity and Inclusion, and served as interim vice provost for Faculty Affairs.
"This is an exciting time to be in Health and Human Services," she said. "Our programs are at the forefront of the current healthcare crises and the anti-racism social movement. We are educating the future workforce and creating socially responsible citizens."
Media Resources
Faculty/Staff Resources