Interim no more, Law named Carlsen Center executive director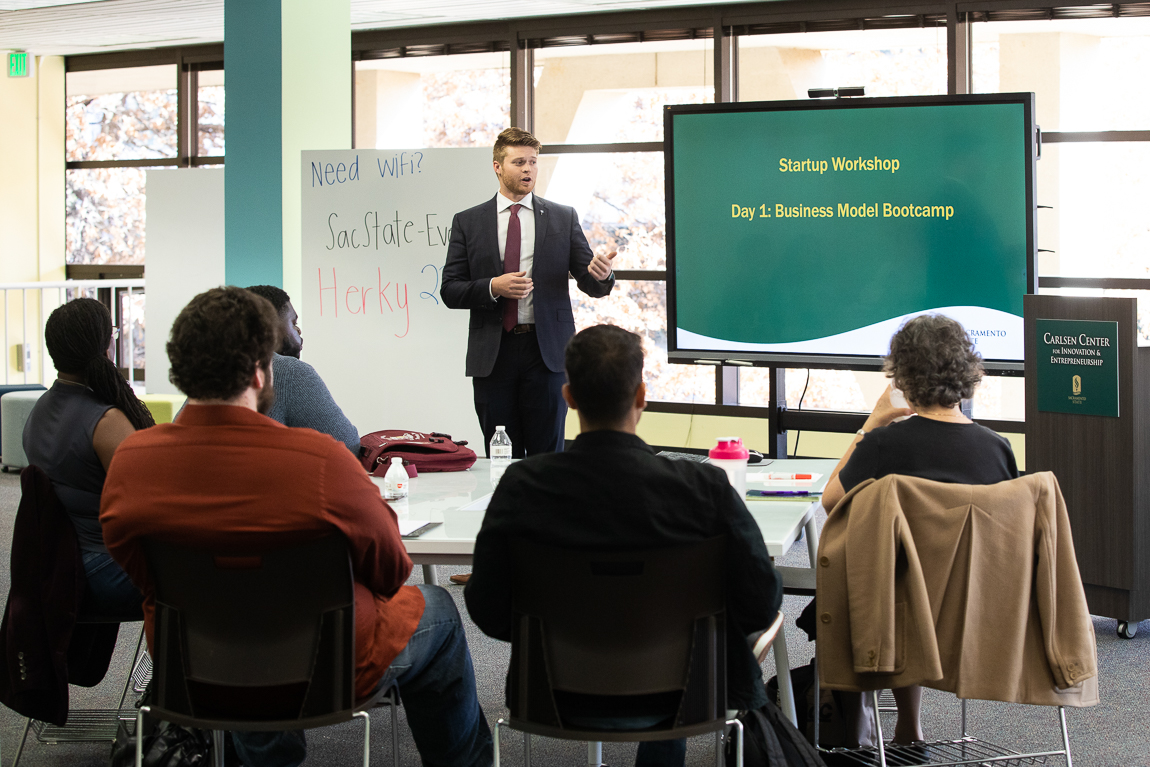 December 23, 2020
Cameron Law spent the last 14 months positioning Sacramento State's Carlsen Center for Innovation and Entrepreneurship as a force in the region.
That work has earned Law appointment, announced Dec. 22, as the center's executive director, capping his interim run in that position that began in October 2019.
Steve Perez, provost and vice president for Academic Affairs, made the announcement following an extensive national search for candidates.
"While growing the center, Mr. Law has truly modeled what any startup enterprise has to do to succeed: Pivot toward new operations when circumstances change," Perez said. "He has steered the Carlsen Center in new and exciting directions, with the promise of much more to come."
Before arriving at Sacramento State at age 27, Law was executive director of Social Venture Partners. His responsibilities included strategic planning, fundraising, and building community partners.
A Sacramento native and graduate of Jesuit High School, Law attended UC Davis on a partial baseball scholarship and earned a bachelor's degree in Managerial Economics with a minor in American History.
Law earned a master's degree in Business from the University of Queensland in Australia, with a double major: Social Impact and Sustainability, and International Business.
After graduate school he returned to Sacramento, taking a job with Impact Venture Capital. He helped run 1 Million Cups as a community organizer, a program that educates, engages, and inspires entrepreneurs.
Law brought his experience and professional connections to the Carlsen Center as interim executive director, arriving shortly before the University's Global Entrepreneurship Week (GEW) in 2019.
"At the core of my leadership philosophy is collaboration, and from day one I knew that in order for us to be effective as a regional hub we must authentically collaborate, build bridges, and tell our story with partners both on and off campus," Law said.
"I am proud to see the many collaborations we have fostered and the role they play in supporting students and entrepreneurs with the education, resources, and community needed to succeed."
On opening day of GEW 2019, Law accepted on behalf of the University a gift of $1 million from Western Health Advantage, which ensures that Sac State's GEW will thrive for years to come.
This year, the Global Entrepreneurship Network chose Law to serve as community organizer and "ecosystem builder" for the Sacramento region's GEW in November. The Carlsen Center was the hub for GEW events, all hosted online because of the COVID-19 pandemic.
At the close of GEW 2020, Law accepted a gift of $250,000 from California Bank of Commerce to become the name sponsor of the Carlsen Center's burgeoning mentoring network.
The Carlsen Center was founded in November 2017 when Dale Carlsen '84 (Business Administration), founder of Sleep Train Mattress Centers, and his wife, Katy, gave Sacramento State $6 million for the interdisciplinary center that bears their name.
The Carlsen Center is housed at the University Library and continues to offer virtual programming to encourage and support students - as well as other entrepreneurs in the community - as they pursue their dreams.
"I love the Sacramento region and am deeply passionate about the role entrepreneurship plays in building economies and solutions to our world's challenges," Law said. "I see so much promise for the Sacramento region and believe that, in order for us to realize our potential as a region, we must grab ahold of and harness the entrepreneurial spirit.
"By embracing the entrepreneurial spirit, I believe we will begin to see a foundational shift in the way we build businesses, solve our community's problems, and engage with our institutions. Entrepreneurship is the backbone of any economy and is needed to grow our region in a prosperous and equitable way."
Media Resources
Faculty/Staff Resources