Graduating class unlike any other looks to the future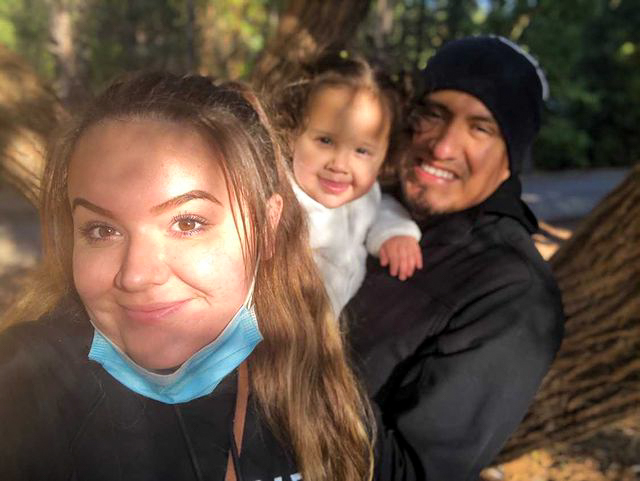 January 15, 2021
Sacramento State's Class of 2020 graduated quietly, without the fanfare of a large indoor Commencement ceremony, raucous parties with family and friends, or celebratory restaurant dinners to mark their accomplishments.
The coronavirus pandemic took all of that from them.
Nevertheless, despite the isolation of quarantine and other restrictions that made their class unique, many graduates are feeling grateful and optimistic.
Thousands of 2020 graduates purchased caps, gowns and other regalia and captured their achievements in photos they shared on social media. Some took part in small, safe gatherings with close relatives. Many are taking the time to contemplate a future free of the pandemic that forced them to alter their lives and plans.
"The past two semesters, with the campus closing down, were really devastating to me," said Lexi Kielly, who just finished her degree in early Child Development. "I love Sac State and interacting with my professors, and the campus is so beautiful and peaceful. I missed that.
"But I worked really hard, and I finally have my degree," said Kielly, who juggled college classes, restaurant jobs, and family life with her husband, Marcos, and toddler, Delilah, as she pursued her education. "My daughter is my motivation. I now have something that she can be proud of."
Kielly fondly remembers attending her older sister Taylor's graduation from Sac State in 2014.
"It was a huge deal," she said. Her family wore shirts with Taylor's image as they watched the Commencement ceremony at Sleep Train Arena, then headed home to Vacaville for a celebratory barbecue bash. Kielly said she has dreamed of waving to Delilah upon accepting her own diploma.
For now, she is focusing on obtaining her teaching credential and starting a career in special education.
"The coronavirus made me question everything," said Kielly, who has endured several job layoffs during the pandemic. "It made things really difficult at times and shaped my decisions. But I know that God is going to make things work somehow, some way."
If she chooses, Kielly may yet get to walk the stage in honor of obtaining her degree. The University is considering various options for celebrating 2020 and 2021 graduates.
Students recently were asked to choose their preference among three options: an outdoor ceremony at Hornet Stadium, with limited tickets per graduate; a drive-through event featuring a vehicle "parade" of graduates and their families winding through campus, with entertainment along the way; and a virtual graduation similar to one held in June 2020.
University officials have not yet decided when the celebration will take place or what form it will take.
"The commitment to the graduation symbols, the significance of the moment, the effort to see the entire process through, is something that fills me with joy."
Nevertheless, 2020 graduates are marking their milestones. About 3,500 Spring and Fall 2020 graduates placed orders for graduation regalia this year, compared to about 6,400 who did so in 2019, according to Associated Students Inc.
Resilience of recent graduates in the face of the pandemic has impressed John Johnson, Sac State's director of Inclusive Excellence Learning.
"I find it remarkable that in the absence of a formal, in-person Commencement, thousands of students are still procuring caps and gowns and putting together their own makeshift graduations," Johnson said.
"The commitment to the graduation symbols, the significance of the moment, the effort to see the entire process through, is something that fills me with joy."
Uche Ohaeri, who earned his degree in Child Development, purchased his graduation cap, gown, and stole, posing in them for elaborate videos for social media that recount his time at Sac State.
"In some ways, our photos are even more important this year since we can't be face to face right now," Ohaeri said. "So I'm being as creative as I can. I might break the internet"
He is working on a series of videos sharing memories and honoring "people at Sac State who made the man I am," including his professors, family, and fraternity brothers, he said.
Ohaeri, whose family emigrated from Nigeria, said he dreams of running his own school. In the coming weeks, he will be back home in San Bernardino, pondering his future. He said he would welcome the opportunity to return to Sacramento and walk across a stage in front of friends and relatives during Commencement.
"I think we all want that, but now is not the time," he said.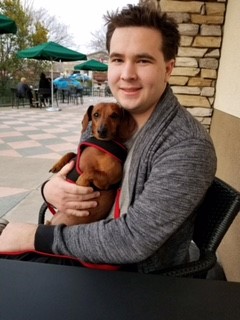 Matthew Gery, who graduated this fall with a degree in Philosophy, has a similar mindset.
He and his family are disappointed that they had to tamp down graduation celebrations, he said.
"My mom and dad are always doing festive things, so they definitely wanted to throw a big party, but right now we're all following the rules," Gery said.
In the meantime, he is sharpening his cooking and baking skills at his family's home in El Dorado Hills, and spending quality time with his dog, Duke. Gery is hitting the pause button on making firm plans for his future because of uncertainties around how the virus might affect potential graduate studies, job prospects and living conditions.
"None of us know what things might be like a month or a year from now, so I'm going to take some time to figure out the next steps," Gery said. "People are learning all kinds of new skills being stuck at home. Maybe ideas will surface that I hadn't even considered.
"Right now, I'm rolling with the punches."
Media Resources
Faculty/Staff Resources