'CARmencement' salutes 2020, 2021 graduates with unconventional and joyous celebration
May 24, 2021
President Robert S. Nelsen's voice was growing hoarse at the end of the second long day of Sacramento State's CARmencement celebration.

Nelsen, in his cranberry-colored academic regalia, shouted greetings to each of the 3,746 graduates who drove past during the historic car parade on campus.
"Stingers up!"

"You did it!"

"We believe in you!"

The festive vehicle procession on May 21 and 22 was Sac State's alternative to traditional Commencement ceremonies at Golden 1 Center, necessitated by COVID-19 safety concerns and guidelines.
The nearly 4,000 Hornets who registered for CARmencement represented a significant portion of the Class of 2020's 8,563 graduates and the Class of 2021's 9,047 graduates. Students who graduated or will graduate in Fall 2019 through Summer 2021 were eligible to participate.

They were joined by family and friends in elaborately decorated vehicles, singing, cheering, and horn-honking along the route that took about 55 minutes to complete.

Graduates wearing caps and gowns popped up through sun roofs, leaned out car windows, and whooped from inside stretch limousines as the parade wound its way through a campus decked out for a most unusual Commencement ceremony.
"I thought it was a great alternative," said Mary Garrett '19 (English). "I wasn't expecting all the cheering from faculty and staff. It felt a little more personal than a typical Commencement."
Erika Cadena '20 (Sociology) appreciated the merriment of the bystanders who shook tambourines, waved pompoms, and danced to the music blaring from loudspeakers.  

"Not all of my family can be here," Cadena said, "but it's great to have some of them with me."  

"I think we were a bit discouraged at first" about the idea of a Commencement parade, said her mother, Eva Cadena. "But I was so impressed. I just loved it."
Dianne Hyson, dean of the College of Social Sciences and Interdisciplinary Studies, had been doubtful that CARmencement could live up to the formality of a traditional ceremony.
"When I saw the first graduate come through, I got emotional," she said. "This is all about pride. These students were so resilient during a most difficult time.

"Faculty normally is on a platform at Golden 1 and so far away from them. Now we can really show them how we feel. I quickly became a fan of CARmencement," Hyson said.

Nelsen's recorded Commencement address played on a loop as the graduates made their way down Sinclair Road.

"Today is your day, and this is the moment — the ultimate moment — you've been waiting for," he said.

"You persevered. You completed your degree during the worst pandemic in decades. We're incredibly proud of you. Sac State is forever in your hearts."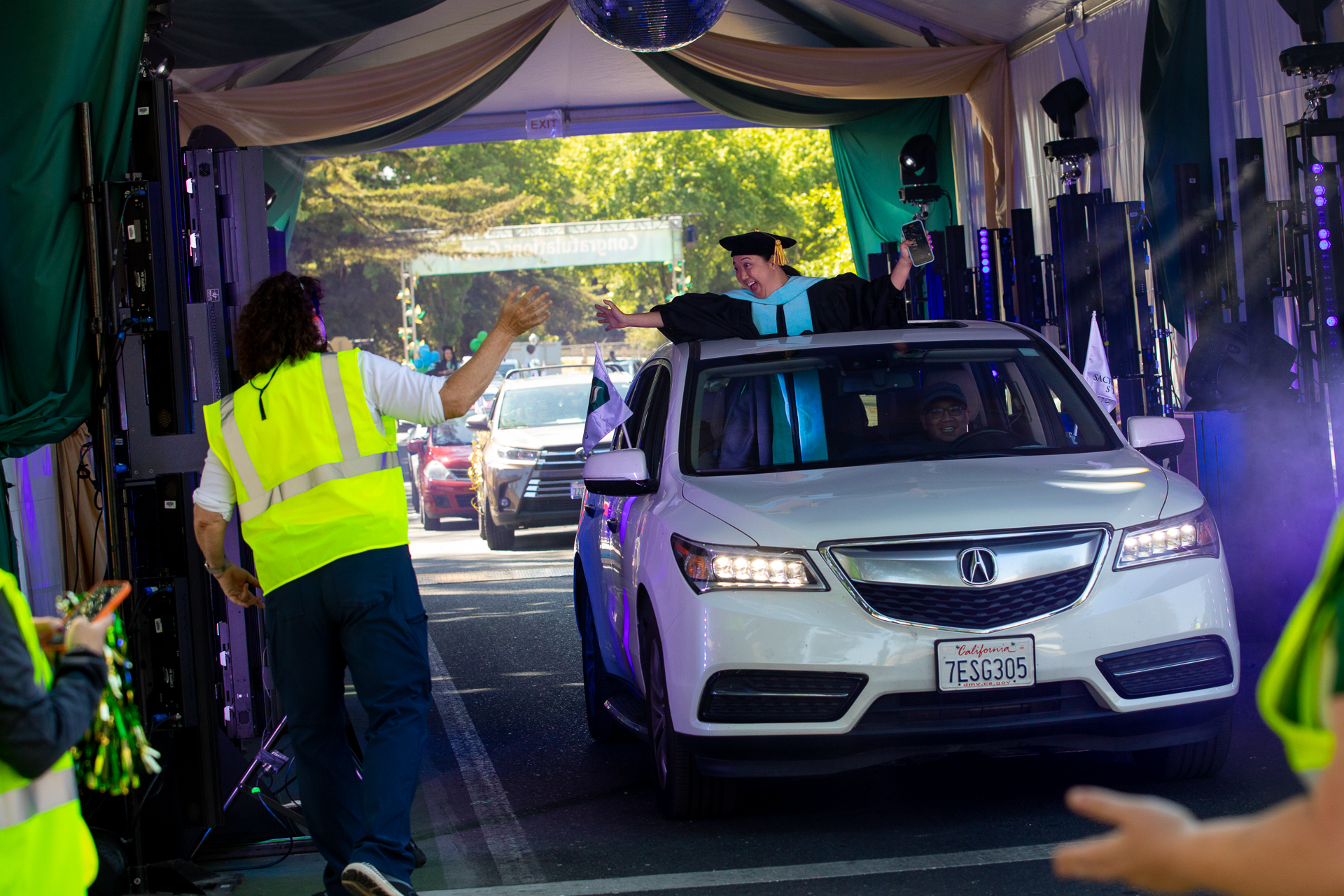 The University's top graduate, President's Medal winner Seham Aldafari, attended the parade in a car elaborately decorated with green-and-gold fringe and the painted messages "We're Done!" and "We are First Gen."
Aldafari '20 (Biology), who plans to become a physician, celebrated with two friends who also graduated. 
"It was super fun!" she said after they competed the route.
She and other graduates were surprised to see the enthusiastic Nelsen waiting as their vehicles crawled toward the finish line. 
"Are you for real?" one graduate asked while taking a cellphone photo of Nelsen.
"I am for real!" Nelsen replied, grinning. 
As each car passed, Nelsen commented on their decorations and graduates' accomplishments. 
"Congratulations!" he said again and again. "Always remember you were 'Made at Sac State!'"
It's been 14 months since Sacramento State moved to distance learning because of the pandemic. Slowly, the campus is being repopulated, and the majority of Fall 2021 classes will be held face-to-face.
"We're remembering what it's like to be a Hornet family," Nelsen said.
"Lately I've been worried about the future of our country. I'm not worried today. Just look at all of these graduates of the most diverse university in the country, with big smiles and a great future in front of them."
Media Resources
Faculty/Staff Resources