Ceremony marks addition of Hornet Commons to Sac State student-housing options
July 27, 2021
Sacramento State has significantly increased its student housing capacity while establishing a highly visible presence at one of the University's gateways.
A ribbon-cutting celebration at Hornet Commons on Thursday, July 29, marked the addition of the well-appointed student apartment complex to the University's housing lineup.
Sac State President Robert S. Nelsen joined political and campus leaders at the event, including President Emeritus Alexander Gonzalez, under whose leadership the project initially gained consideration.
"Wow. Wait until you go inside," Nelsen told the crowd. "Alexander Gonzalez, your dream came true. City of Sacramento, you did the right thing and helped take the 'C word' away from Sac State. We are no longer a commuter college."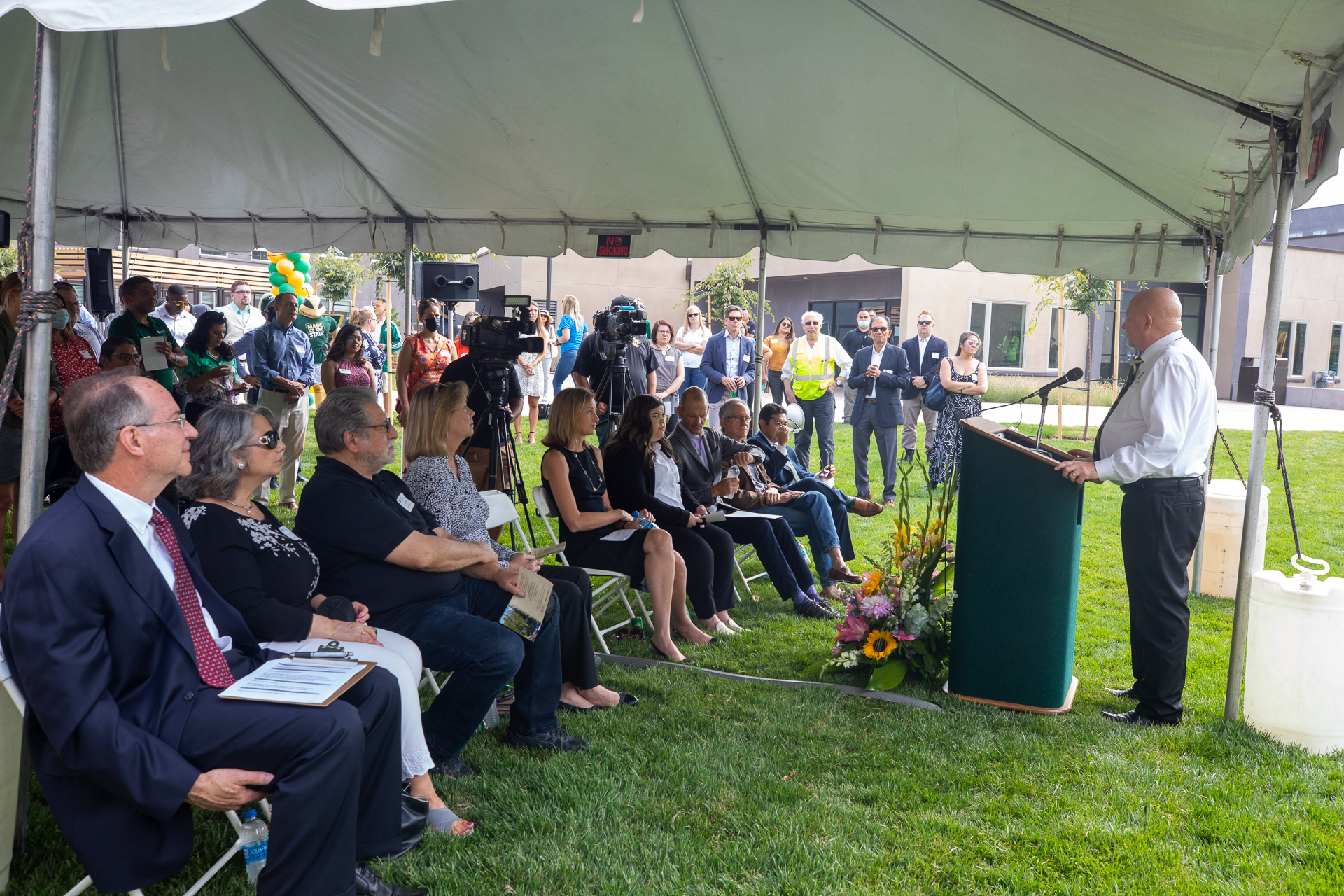 Hornet Commons is a collection of buildings featuring 284 sleek apartment-style rooms with 1,100 beds in a setting designed to meet the needs and demands of a modern student population. It sits on 13 acres at State University and College Town drives, a highly desirable location clearly visible from nearby Highway 50, giving Sac State another attractive public face.
The $168 million development, open to all but first-year students, anchors Sac State's southern border and joins North Village residence halls, including Riverview and American River Courtyard, at the campus' north entrance to bring the total number of on-campus beds to 3,200.
"Having Hornet Commons come online as part of on-campus housing will give our transfer and upper-division students another option to remain on campus," said Samuel Jones, executive director of University Housing Services. "We will continue to have resident advisers in each of the buildings to assist our students with academics and social programming."
Amenities at Hornet Commons include a swimming pool, state-of-the-art fitness center, sand volleyball and bocce courts, basketball half-court, Einstein Bros. Bagels café, barbecues, bike lockers, computer lab, fire pits, clubhouse, hammock hangers, expansive yoga lawn, and a sundeck.
The apartments are fully furnished, and each comes with a dishwasher, 55-inch 4K TV, washer and dryer, extra-long twin beds with storage, stackable dressers, study desks, ceiling fans, laminate flooring, and furniture in the common living area.
Each apartment houses up to four residents. All utilities, including Wi-Fi, are included in the leasing fee.
"Hornet Commons provides yet another way to bring our Hornet Family back together again by offering housing options geared toward juniors, seniors, and graduate students," Nelsen said. "We all know that students who live on campus tend to have higher grades and to graduate sooner. Hornet Commons will give 1,100 students each year that boost that they deserve on their pathway to graduation."
Early Childhood Education major Maria Wilson and her goldendoodle puppy, Lily, will be among the first residents at Hornet Commons, which is Sac State's first pet-friendly housing.
The complex includes a fenced dog park for the canine residents, which each may weigh no more than 50 pounds.
"I'm very excited to live on campus in a place that has off-campus feel and all the assets of a very fancy apartment complex," said Wilson, who will serve as a resident advisor.
To help make Hornet Commons accessible to all students, regardless of their financial circumstances, Greystar Real Estate Partners recently launched the Hornet Helping Hands Scholarship at Sacramento State, which provides full housing scholarships to students from underrepresented and economically disadvantaged backgrounds.
Greystar is the South Carolina-based company that built, financed, and operates Hornet Commons.
"Sacramento State's partnership with Greystar has not only added 1,100 more beds to our campus. The partnership will also provide scholarships that will help our students sleep in those beds," Nelsen said in a Greystar press release.
"I want to thank Greystar and everyone working at Hornet Commons for ensuring that Sacramento State is a welcoming and caring University."
Julie Skolnicki, senior managing director of Greystar University Partnerships, said, "We are thrilled to establish our pilot program at Sacramento State to reduce housing insecurities for students in our communities for years to come."
Sacramento State broke ground on Hornet Commons in June 2019. University Enterprises Inc. (UEI), Sac State's authorized commercial-services auxiliary, purchased from the city of Sacramento 11.5 acres occupied by the Dan McAuliffe Memorial Ballparks. Sac State already owned the adjoining 1.5 acres, which it leased to UEI. As part of an agreement, the developer replicated the ballpark complex at Army Depot East Park, in south Sacramento.
"Hornet Commons supports our commitment to ensuring student success by delivering an on-campus, contemporary, upper-division student housing complex for our students," said Jim Reinhart, UEI's executive director.
Media Resources
Faculty/Staff Resources