APIDA student summit spotlights career choices outside of cultural, family traditions
September 21, 2021
California high school and college students received a rare glimpse into the lives and career paths of Asians who have found success in news, theater, and cinema in an unprecedented virtual summit hosted by Sacramento State.
The Sept. 17 event, which drew students from more than 50 institutions, offered insights into careers that many young people of Asian descent haven't considered because of cultural and family pressures and traditions, said Chao Vang of the University's Student Academic Success and Educational Equity Programs.
Speakers encouraged members of the Asian Pacific Islander Desi American (APIDA) community to chase their dreams, whether in the sciences, the arts, or elsewhere.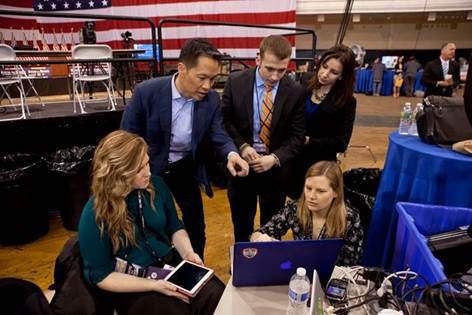 For many Asians, success is defined by a career in the STEM field, as a computer whiz, an engineer, or a physician, said Wenda Fong, a prominent producer and director of television and live events, and a CSU trustee. Science, technology, engineering, and math careers "are great," she said, "but they are not the only ones available to you."
"Don't let the noise of others drown out your own voice," said Fong. "Follow your passions, interests and talents."
CSU Chancellor Joseph I. Castro called the summit "historic," representing one of the largest online gatherings of "APIDA students and their friends and families in California."
Some 70,000 APIDA scholars are pursuing higher education across the CSU, and about 20% of Sac State students identify as Asian American.
Fong's grandparents immigrated to the United States from China so that their offspring "would never have to lift anything heavier than a pencil," she said. Rather than taking a traditional path toward a STEM career, she chose entertainment, which can be "every bit as wonderful and remarkable" as a job in a science field, Fong said.
She is one of the founders of the Coalition of Asian Pacifics in Entertainment, which she called the largest organization for APIDAs in the industry.
Among the other trailblazers who spoke at the conference were Hollywood screenwriters Bo Yeon Kim and Erika Lippoldt, journalist and news anchor Richard Lui, and playwright David Henry Hwang.
Lippoldt, who is part Vietnamese, earned a doctorate in Neurobiology before she began to indulge her love of screenwriting. Kim, from South Korea, studied Anthropology and Archaeology in college before transitioning to writing.
"Find something that you love. If you have that passion, you will be successful." - screenwriter Erika Lippoldt
Now is an ideal time for people of Asian descent to pursue a career in the arts, the women said, because demand for diverse voices and faces has never been higher.
"Find something that you love," said Lippoldt. "If you have that passion, you will be successful."
Lui, who took a circuitous path to his job as a news anchor for NBC and MSNBC, said the industry "needs more people who look like us" on the air. He is committed, he said, to telling stories of Asian American culture and life.
He is proud that network television documented racially motivated attacks and discrimination on Asians that were linked to the coronavirus, which is believed to have originated in China.
"We recorded this. We did not keep it quiet and we did not varnish it," he said.
Hwang's parents emigrated from China and the Philippines. "I knew I wasn't going to be a doctor, because I wasn't good at math and science," he said.
Instead, he found playwriting, using the platform to document the stories of Chinese Americans. His Broadway show M. Butterfly won numerous accolades, including a Tony Award.
Asians commonly face cultural and family pressure to pursue "safe" professions in the sciences, he said. But doors are wide open in the arts.
"There has never been a better time to be an APIDA artist," Hwang said. "It's the best time ever to go into the field."