Key physics projects among 10 Sac State recent recipients of NSF grants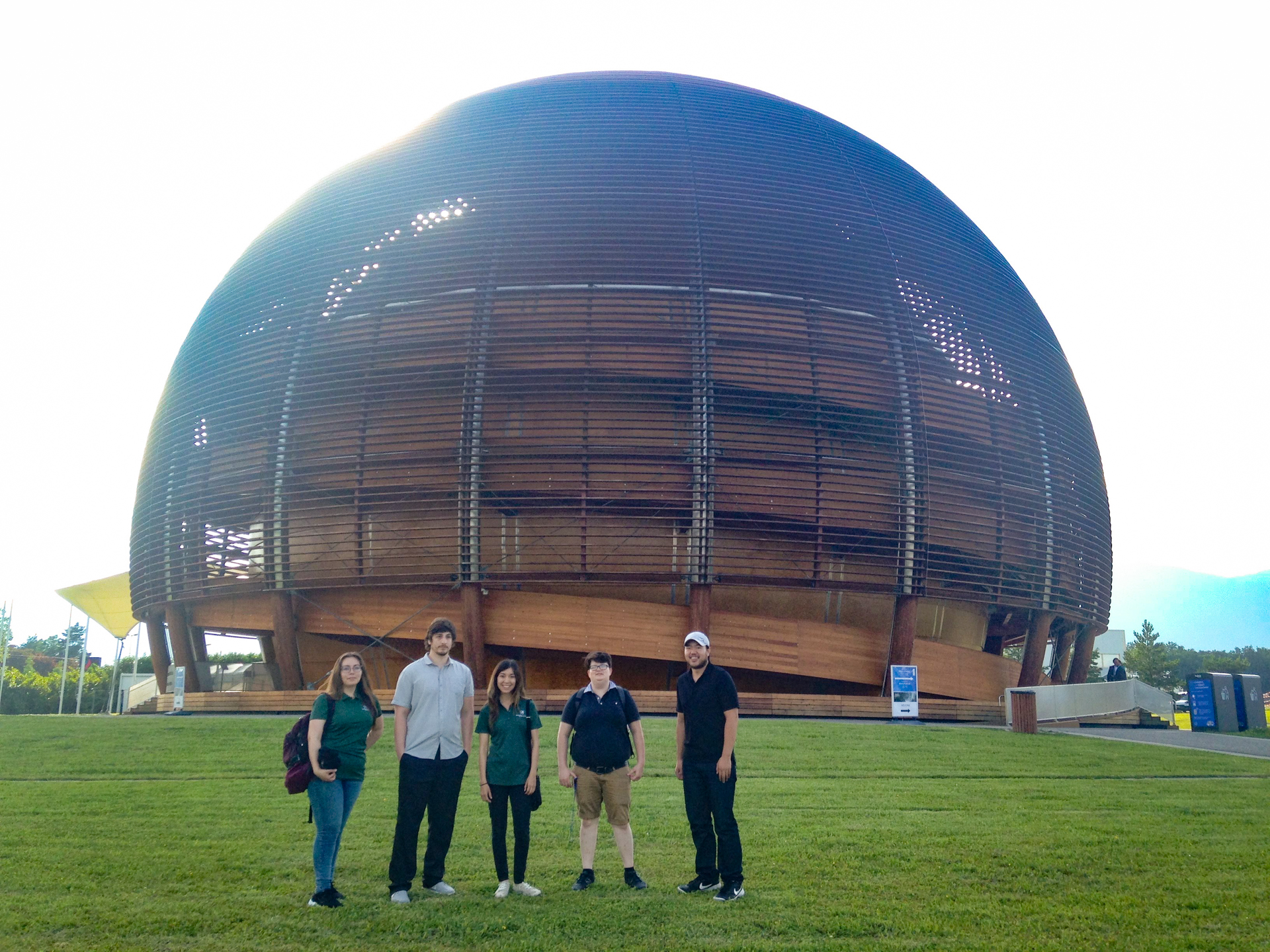 September 27, 2021
Sacramento State students studying Physics and Astronomy will continue to conduct critical undergraduate research thanks to ongoing funding from the National Science Foundation.
The funding allows Professor Rodolfo Barniol Duran to lead his students in continuing research unraveling the mysteries of objects known as gamma ray bursts.
Professor Joshua Moss is leading Sacramento State's ATLAS Program, working with researchers at the Large Hadron Collider in Switzerland to conduct cutting-edge experiments in particle physics that enhance understanding of the basic building blocks of matter.
Barniol and Moss are among a dozen Sac State faculty members, working on 10 separate projects, who have won NSF funding since June. The grants, totaling nearly $3 million, will fund research in wide array of subjects, including digital forensics, geology, hydrology, and computer science.
Professor Rodolfo Barniol Duran's studies of gamma ray bursts are part of a nearly $800,000, three-year grant shared with collaborators from Purdue and Northwestern universities.
Barniol's studies of gamma ray bursts – powerful explosions observed in distant galaxies – are part of a $787,552 award to be shared over three years with collaborators from Purdue University and Northwestern University.
Discovered in the 1960s by military satellites searching for covert nuclear tests, the bursts are generated when celestial objects millions of light years away from Earth collapse and explode.
"They were a mystery for decades," said Chris Taylor, Sac State Physics and Astronomy chair. "It's only in the past 10 years or so that technology has allowed us to figure out what causes them."
Barniol and his students create computer simulations of the explosions in an effort to document the process. The research helps scientists understand the origins of the universe, Taylor said.
"Just about everything in the universe originates in some way from stars," he said. "It's important to for us to know how Earth was created."
Moss has parlayed his longtime connection to the CERN Large Hadron Collider and the ATLAS program into cutting-edge research that gives Sac State undergraduates invaluable experience in the field.
"It's probably one of the most important experiences that these students are going to have at Sac State," Taylor said.
Moss will receive $225,000 to support his work during the next three years. His first grant allowed 10 Sac State students in recent years to travel to Switzerland to do summer research at the collider.
The device, buried deep beneath the Swiss and French countryside, sends atoms colliding into one another at high speeds, with detectors recording the results and sometimes uncovering particles never seen before.
"This kind of work helps us understand the basic building blocks of matter in the universe," Taylor said. "It is perhaps the most important scientific experiment taking place."
10 STEM Grants from the National Science Foundation
Project: Developing Ready-to-Use Hands-on Labs with Portable Operating Environments for Digital Forensics Education. College: Engineering and Computer Science: Principal Investigators (PI): Xiaoyan Sun, Jun Dai. Amount: $391,012
Project: Southeast Pacific and Southern Ocean Seawater Isotopes Determined from US GEOTRACES GP17-OCE and GP17-ANT Samples. College: Natural Sciences and Mathematics. PI: Amy Wagner. Amount: $239,096.
Project: Deciphering the Glacial and Vegetation History of Northwest Greenland Using Long-Lost Camp Century Basal Sediment. College: Arts and Letters. PI: Kathryn Kasic. Amount: $99,995.
Project: Data Augmentation and Adaptive Learning for Next Generation Wireless Spectrum Systems. College: Engineering and Computers Science. PI: Xuyu Wang. Amount: $279,946.
Project: Expanding Girl Power by Design: Continuing to Broaden Participation in Information and Communication Technology Pathways. College: Education, Engineering and Computers Science. PI: Aaminah Norris, Deidre Sessoms, Amanda Baynes. Amount: $996,427.
Project: Constraining Peridotite Alteration Timescales with Environmental Tracers. College: Natural Sciences and Mathematics. PI: Amelia Vankeuren. Amount: $146,619.
Project: Developing a Diverse Hydrology Workforce Through an Undergraduate Hydrological Research Experience in a Coastal California Watershed. College: Natural Sciences and Mathematics. PI: Amelia Vankeuren. Amount: $86,849.
Project: Crossing the Chasm: From Compact Object Mergers to Cosmic Fireworks. College: Natural Sciences and Mathematics. PI: Rodolfo Barniol Duran. Amount: $238,314.
Project: Elementary Particle Physics with the ATLAS Experiment at CERN's Large Hadron Collider. College: Natural Sciences and Mathematics. PI: Josh Moss. Amount: $225,000.
Project: Relative Roles of Ecology, Evolution, and Experience in Solving Novel Problems. College: Social Sciences and Interdisciplinary Studies. PI: Clara Scary. Amount: $180,000.