Sacramento State again named one of nation's top universities for bicyclists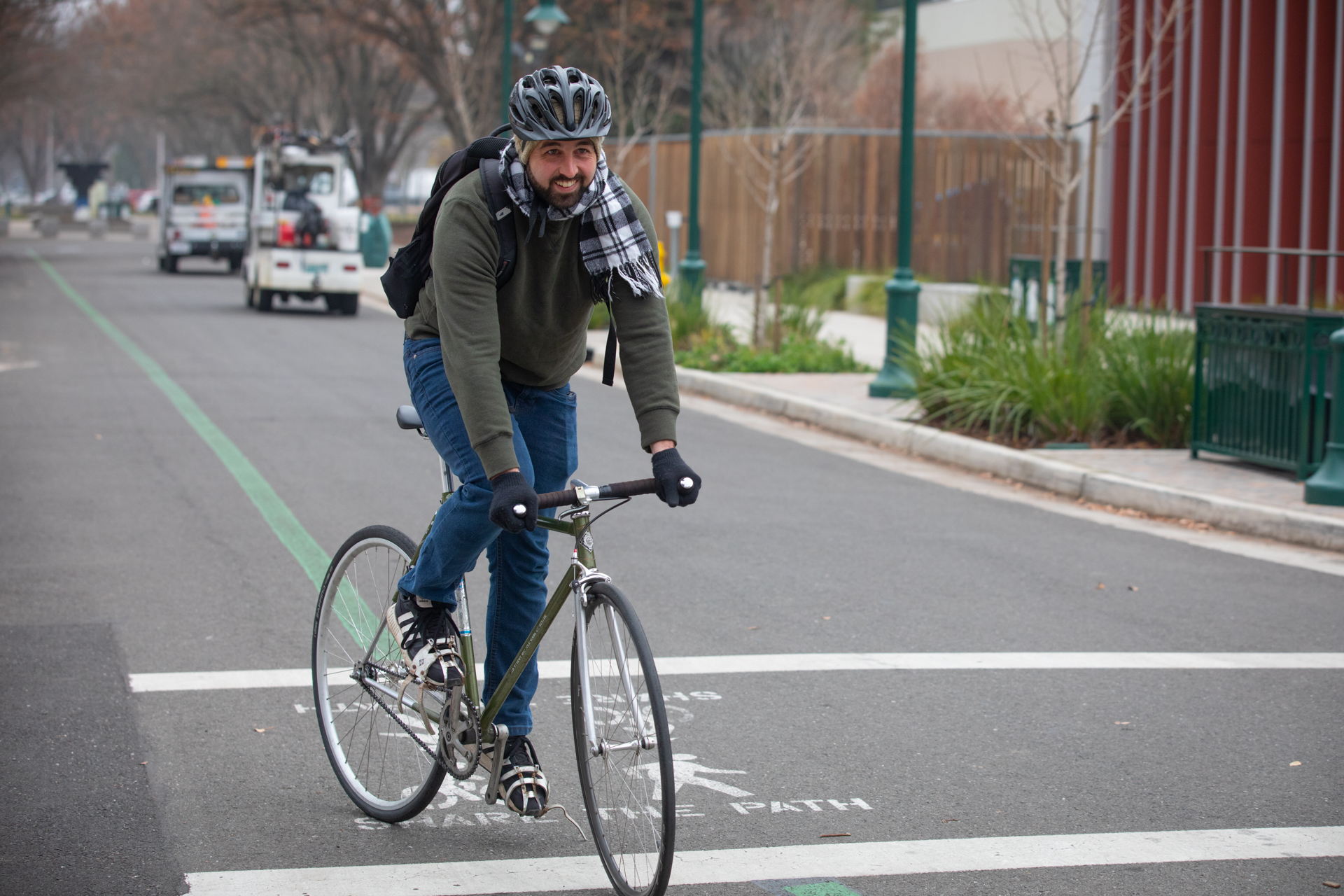 December 22, 2022
Joshua Maddox has a different bicycle for each day of the week.
He's even named his seven bikes, some based on when he rides them. For example, it's not uncommon to see him midweek riding the one he's dubbed "Wednesday." Some of his bikes are standard and others are hotrod-style hodgepodges of parts he's combined to form something unique.
Maddox, an energy and sustainability analyst at Sac State, is one of the estimated thousands of students, staff, and faculty who can attest to how accommodating the University is of cyclists.
In recognition of that accommodation, the League of American Bicyclists has again designated Sacramento State as a Bicycle Friendly University, giving the campus its silver award for the second time.
"It's just kind of hard to beat not having to buy a semester-long parking pass," said Maddox, who travels about three miles each way. "Biking to and from campus from home every day, it's nice, a good way to start my day, a good way to end it.
"It's nice to zip past all of the cars like right here," he added, referring to the busy street near his office. "There's just this dog pile of cars right here outside on Folsom Boulevard."
With the designation comes national recognition and access to the League's resources, tools, and trainings. Among the 37 colleges and universities to receive new or renewed awards this year, Sac State is the only CSU campus.
"It's kind of a big deal to get that level and have a program that's going to meet that standard," said Jeff Dierking, director of University Transportation and Parking Services (UTAPS). "From my perspective, you know, it's a pretty big deal. To maintain that standard and keep it going is something that we strive for."
One other CSU campus, Long Beach, has carried the silver designation since 2011. Three CSU campuses — Bakersfield, Monterey Bay, and Northridge — are currently at the bronze level.
"This round of Bicycle Friendly Universities demonstrates an inspiring shift in focus from driving to biking and walking on campus," said Amelia Neptune, the League's Bicycle Friendly America program director, in a statement. "Making bicycling a go-to transportation option is part of the solution many colleges and universities are using to better the campus life."
Award criteria is based on infrastructure, educational outreach efforts made by the institution, and other factors. In total, 221 colleges and universities across 47 states and Washington, D.C. hold Bike Friendly University designations.
"Many people driving to campus live just down the road, less than a mile. Reducing these short trips would be ideal. I feel like getting these awards and being a bike-friendly business or university can help that." -- Rad Beauton, bike shop manager for ASI Peak Adventures
Dierking said Sac State didn't have enough projects happening to aim for gold this year. Doing so would require efforts like extending partnerships with the city and other groups, as well as physical upgrades such as adding more bike paths.
"We have to show existing improvement," he said. "A lot of the program is not just infrastructure, it's our outreach. We work with the (campus safety officers) to do bike registration to make sure we're engaging the campus community in these alternative methods."
Still, Dierking said Sac State has made quite a bit of progress since first receiving a Bicycle Friendly University designation in 2017.
"We've been switching out a lot of the bike racks on campus," he said. "A lot of the wavy racks … they're not safe so we've been switching those out with the standardized rack, which is easier to lock to."
Dierking said earning recognition from the League is important to keep the University forward-thinking.
"If you're able to even rank with them, you know, you're doing something right, that's for sure," Dierking said.
The University has also recently created "no-ride" zones, updated campus maps, engaged in more outreach with both the community and on-campus groups like Peak Adventures, and actively worked to ensure bike lockup compounds on campus are staffed and secure, Dierking said.
Rad Beauton is the bike shop manager for Peak Adventures, a program and nonprofit business of Associated Students Inc., and another element of Sac State's welcoming of cyclists.
Peak Adventures is a full-service bike shop, located in the University Union, that offers major discounts on bikes and equipment for students, parts and repairs, team building at the Challenge Center, outdoor trips, gear rentals, educational resources like trainings and classes, leadership development, and more.
"I started working for Peak Adventures because a bike shop with a mission to get students on bikes and drive less resonated with me," said Beauton, who has worked for Sac State since 2009 and also rides his bike to and from work daily.
Beauton, who is an instructor for the League of American Bicyclists, said improving bike safety and inspiring more people to want to ride comes down to better educating drivers and riders.
"Many people driving to campus live just down the road, less than a mile," Beauton said. "Reducing these short trips would be ideal. I feel like getting these awards and being a bike-friendly business or university can help that."
Maddox's passion for bicycling began after moving to Santa Barbara, an area that's more bike friendly than the rural area in the Central Valley where he grew up. When it was time to pick a college, Sacramento's cycling community drew Maddox to Sac State. He graduated with a bachelor's degree in Environmental Studies in 2019 and began his full-time job with the University the very next day.
Being able to commute on a bike and know there are resources at the University when he needs them, as well as have the peace of mind that his bikes will be safe, is invaluable to Maddox.
But the biggest draw is the passion for bicycling among the Hornet Family.
"I always find that other people that are also on bikes, there is a little bit of culture there," Maddox said. "When you have the opportunity to hop on your bike, and you're locking your bike at the compound, everybody in the compound is friendly and you just nerd out about bikes. It's always really good to find another point to connect with people in a very real and tangible way."
Sacramento State will next be eligible for the Bicycle Friendly University designation in 2026.
Media Resources
Faculty/Staff Resources