Student photo project explores humans' relationship to land
December 14, 2022
A farmworker's hands. A bucket full of olives. A tractor sitting in an open field. A cucumber.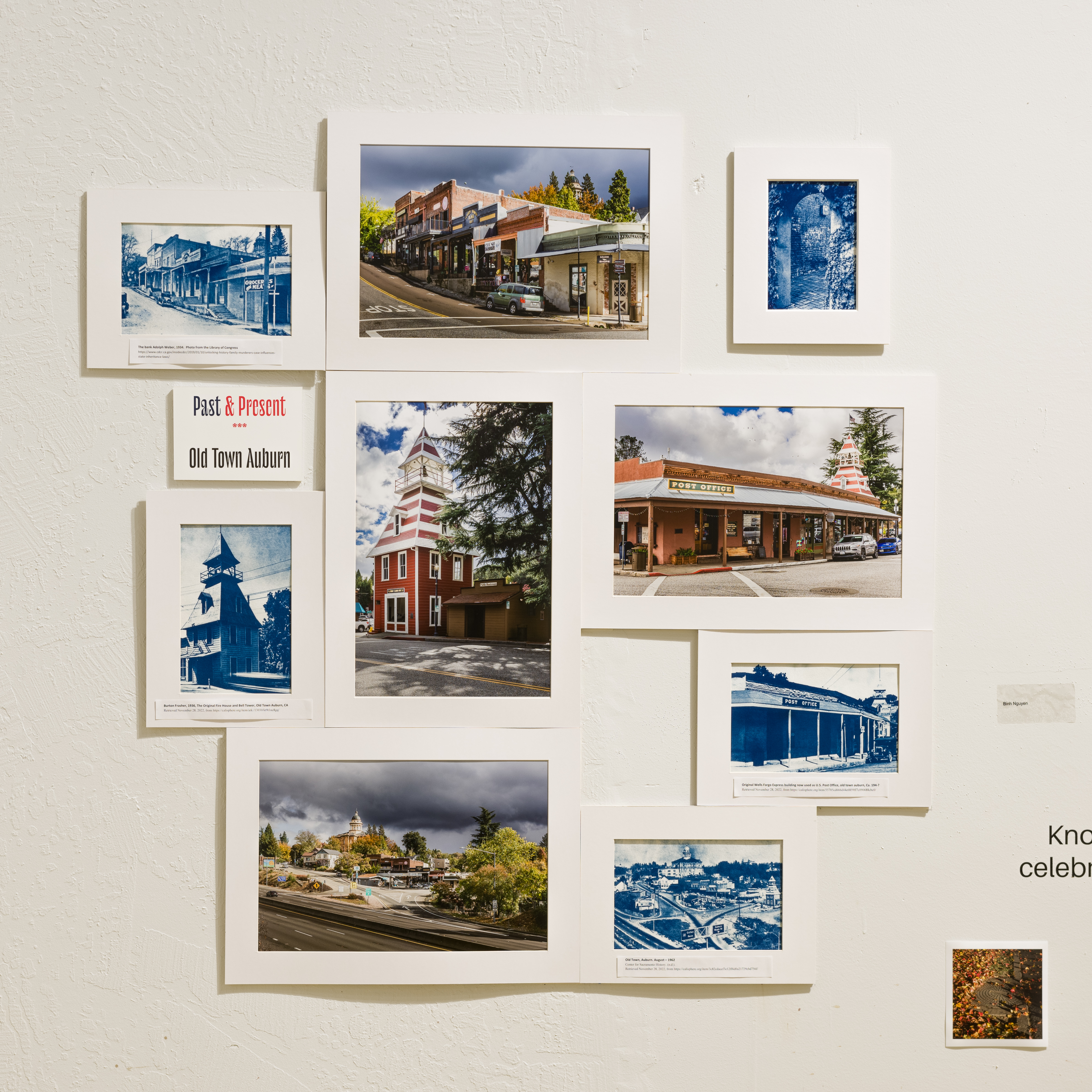 Photos of these images and dozens of others graced the walls at downtown Sacramento's Verge Center for the Arts earlier this month, the culmination of a semester-long project that asked Sacramento State students – and the public – to consider how photographs can communicate the complicated story of how humans relate to the land they occupy.
In addition to taking photos, students visited local farms, interviewed workers and others, and conducted research. It's a process Assistant Professor of Photography Eliza Gregory designed to teach students how to put their art into context, an important skill that many learned or put into practice for the first time.
"I'm really trying to make sure they understand the role pictures play in telling stories, and also the limitations," Gregory said. "We really need context in order to tell a clear story with a picture."
The exhibit, which ran Dec. 3-11, was an extension of Gregory's own ongoing project, [Placeholder], which examines how humans' relationship to land is broken and ways to repair it.
It also is part of a new donation-funded partnership with the Verge that will provide space each semester for photography students to exhibit their work. The relationship is emblematic of Sac State's anchor university initiative, which aims to create, strengthen, and support beneficial and meaningful University-community ties.
"Working with Verge to exhibit students' work is so exciting for me," Gregory said. "Verge's programs build a healthy arts ecosystem in Sacramento, and this partnership brings Sac State students into that community, and shows them that they belong here as artists. It also teaches them how to find institutional support and an audience for their work after they graduate."
Eighteen students participated in the collaborative project, researching and taking photos, and preparing and installing the exhibit. Descriptive text, brochures, and audio interviews accompanied the displayed photos.
During the semester, Gregory assigned her students, all senior Photography majors, to engage in dialogue about the assigned readings, and then she coached them as they built their exhibit to respond to those readings.
"We're documenting something really important within our community, and we're able to tell these stories through our form of art, which is really amazing." -- Erica Otero, student and photographer of Riverfront Farm
The work centered on four places where people work with the land: Cultural Roots Nursery, which sells the plants to grow culturally specific produce not found in mainstream grocery stores; the Nigiri Project, which is repopulating Yolo County floodplains with baby salmon; Riverfront Farm, a West Sacramento-based urban farm; and Maureen's Front Yard, a residential property with 40 olive trees whose fruit homeowner's neighbors, friends, and family harvest each year.
Erica Otero, who awoke early multiple Fridays to capture Riverfront Farm in the early-morning light, appreciated the opportunity to use her photography to educate others.
"It definitely makes me feel a sense of community," she said. "We're documenting something really important within our community, and we're able to tell these stories through our form of art, which is really amazing."
The previous semester's coursework, she said, focused on studio photography. Working outside the studio forced her and the other students to learn how to compose and take pictures in less-controlled environments. For example, Otero said, "lighting is huge" – hence the 7 a.m. photo session to get the prefect illumination.
For Bibiana Garcia, the project was in line with the work she already was doing documenting farmworkers. She was part of the team that captured Cultural Roots Nursery, taking photos showing the labor behind the product.
People who visit art galleries, she said, are not always presented imagery that is meant to educate.
"I feel like that's more for museums," Garcia said. "By having them in this space (that) you're creating, you're allowing the audience to then be informed by the images."
Bryana Moore has only been taking photos for a year and said the project taught her the importance of "paying attention to the little stuff, the stuff you don't normally pay attention to."
"The bucket there, certain leaves in trees," she said, pointing to her photo of a standard Ace Hardware bucket filled with olives from Maureen's Front Yard. "Just paying attention and asking questions."
The students also gained experience collaborating to put together an actual exhibit that would be seen by the public, something Moore said was valuable.
"You can see everyone has different views on stuff and how they capture things," she said, "and (the) different experiences people have, and the different stories that each project brings."
###
To support Sac State's partnership with the Verge Center for the Arts, contact University Advancement.
Media Resources
Faculty/Staff Resources