New clinic offers no-fee hearing services to the community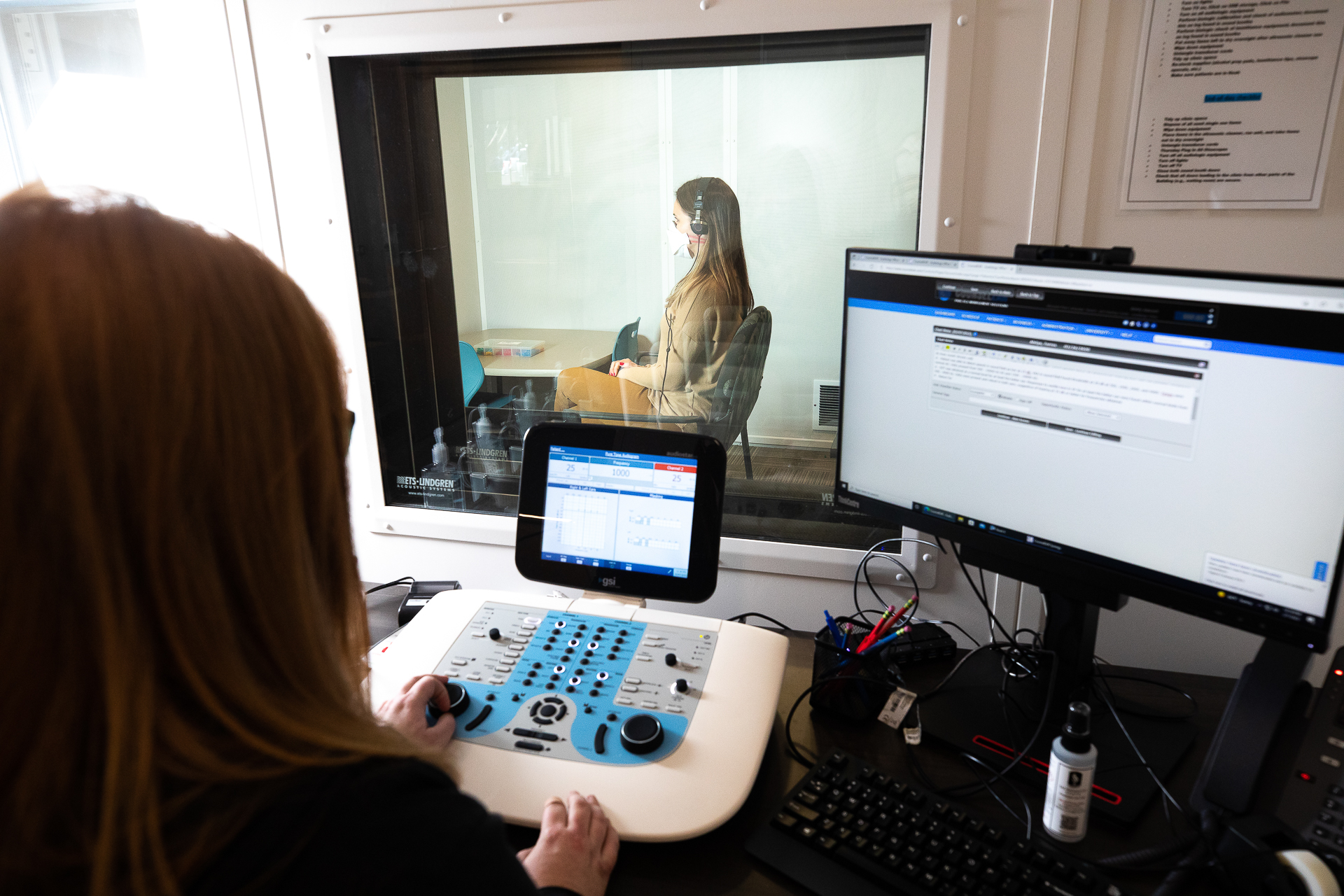 February 14, 2022
A new clinic at Sacramento State offers the community critical, no-fee hearing-related health services, while providing University audiology students crucial hands-on experience.
The Maryjane Rees Language, Speech, and Hearing Center- Audiology Clinic began seeing patients three days a week on Feb. 7. The clinic in Folsom Hall had operated on a limited basis since October.
Multiple hearing services, provided by Sacramento State Doctor of Audiology (Au.D.) students supervised by professional audiologists, are offered. These include comprehensive hearing evaluations for infants, children, and adults; hearing aid services; tinnitus evaluations and management; and earmold services such as custom sleep plugs.
Laura Gaeta, Au.D. program coordinator and interim Audiology Clinic coordinator, said the clinic aligns perfectly with Sac State's anchor university initiative, through which the University strives to support and improve the quality of life in the community it inhabits.
The types of hearing services the clinic offers often are prohibitively expensive for many community members, Gaeta said. Financial donations support Sac State's clinic, meaning patients do not pay a fee for service.
"We're able to meet a need for those people who can't afford those services or who are in need of services and have insurance, but the cost is still prohibitive," Gaeta said.
Heather Thompson, acting chair of the Department of Communication Sciences and Disorders, said national standards changed in the mid-2000s to require a doctorate for individuals to practice as an audiologist. That new regulation forced many master's programs, including Sac State's, to close, resulting in a shortage of qualified professionals.
However, Sac State's Au.D  program, launched in the fall of 2020, is helping to address that shortage.
The new clinic offers students, in addition to hands-on patient experience, the opportunity to do lab work or conduct research. Local professional audiologists who serve as part-time faculty oversee students' clinical work.
Rubina Sethi, a first-year doctor of audiology student, said access to a state-of-the-art facility is invaluable in preparing for her professional career. She and fellow students spent the fall semester observing their instructors and second-year students and now work directly with patients.
"Everything that we really need is here for us to work with and grow with and really learn," she said. "It's nice to have that accessibility to the tools that we need to become great audiologists and professionals one day."
Hearing loss runs in Sethi's family, and she has been diagnosed with tinnitus, a ringing in the ear. She said she understands the importance of the services the clinic offers – and the importance of making them available to people who may not be aware of or able to afford them.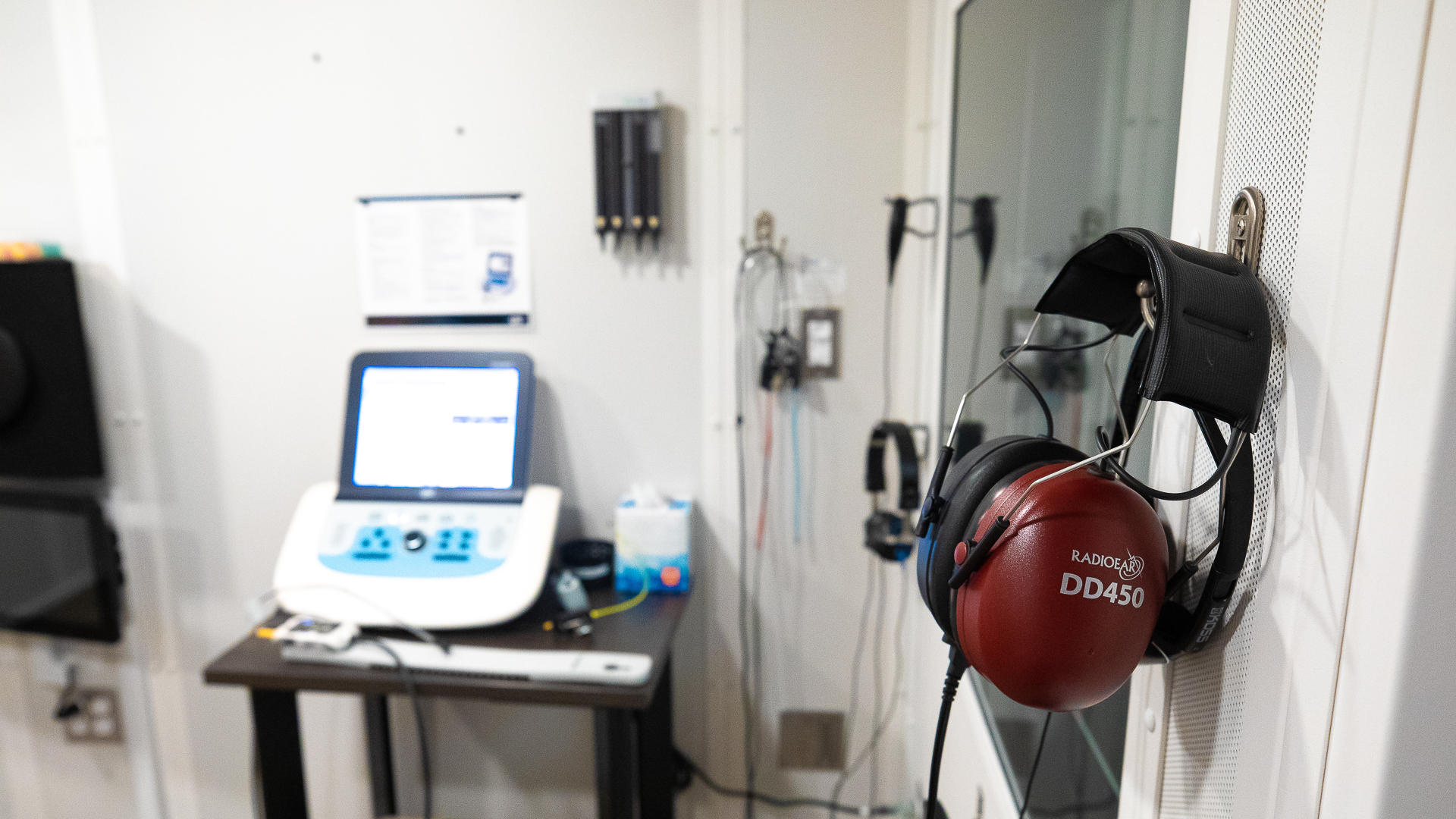 "I've always had a passion for just serving the community," she said. "Audiology is also a field that is not known unless someone has a family member or friend with hearing loss, or if they have a cochlear implant, or have maybe had to see a speech therapist.
"It's nice to reach a population that probably wouldn't have even known what the field was prior to them having tend to need us or find out that there's a problem."
Coryn Hernandez, a Sac State alum and speech language pathologist, brought her 22-month-old daughter to the clinic for a hearing check following months of the girl experiencing on-and-off congestion. Though her insurance would have covered the exam, Hernandez said the University's location was convenient for her, and the experience was "amazing."
"The students and clinical supervisor were all very client-oriented and worked well with my little girl," Hernandez said. "They made her feel very comfortable, made it engaging and fun for her. They also gave very good informational feedback from the hearing evaluation immediately, which was nice that I didn't have to wait for results."
The Maryjane Rees Language, Speech and Hearing Center-Audiology Clinic is open 8 a.m.-5 p.m. Monday through Friday. For more information about services, to schedule an appointment, or to make a donation, visit their website.