Top U.S. education official finds Sac State graduation rate success 'inspiring' and a model for others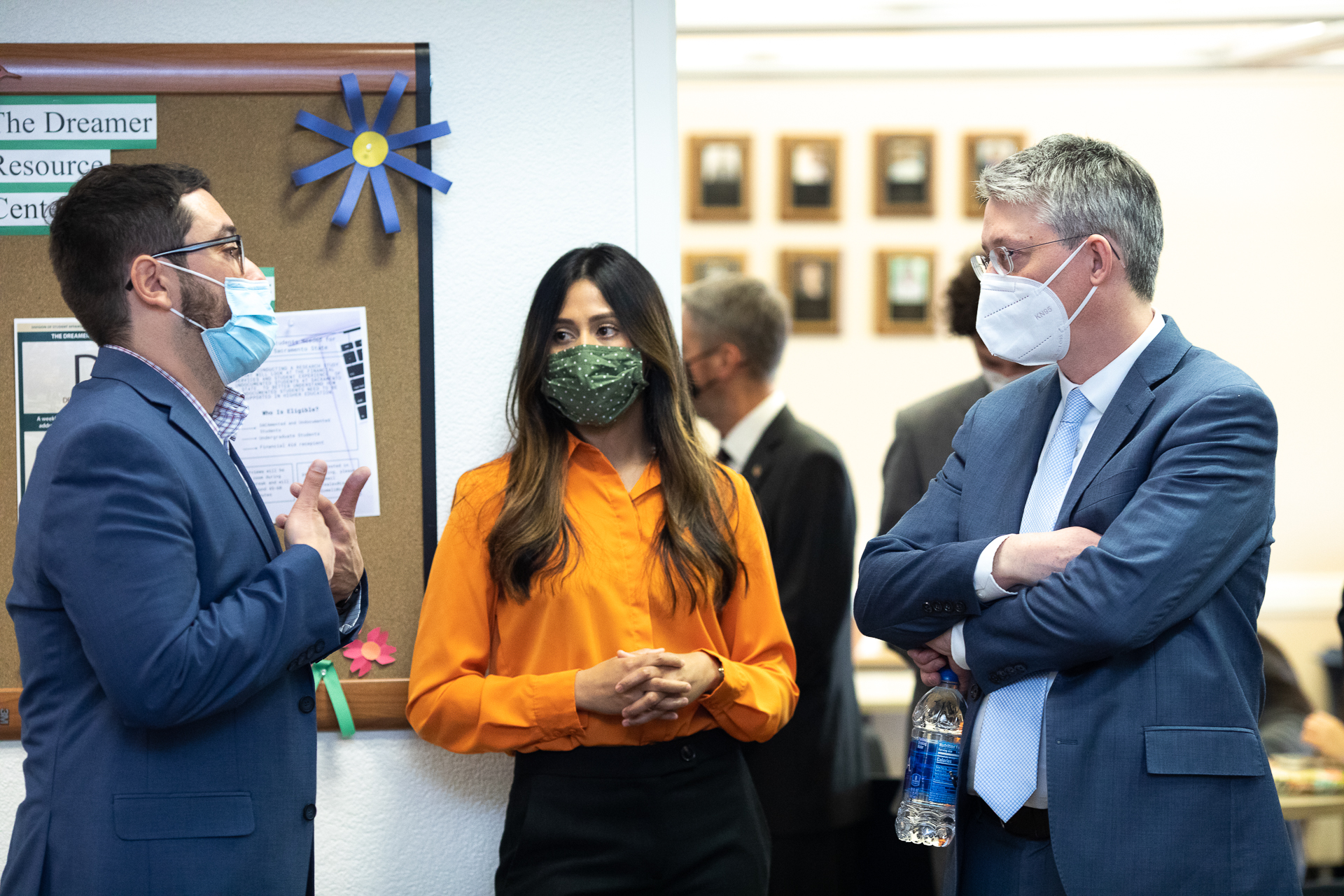 March 02, 2022
A senior official in the U.S. Department of Education called Sacramento State's success in dramatically raising graduation rates "incredible" and "inspiring" during his visit on Tuesday, March 1.
James Kvaal, under secretary of Education and the nation's top official on policies affecting higher education, was on campus to learn more about the University's successful campaign to boost on-time graduation and eliminate so-called equity gaps that impact students of color.
Kvaal said the University's work is a model for other institutions to follow.
During a meeting with campus leaders, Kvaal learned about the various programs, policies, and people that have translated into a 187% improvement in four-year graduation rates since 2016. About 26 percent of Sac State students now graduate within four years, compared to 9 percent in 2016. Sac State also has dramatically reduced equity gaps, which appear when grad rates for traditionally underserved minority students lag behind others. The University aims to eliminate the gaps within three years.
Sac State President Robert S. Nelsen credited efforts by faculty, staff, and administrators across campus for creating opportunity for the successes.
"It takes all of us working together," said Nelsen, who also lauded what he called the determination and resilience of Sac State students.
James Dragna, executive director of University Initiatives and Student Success, emphasized the diversity of Sac State students, a majority of whom are eligible for federal Pell grants, with more than 30% being first in their families to attend college. Most Sac State students are "from the area, and return to the area" after graduation to start their careers and raise families, he said.
The University has emphasized to students and their parents the financial benefits of timely graduation, which places graduates in the workforce more quickly, boosting their earning power and saving individuals and the government tens of millions of dollars, Dragna said. Started in 2016, Sac State's Finish in Four and Through in Two initiatives – the University's programs on behalf of California State University's Graduation 2025 initiative – are considered key factors.
Dragna identified as the heart of the successes a "culture change" the University has cultivated. More students than ever indicate that they want to graduate on time and believe they can with  tools Sac State provides, he said.
Kvaal questioned whether graduating in four years is realistic for all of the University's students, many of whom have jobs and family responsibilities.
"Everyone deserves the chance" to do so, Nelsen replied, emphasizing that Sac State's approach is to "knock down administrative and financial barriers" to pave the way to a timely graduation.
Among myriad policies and programs designed to help students graduate, Sac State has added thousands of courses that are in high demand and eliminated remedial courses that do not earn credits. The University also automatically enrolls freshmen in courses totaling 15 credit hours, placing them on a path to graduate in four years. It has also expanded grants and other incentives to allow more students to take courses during the summer.  
Members of the campus community told Kvaal about efforts, including peer mentoring and tutoring, to make students of all backgrounds and cultures feel they are welcome and belong. Kvaal later visited Sac State's Serna Center, Dreamer Resource Center, and CAMP program, which offer resources to underrepresented students, including the undocumented.
Jennifer Lundmark, a Biology professor who directs the Peer Assisted Learning program, told Kvaal that faculty and staff are working to encourage collaboration rather than competition among STEM (science, technology, engineering and math) students.
Peer support, especially for students of color, helps create a "we're all in this together" atmosphere, Lundmark said. "We've created a lovely environment."
Each of the efforts, and many more, have contributed to soaring graduation rates, Dragna said. Now the University wants to sharpen its focus on retaining students who appear likely to drop out, and work to remove barriers that threaten to disrupt their studies, he said.
Kvaal offered high praise for Sac State's progress and pledged the government's continuing support.
"What you're doing here is so impressive," he said, and "is really important to share with others. Everyone should look at it and ask, 'Why aren't we doing this?' It's really inspiring."