Graduates leave 2022 Commencement with sense of hope and possibilities
May 24, 2022
Sabrina Hurd did a happy dance as she crossed the stage during Sacramento State's 2022 Commencement. She fought tears as she returned to her seat, diploma in hand, then shot a selfie video as she moved the tassel on her mortarboard from right to left.
Finally, she had done it, earning her Business degree the hard way – balancing study, work, and raising her daughter Scarlytt, whose school, soccer, and cheerleading kept Hurd on her toes.
"I'm 32 years old, so I've been working toward this for a long time," Hurd said. "I feel very joyful."
Joy and resilience were recurring themes last weekend as a record 9,435 Hornets celebrated their graduations. This year's Commencement, held May 20-22 at Golden 1 Center, marked the first time since 2019 that the University held traditional ceremonies, returning after COVID-19 shelved them in 2020 and 2021.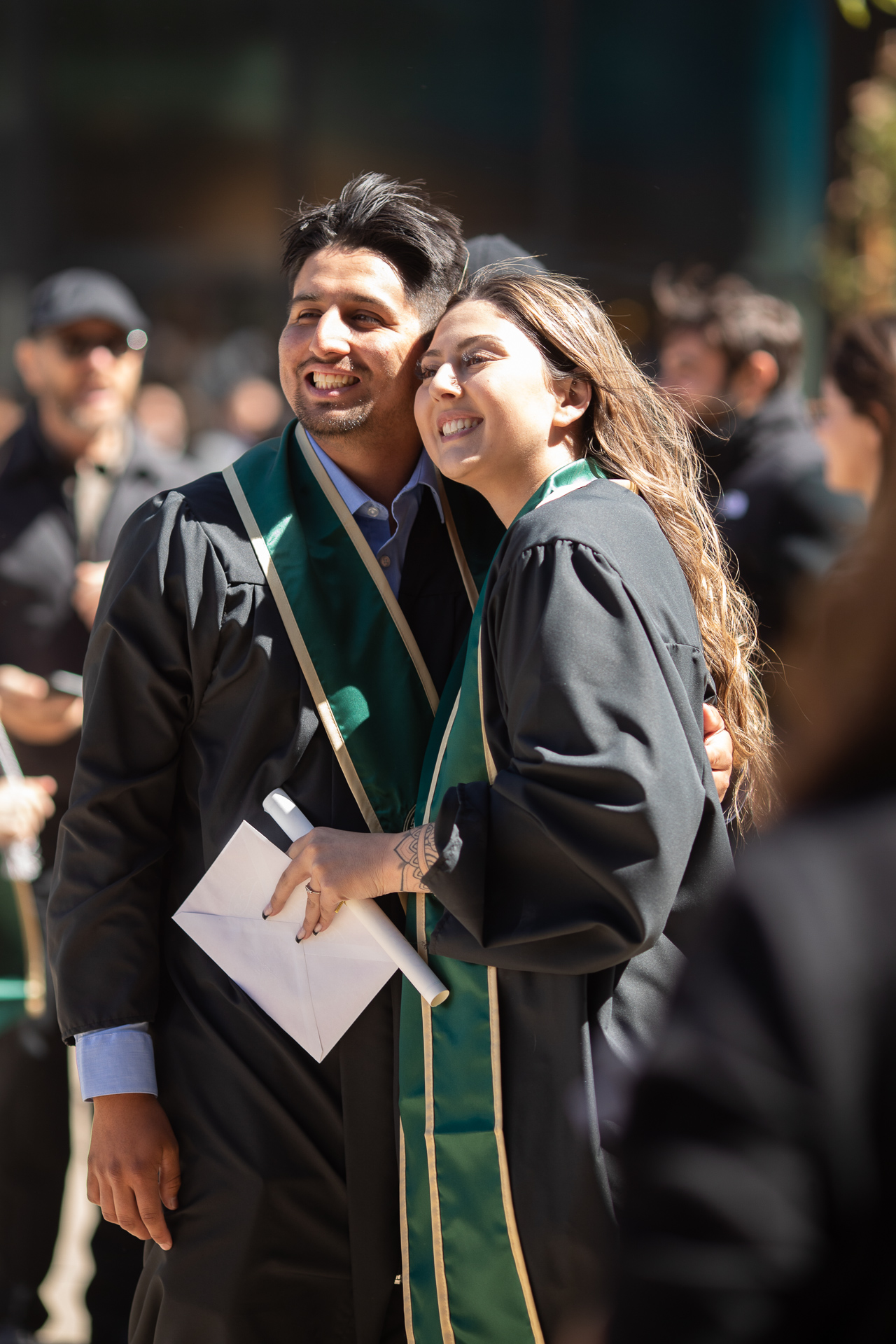 During seven ceremonies over three days Golden 1 Center filled with thousands of friends and families who cheered the accomplishments of their graduating loved ones. They waved signs, blew kisses, and lifted babies high in the air. They took photos of the graduates on the floor, many of whom had decorated their mortarboards with flowers, celebratory words, and political statements.
"Worked My Assets Off," one read, "My Body My Choice," another.
High emotions frequently gripped President Robert S. Nelsen as he delivered his congratulatory speech, noting that 2022 graduates endured "unprecedented challenges" to complete their degrees.
"I know there was a lot of stress, a lot of sleepless nights," he said. "But the fire burned inside of you, and today you taste the sweet taste of success."
Throughout the weekend, graduates posted photos and sentiments on social media using #SacStateGrad. Business graduate Quoc Vu's message likely resonated with many.
"Wow. My time has finally come to start a new chapter in life, one that is bigger and better than before," Vu captioned a photo of him in graduation regalia. "I will always be proud to be a Sac State Hornet."
Donna Walters, student speaker for the College of Business ceremony on May 20, said the challenges of recent years made her stronger.
"We faced adversity and succeeded," said Walters, who earned her master's degree in Business. "It is up to us to create a new beginning."
Accountancy graduate Nataliya Ivakhov said the pivot to online learning was abrupt and jarring. However, "I felt supported by my peers, other students, and faculty members," she said. "I think the faculty did an amazing job" adjusting to the switch from in-person to virtual teaching during the height of the pandemic.
Ivakhov cared for a sick relative, married, and became pregnant on the way to earning her degree.
"When you persevere through challenges, you feel even more accomplished," she said. Ivakhov is pursuing a career in state government accounting.
Halie Pennington, who accepted her Sociology degree on May 21, sported Hornet green fingernails and toenails for the occasion. From her seat, she waved to a large contingent of loved ones in the stands above her. Pennington, a Sacramento native, was cheered on by her mother, siblings, and fiancé.
"I grew up here, and I love Sac State," Pennington said.
Her plans for the future are unsettled, in part because soon she will move to Southern California with her fiancé. Her plans for graduation night, however, were in place.
"We're all going over to my brother's house tonight for a party," she said.
Celebration seemed to be in order for all participants. Students filed out of the arena at the end of each ceremony and into life after college as Sac State's Fine Arts Brass Ensemble played "Pomp and Circumstance," possibly recalling Nelsen's heartfelt words:.
"(Y)ou will never lose your education," he said. "No one can take it from you. You will never cease to be a Hornet."
Editor's note: An earlier version of this story incorrectly identified Halie Pennington as the first person in her family to receive a college degree. She is among several family members who have earned degrees.