Mandarins exhibit musical and entertainment excellence in rousing return to Sac State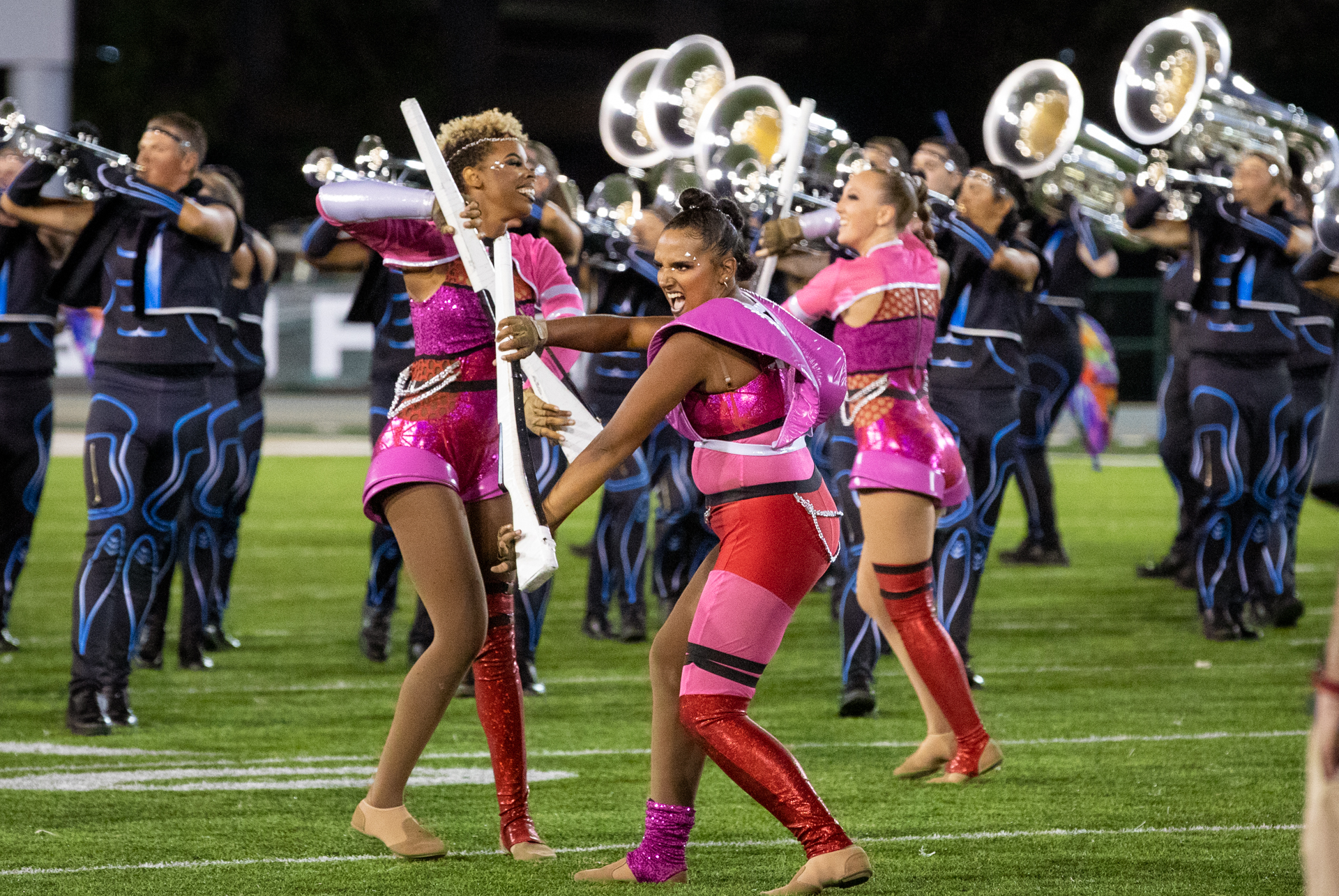 July 14, 2022
Fans were cheering in Hornet Stadium the night of Friday, July 8, but it wasn't for touchdowns.
It was all about the drama provided by the Sacramento Mandarins.
From the drop of the drum major's feathered hat to the toss of the color guard's flag, the musical spectacle of a drum and bugle corps show riveted the audience.
And when every instrument from bugles to xylophones struck the right notes, rousing cheers accompanied the performers' smiles.
"It's hard to explain to newbies," said Dan Fong, Sacramento Mandarins president and CEO. "It's like Cirque du Soleil on a football field."
The event was the DCI Capital Classic Show, hosted by the Sacramento Mandarins, and many of California's top drum and bugle corps participated, featuring more than 1,000 young performers.
An estimated 3,500 fans watched the Mandarins' return to both Sacramento and the competitive circuit after the pandemic interrupted their activities two years ago.
"Everyone is super excited because it's been so long," said Santiago Sabado, Sac State's marching band director and assistant corps director for the Mandarins.
"It's a homecoming to be back at Sac State."
The Mandarins started teaching music to Chinese American children in 1963, a time when discrimination often kept the opportunity out of their reach. Over the years, the program expanded to Asian American children and, ultimately, to people of all backgrounds.
"It's about transforming kids' lives through performing arts," Mandarins executive advisor Jim Tabuchi said. "The state of California has decimated performing arts, especially at the elementary school level, so we made the decision to put it back in place.
"Through our partnership with Sac State, we are making that happen today. We're all about equity in music. Let's make music accessible to not just the wealthiest families, but let's make it accessible to everybody."
Sac State student Charles Henderson III said the Mandarins changed the trajectory of his life.
A singer, and tuba, and contra player, Henderson, 20, began performing with the Mandarins when he was a sophomore at Antelope High School.
"I feel included, and I feel respected, which is hard to find as an African American musician," Henderson said. "As a Black musician, people overlook you a whole lot, especially in the classical music community.
"The Mandarins acknowledge who you are, invite you in, and celebrate you. It's one of the most diverse drum corps in the DCI (Drum Corps International, a musical governing body)."
Henderson, now a third-year Music Education student, has been teaching band in local elementary schools since his first year at Sac State.
"I hope that I'll be able to come back and teach drum corps and provide the same, or better, experience for future generations."
The Mandarins drum and bugle corps is highly competitive, reaching world-class status and consistently finishing in the top 10 corps in the world. Its members are from as far away as Texas and Japan.
"Let's make music accessible to not just the wealthiest families, but let's make it accessible to everybody." -- Jim Tabuchi, Sacramento Mandarins executive director
In addition to the 163-member corps, the Mandarins run music clinics, summer camps, and free band programs in local schools, reaching more than 1,000 kids each year.
The Mandarins also have strong ties to Sac State, Sabado said.
Over the years, many School of Music students have not only performed with the Mandarins, but gone on to teach children in local schools as well.
"I think that's the great thing about the Mandarins," said Sabado, who is also director of Curriculum and Instruction for the Mandarins Music Academy. "It's about creating opportunities and access to music."
Sheree Meyer, dean of Sac State's College of Arts and Letters, said performing arts struggled during the pandemic.
"They were amazingly creative in their ways of continuing to build," she said. "But music is meant to be performed.
"There's nothing like a live performance."
Especially a drum and bugle corps performance.
"Drum corps is a combination of performing arts," Meyer said. "The costuming, the spectacle, the precision, the carefully choreographed movements, along with the music is just an amazing marriage of art forms."
Tabuchi said the Mandarins' impact on the region would not be possible without Sac State.
"It's a very good partnership, but I hope to formalize that and really deepen the relationship," he said. "There are so many amazing possibilities."
***
Are you interested in supporting Sacramento State music programs? See your giving options here.