On Sac State's 75th anniversary, new Library exhibit offers a look at how the University developed and grew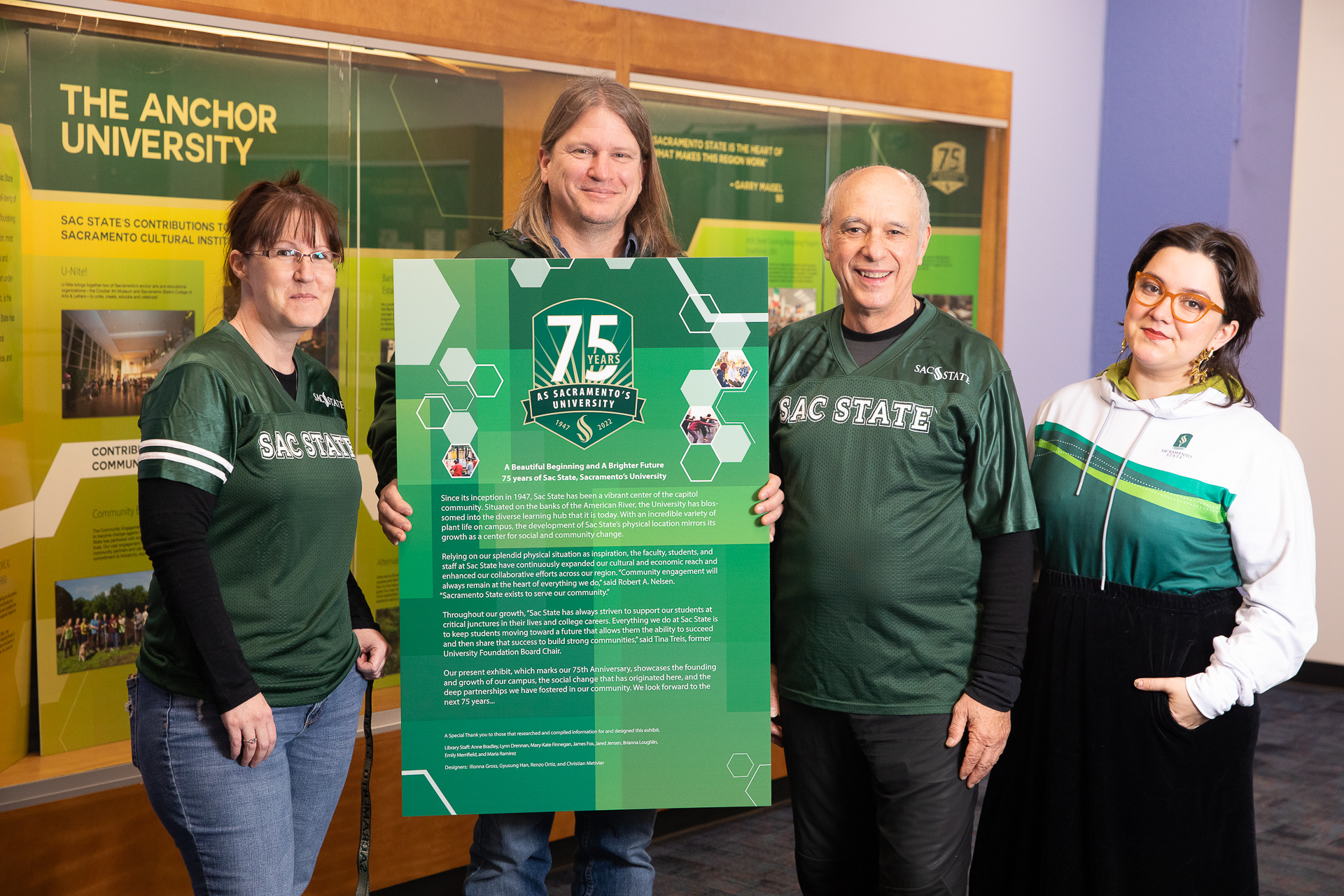 January 27, 2023
Anyone who has ever cleaned out an attic or garage will understand the joy of finding things they didn't know were there.
That's what James Fox, head of the Donald and Beverly Gerth Special Collections and University Archives, and a small team of University Library staff experienced last fall.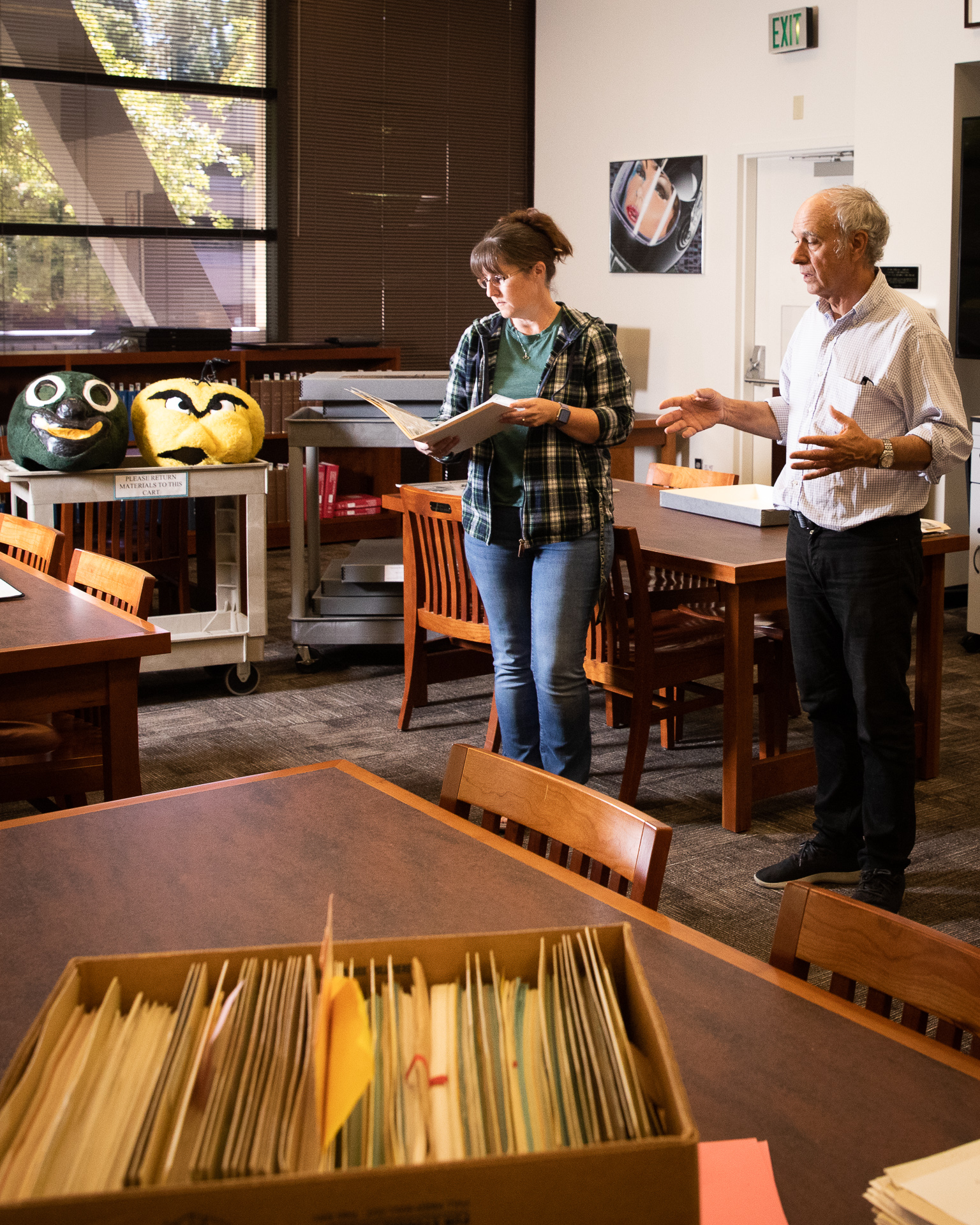 The team rummaged through boxes of documents and artifacts to dig up stories and items to tell the tale of Sacramento State. The fruits of that labor are on display in an exhibition commemorating Sac State's legacy as part of the University's 75th Anniversary celebration.
"The whole time I've been at Sac State, it has been a process of discovery," Fox said. "The great things that have happened on this campus, I had no idea about."
The 75th Anniversary Archives exhibit – atop the main lobby escalator on the second-floor mezzanine of the University Library – will run through the end of the Spring 2023 semester. It is viewable during normal Library hours.
"I want to give something back to the University and something to the community," Fox said. "This is our gift to the University and a way of saying thank you, and so other people can appreciate it."
The exhibit's three-part "Then/Now" theme highlights the University's physical campus footprint, its investment in the community, and its contributions to social change. The display's timeline-style presentation features historical photographs, images of documents and pamphlets, and contextual information, adorned against eye-catching colorful backdrops.
"What strikes me, when I look at photos of Sacramento State over the past 75 years, is how much larger our student body is, how much more diverse and transformative our mission is," said Amy Kautzman, dean of the University Library. "The written word is powerful, but the photos bring the impact of our campus to life."
Fox, manuscript and archives coordinator Lynn Drennan, and public service and archives assistant Brianna Loughlin each worked with a small group of library staff to compile content, each focusing on one of the three categories. Other team members included librarians Emily Merrifield, Anne Bradley, and Mary-Kate Finnegan; library assistant Jared Jensen; and Maria Ramirez, library event coordinator and communications strategist.
"All of us are contributing," Drennan said. "It's definitely a library effort."
Fox said the biggest challenge the team faced was determining how to get 75 years of history into four relatively small display cases.
"I think it's just been trying to tell a good story when we can't include everything we would love to include," Drennan said. "We can't include every group on campus, but every group on campus has contributed over 75 years."
Loughlin, whose team compiled material focusing on social change, said the record shows how students have fought for representation and inclusion over the decades.
"It's a progression through time of how student advocacy has pushed our University socially forward," Loughlin said. "Hopefully, it triggers people to be more curious and look into things on their own, too."
Challenges in creating the exhibit included finding the right images and accurate information for certain periods, as well as having tough conversations about how to handle difficult parts of Sac State's history, such as its association with notorious eugenicist C.M. Goethe in the 1950s and '60s, Fox said.
"Seeing your history and seeing what happened before you came here, I think, is really exciting, and we need to share that." -- Lynn Drennan, manuscript and archives coordinator
Sac State Graphic Design Professor John Forrest enlisted his Fall 2022 senior design students to craft the display.
"They get to work within a real-world environment," Forrest said. "They have to consider the audience. They have to consider the context and acknowledge that this isn't fictitious."
To emulate a professional environment, about 20 students split into smaller teams. Each team offered a design idea and presented it to library staff, who made a final choice.
"In addition to focusing on the form of these things and how we're going to build these things, we're trying to think about what concepts can we come up with to reinforce the story that the library team has put together for us," Forrest said.
The students whose design was chosen for the final exhibit were Illonna Gross, Gyusung Han, Renzo Ortiz, and Christian Metivier.
Fox and Drennan said the exhibit should give a sense of Sac State's evolution. Viewers can make deep connections as they take in how the campus started with just five buildings and no trees, then grew to what exists today.
"Most people, when you come to campus, you grow to love campus," Drennan said. "Seeing your history and seeing what happened before you came here, I think, is really exciting, and we need to share that. Some of it's kind of kooky, a little unusual, but it's fun."
Forrest shared a similar sentiment.
"This is a very quick kind of visual hook," he said. "As (viewers) walk by … the goal of the students (who designed it) is to get them started on that narrative and have them follow that through."
Fox said he hopes the exhibit helps people realize the importance of celebrating the University's 75 years of accomplishments.
"Telling people what you're doing and have done is as important as what you've done," Fox said. "We haven't always done as much as we could to tell people about ourselves. Some of the great achievements on this campus have been the best-kept secrets in our town."
Media Resources
Faculty/Staff Resources