Sac State students soar at annual CSU research competition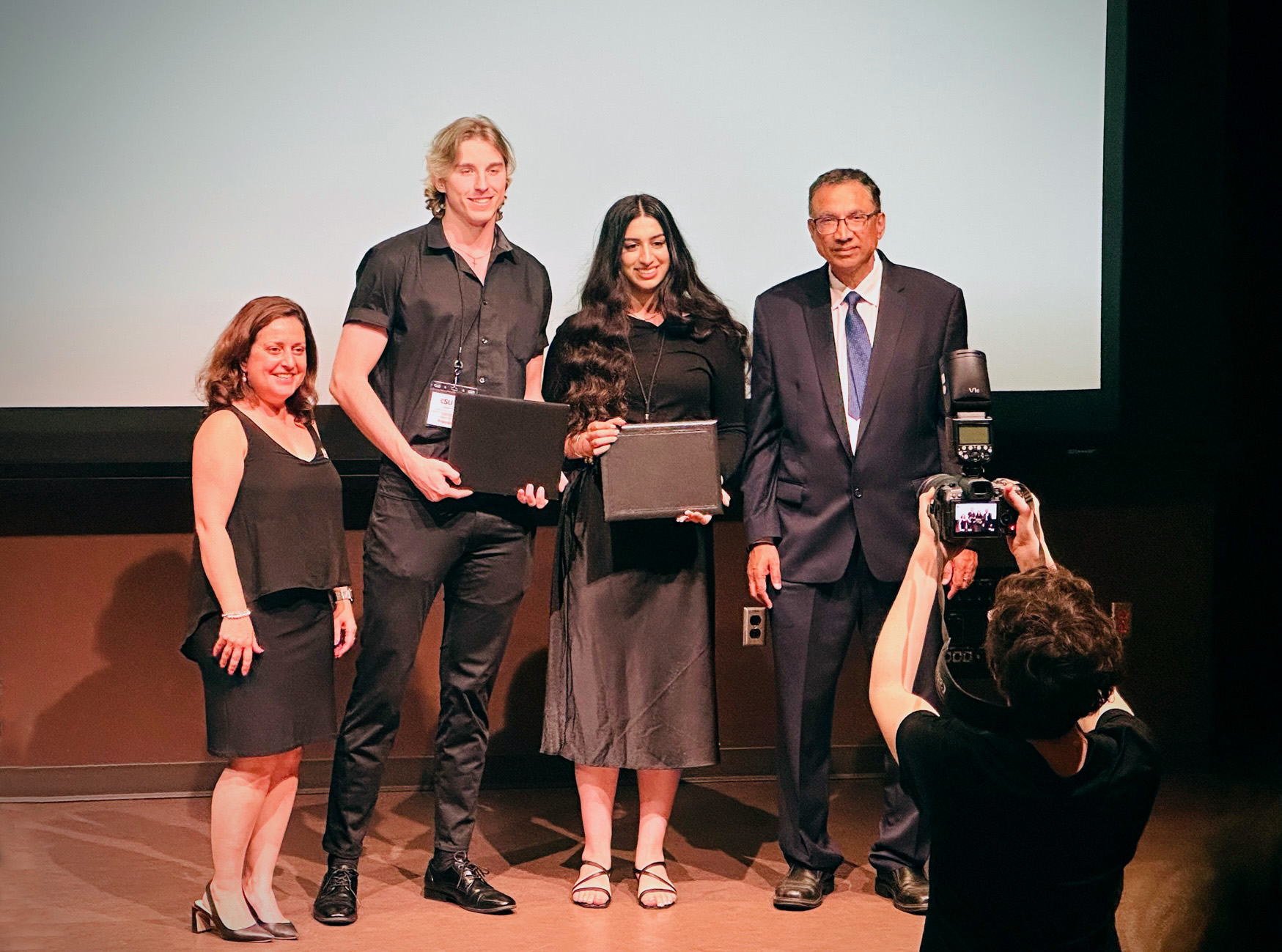 May 11, 2023
Sacramento State scholars came home with a trove of awards from the 2023 CSU Student Research Competition.
The annual competition, held April 28-29 in San Diego, showcases research by students from all 23 campuses in the CSU system. Participants present their work orally and in writing before a jury and an audience.
Sac State students earned two first-place and four second-place awards, the most honors of any CSU campus.
"Our team rocked!" said Biological Sciences Professor Ron Coleman.
The winners are:
First Place: Julian Hernandez, Engineering and Computer Science, "Searching for Litter with Computer Vision." Faculty mentor: Clark Fitzgerald.
First Place: Carson Marsh and Raman Kaur, Biological and Agricultural Science, "Kismet Affects the Gut Microbiome in Drosophilia Melanogaster." Faculty mentor: Kimberly Mulligan.
Second Place: George Harris, Political Science, "Photo ID Law's Impact on African-American Turnout Rates." Faculty mentors: Danielle Martin, Christopher Towler, Kristina Victor.
Second Place: Michael Turgeon, Education, "The Effect of Local Pollution Exposure on Academic Achievement in California." Faculty mentor: Robert Wassner.
Second Place: Jie Liu, Humanities and Letters, "On Emily Dickinson's Use of Carnal Language to Depict Immortality." Faculty mentor: Nancy Sweet.
Second Place: Rachel Sedillos, Physical and Mathematical Sciences, "Investigations into the First Total Synthesis of Lornetic Acid F." Faculty mentor: Claudia Lucero.
Kimberly Mulligan, as associate professor of Biology, serves as a research mentor to first-place winners Marsh and Kaur. Her lab uses the common fruit fly to study the origins of human neurodevelopmental disorders.  
"I'm just bursting with joy that these students had the opportunity to showcase their talent on such a big stage, competing against the top talent from the CSU," Mulligan said. "I was honored to have them represent my research program and Sacramento State."
Media Resources
Faculty/Staff Resources