On his first day on campus as Sacramento State's president, Luke Wood welcomes new students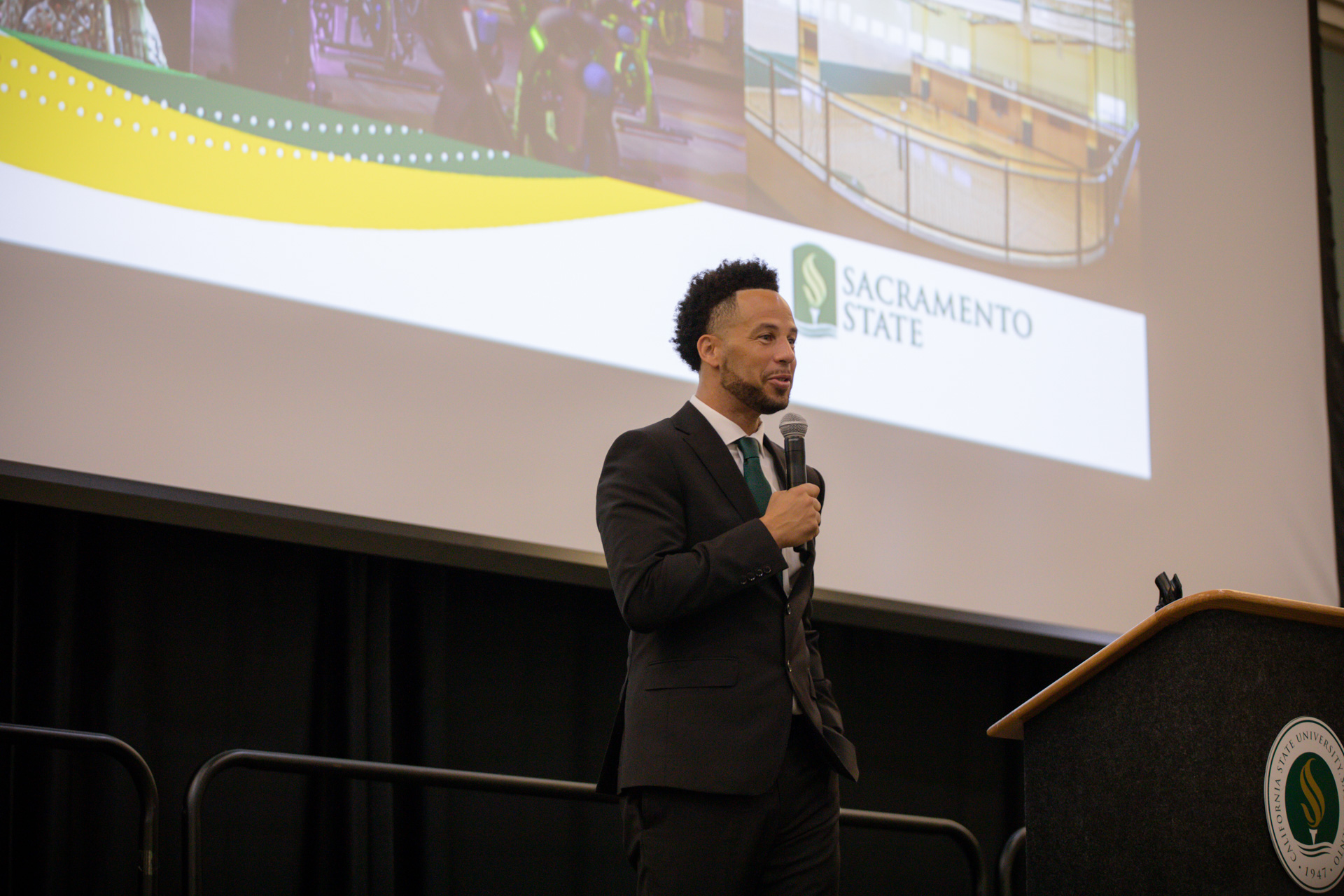 July 17, 2023
On his first day on campus as Sacramento State's ninth president, Luke Wood delivered a poignant message to new Hornets gathered for student orientation.
"Many years ago, I sat where you are sitting," Wood, a Sac State alumnus, told hundreds of students and their family members in the University Union Ballroom on July 17.
During his remarks, he recalled the ups and downs of his life on campus and his journey to becoming the University's top leader. Wood also urged incoming scholars to get involved in campus activities, as he did, and to never give up on their dreams even in the face of disappointments and stumbles.
"I love this place, and I think you are going to love it as well," he said.
On Tuesday, Wood followed his first-day greetings with a tour of several student success centers as well as the Educational Opportunity Program, which he participated in as a student.
Wood, a native of the small Northern California community of McCloud, and his twin brother Joshua were the first in their family to attend college.
The vastness and diversity of the Sac State campus were jarring at first, he said, but things got easier after he became involved in student government and joined clubs and organizations.
Wood ultimately earned his bachelor's degree in Black History and Politics and a master's degree in Higher Education Leadership at Sac State. He also holds a master's degree in Curriculum and Instruction in Early Childhood Education and a Ph.D. in Educational Leadership and Policy Studies with an emphasis in higher education from Arizona State University.
"You can accomplish it. You can do it. … I'm looking forward to seeing you on campus, and shaking your hand as you walk across the stage at Commencement." -- Sacramento State President Luke Wood
Before taking the reins at Sac State, succeeding retired President Robert S. Nelsen, Wood served as vice president for Student Affairs and Campus Diversity as well as chief diversity officer at San Diego State University.
At orientation, he urged new Sac State students to make the most of their college experience.
"Half of what you learn takes place inside the classroom; the other half takes place outside the classroom," Wood said, adding that internships and externships can help students hone leadership and management skills and make valuable connections.
Wood also told students the University will support them when they encounter setbacks.
"Every student will experience challenges. That's just part of life," he said. Sac State offers a wide array of resources, including tutors, mental health counseling, and food and housing resources "to help you deal with whatever you're experiencing."
Wood said his goal as president is to "create a better overall experience for students," paving the way for them to get their diplomas and start their careers.
"You can accomplish it," he said. "You can do it. … I'm looking forward to seeing you on campus, and shaking your hand as you walk across the stage at Commencement."
New Hornets and their loved ones gave Wood a warm welcome.
"It's wonderful to see someone like him come back here," said Adrienne Thompson of Stockton, who accompanied her nephew Kyle Smith to orientation. "He can really relate to these students."
Smith, a scholarship athlete in track and field who plans to study Business and live on campus, was impressed by Wood's remarks to new students.
"He came back to Sac State, and that means a lot," Smith said. "It seems like Sac State did the job right."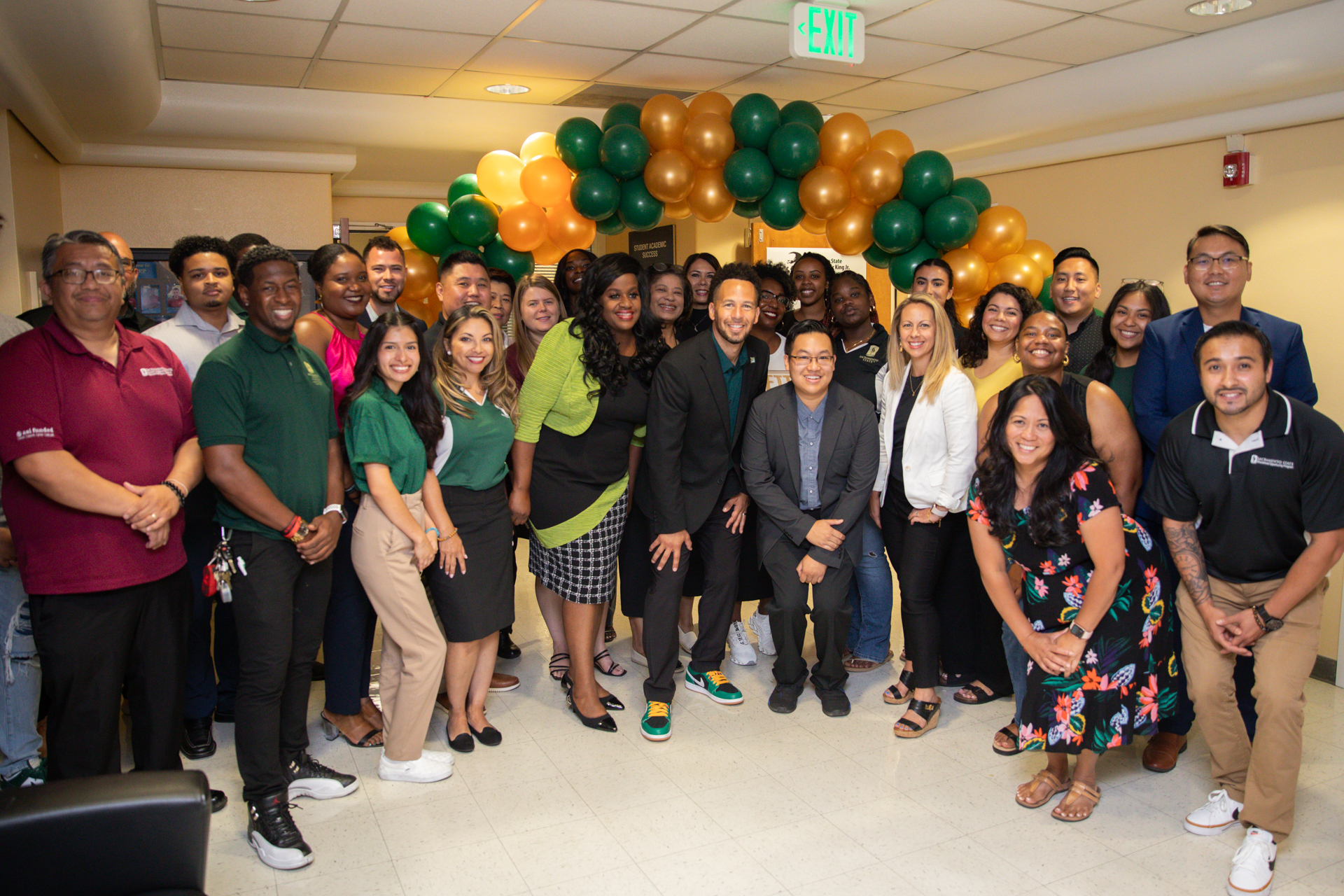 Media Resources
Faculty/Staff Resources