Services
If you would like to meet with a mental health clinician, typically the first step is to come in for a consultation appointment.
Your consultation will last about 45 minutes and will give you a chance to talk through your concerns, receive support and feedback. Many students find that they feel better and that their needs are met with just one session.
At your consultation, your mental health clinician will talk with you about your options and make a recommendation about the next steps. From there, you may choose to attend follow-up appointments, start short-term therapy, sign up for a workshop or group therapy, or meet with our Patient Care Coordinator to learn about and receive support pursuing services off-campus.

To schedule a consultation, you can book online through the Patient Portal or call the Student Health & Counseling Services front desk (916) 278-6461.
Diversity and Inclusion
At Student Health and Counseling Services (SHCS), we are committed to providing a safe, welcoming, and affirming environment for all students. We recognize that many students in our Hornet community are impacted by ongoing discrimination and oppression, as well as recent local, national and international current events. At SHCS we stand as allies to marginalized communities and are committed to affirming the values of inclusivity and belonging. If students are experiencing negative treatment, threats, or subtler forms of oppression because of their race or ethnicity, religious affiliation, country of origin, immigration status, sexual orientation, gender identity, or other aspects of their identity and would like support or assistance, we are here to support them.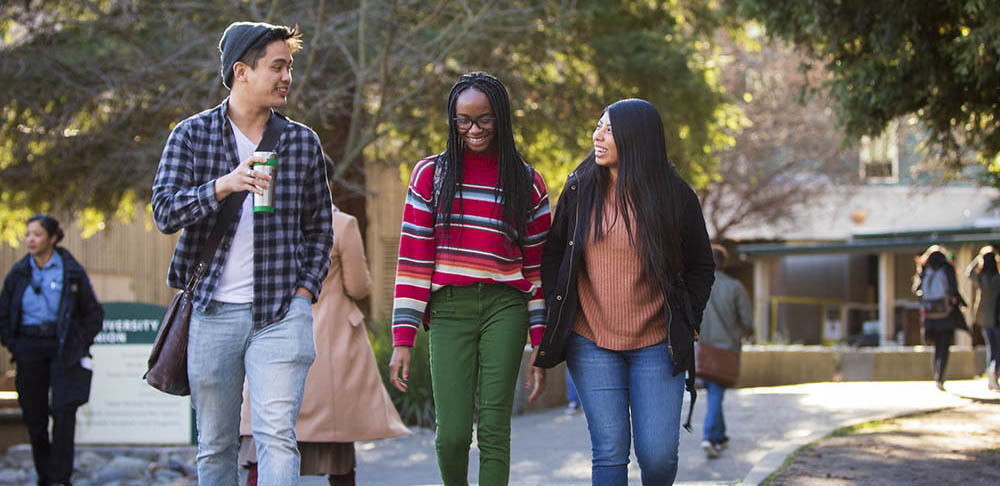 Get the Most Out of Counseling
Define your goals. Think about what you would like to get out of counseling. It might be helpful to write a list of events, relationship issues, or feelings that you think are contributing to your distress. Take time before each session to consider your expectations for that session. Self-exploration and change involve hard work, and sometimes painful feelings are stirred up in the process of healing. Counselors are trained to pay close attention to these issues and will probably encourage you to discuss these feelings openly.

Be an active participant. This is your counseling experience, so be as active as you can in deciding how to use the time. Be honest with the counselor and give them feedback about how you see the sessions progressing.

Follow your counselor's recommendations. Take the time between sessions to complete any activities suggested by your counselor. Counseling is intended to improve your life in the "real world," so making efforts to try out and practice new behaviors, approaches, or ways of thinking could be a crucial element to the success of your counseling experience.

Ask questions. Ask questions about the counseling process, any methods used by the counselor, or about any other services at SHCS. Your counselor is there to collaborate with you and welcomes your questions about the process.

Be patient with yourself. Growth takes time, effort, and patience. All of your coping skills, behavior patterns, and self-perceptions have been learned and reinforced over a long period of time, so change can be difficult and slow at times.
Single Session Counseling
When you come in for a consultation, you can specify that you would like it to be a Single Session Counseling appointment. Single Session Counseling is a one-time appointment that is designed to meet your needs in the moment. You may opt for a schedule a single session if you identify with any of these:
I have a specific concern or question that can probably be resolved in a single appointment

I need to make a major decision in the next few days

I am concerned about someone else (a roommate, friend, etc.)

I am curious about counseling and would like to learn more

I am not sure if I need counseling and would like to discuss my concerns with a professional
In a Single Session appointment, you will meet with a mental health clinician for about 45 minutes and focus on your immediate concerns.
Your clinician will listen nonjudgmentally and may help you clarify goals, provide education, teach you skills, and provide you with tools and resources. They may also help you gain insight into your thinking or shift your point of view about a problem.
Group Therapy
Decades of research have found that group therapy is just as effective as individual therapy for many common concerns. In group therapy, 5-10 students meet with one or two clinicians to talk about issues they are facing. People in group therapy tend to feel less alone and isolated, as they benefit from the mutual support and learning that occurs from interaction with others who have similar concerns. Some groups meet for only a few weeks and focus on a specific topic or skill set meanwhile, some groups meet throughout the semester and have a broader focus. There are also some groups where students can drop-in, but many require you to sign up in advance.
Individual Counseling
We offer short-term individual counseling with an emphasis on your academic success and improving your daily functioning. Individual counseling provides an opportunity to talk with an objective, caring professional about your concerns or problems in a brief, solution-focused manner. One-on-one counseling can help people with common problems and mental health issues such as academic stress, anxiety, cultural and identity concerns, depression, family or relationship troubles, sexual assault, substance use, LGBTQIA+ issues, grief and loss, body image, and low self-esteem.
Academic Difficulties
Addiction
Anxiety
Alcohol Abuse
Bereavement
Cultural Adjustment
Depression
Eating Disorders
Post-Traumatic Symptoms
Questioning Sexuality and Coming Out
Relationship Issues
Stress
Urgent Care
If you are in crisis, please ask to meet with the urgent care clinician rather than scheduling an appointment. Please walk-in to the Urgent Care department at Student Health and Counseling Services, on the first floor of the Well.

Generally, a crisis entails acute emotional distress, combined with one or more of the following:
You are unable to cope with a recent stressor (e.g., failing a class, end of a significant relationship, etc.) and cannot wait for an appointment.

You recently experienced physical or sexual assault or another significant trauma.

Someone close to you has recently died.

Your life or safety is currently in danger (for example, due to domestic violence, recent homelessness, alcohol or other drug withdrawal).

You are concerned about your ability to keep yourself safe (You have a plan to hurt or kill yourself or have recently taken steps to end your life).

You may have a strong desire or plan to physically hurt or kill someone else.

You are experiencing psychosis (hearing voices or seeing things that other people do not, or feeling like people are plotting against you or out to get you).
Referral Services
In addition to our services, you may be referred to consult with another office on campus, such as the Career Center or the CARES Office. Your clinician may also refer you to a mental health provider off-campus if your concerns would be best addressed by a therapist who can offer intensive, long-term, or specialized mental health treatment. If a community referral is warranted, your therapist will help connect you to an appropriate service or may schedule you an appointment with our Patient Care Coordinator.
** SHCS does not provide the following **
Letters or documentation for emotional support animals;
Psychological testing, including AD/HD and Learning Disorder assessment;
Letters or documentation for medical withdrawal or financial aid appeals, unless the student was previously receiving treatment at CAPS;
Testing for accommodations for standardized tests, such as the LSAT, GRE, DAT, PCAT, and MCAT;
Mandated counseling (including court-mandated counseling);
Disability evaluations (or mental consultative exams);
Letters or documentation of services for training or educational purposes;
Fitness for duty evaluations