ABA Green News
Guest Speaker - Transitioning to Green
In December, Sac State's sustainability team and Facilities Management welcomed guest speaker Joe Rasmussen, Ed. D., to the campus to talk about sustainability in higher education.
Rasmussen's presentation, "Transitioning to Green: An Overview of Campus Sustainability in Higher Education," focused on how universities can expand their sustainable goals and become better stewards in their communities.



His presentation provided insight into the concept of sustainable transitions, and how higher education institutions like universities play a fundamental role. This role is education: "Universities are arguably in the best position to provide education and serve as models of sustainability," Rasmussen's presentation highlights. "The process of striving towards sustainability is a transition."
His ideas on how to accomplish this transition include:
Infusing sustainability across the curriculum
Education for sustainable campus operations
Educating all campus stakeholders about sustainability in a variety of ways
These are important goals for Sac State to consider. In an increasingly competitive higher education market, having a robust sustainability program is not only good for environmental reasons, but also from a marketing perspective. According to Rasmussen, "Sixty percent of students and parents take campus sustainability into account as a factor in choosing a college." Attendees were greeted with additional information about how they can spread the word about sustainable work practices. For more information, Mr. Rasmussen's presentation is available here.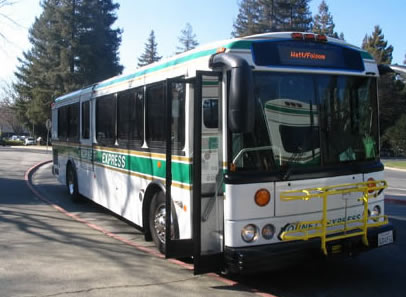 Alternative Fuel Powers Shuttle Fleet
On January 27, University Transportation & Parking Services (UTAPS) began fueling their five buses exclusively with Atlas ReFuel Biogas, which is derived from food waste.
The gas is not only cleaner burning, but demands less refuelling, and at a cost equivalent to the University's previous fuel supplier.
As stated in their online news release, Atlas' Organic Waste Recycling Facility is located at the South Area Transfer Station in Sacramento. The facility receives up to 100 tons of food waste per day from local restaurants and eateries, and is capable of producing up to 700,00 gallons of renewable compressed natural gas (CNG) a year.
Atlas' system is expected to reduce greenhouse gas emissions by 5,800 tons per year. UTAPS is playing their part by participating. "Hornet Express refuels three buses daily," said Shuttle Coordinator Gavril Sarcadi. "UTAPS is committed to sustainable operations, and partnering with Atlas/Clean World was a natural choice," added Senior Director Tony Lucas.


Atlas ReFuel is produced through anaerobic digestion, a biological process in which naturally occurring micro-organisms break down biodegradable materials to produce gas, including methane, carbon dioxide and small amounts of hydrogen and hydrogen sulfide. This gas is then cleaned and compressed for use in vehicle engines.
Tony Lucas and Gavril Sarcadi have both been nominated for a Clearer Air Partnership Award through Breathe, California for their leadership, by University Sustainability and Operations Analyst Kristina Cullen. "Sacramento State is paving the way for others to use this renewable resource by demonstrating its compatibility with regular compressed natural gas that is derived from fossil sources," said Cullen. "The five mile radius the shuttle reaches from the campus serves upwards of 25,000 riders per semester, further contributing to cleaner outdoor air quality by keeping all of those cars off the road."
Renovations Save Water During California Drought
Sacramento State is one of the largest water consumers in the city of Sacramento. But in the midst of a near record-breaking drought, California residents are being asked to cut back their water usage. To address these issues, Facilities Management has recently begun a project to replace over 500 toilets that use a fraction of the water from decades-old fixtures.
"With California in the middle of another drought, water conservation has become a very hot topic in the state," said President Gonzalez, during his spring address. "Our campus has bathroom fixtures from the 1950s and '60s, and these fixtures use more than double the water of current standards."
The new toilets use just 1.3 gallons of water per flush compared to the over 4 gallons from the toilets they replaced. The old urinals used 3 gallons per flush, while the new ones installed use just a half gallon. These toilets that use the most water can be found in some of the oldest buildings on campus.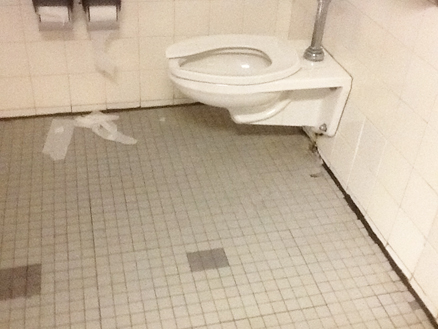 So far, toilets and urinals have been replaced in five restrooms found in Yosemite, Lassen and Humbolt halls. Facilities Management plans to conclude the project in September. The project is being partially paid for by the city of Sacramento, from a state water projects bond measure passed in 2002.