MESSAGE FROM THE VICE PRESIDENT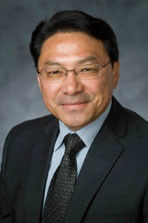 Message from the Vice President
With another spring semester well underway, I would like to take a moment to reflect on the accomplishments of our staff over the past few months.
You will find throughout this newsletter articles describing the projects that our dedicated staff completed over the winter break and into the spring. These projects include: classroom renovations that improve student learning; new and improved restroom facilities; increased beautification of the campus and efforts to reduce water usage. Other articles describe our partnership with a local enterprise that provides our fleet of shuttle busses with biogas, a clean alternative fuel source; and continued master planning efforts that will shape the future of our campus.
Our goal with these improvements is serving those most important to the success of Sacramento State - our students. As President Gonzalez stated in his spring 2014 address, "We are finding ways to use resources that provide maximum benefit to our campus, to our students and to the community we serve." This mindset is at the core of "Redefine the Possible."
I am proud of the hard work performed by our staff. That is why it I want to mention that the ABA Staff Peer Awards nomination cycle is underway. Remember, this recognition program is unique in that it gives staff the opportunity to nominate their peers for accomplishments during the year. Managers are exempt from this process, but I want to encourage all staff to consider submitting a nomination for those who meet the criteria for one of the following categories: Customer Service, Problem Solver, Teamwork, Positive Attitude, Professionalism and Innovation. Working side by side, staff members witness the hard work of their colleagues every day. This is a great way to share your observations, show your appreciation and spotlight the important work of fellow staff.
Nominations will be accepted through April 11th. The nomination form is available here. As in previous years, a selection committee comprised of last year's awardees or other ABA family staff representatives will make recommendations to me. Award recipients will be announced at the ABA Spring Social on June 3rd.
Elsewhere in this newsletter, I want to call attention to our feature story that describes the importance of planning in everything we do. ABA has launched new mission and vision statements, through which we describe our commitment to student success and our aspirations to lead in innovation and best practices across the CSU system. And, new values and a revised code of conduct describe the workplace culture that we are so proud of. I want everyone to understand these as the keystones of our collective efforts going forward.
Finally, I hope you will enjoy the ideas shared by your colleagues in our new book review feature, the second of which appears in this edition.