ABA NEWS
UTAPS Puts Drivers to the Test
University Transportation & Parking Services (UTAPS) takes a hands-on approach when it comes to training new student drivers. Students who have met the unit load, GPA and driving record requirements, passed the requisite physical and drug tests, and earned a Class B license, arrive on campus ready to go. But driving the Hornet Shuttle Express buses requires more than just agility, sobriety, good standing and skill. It requires the ability to professionally handle a variety of situations that could occur.

ABA staff volunteered to help put drivers to the test, acting out a variety of scenarios during the June 2012 training. With direction provided by UTAPS Senior Director Nancy Fox, volunteers did their best to be authentically difficult, posing as argumentative passengers, riders attempting to board with food and open containers, and those without a OneCard to validate their student status. Following each scenario, Shuttle Coordinator Gavril Sarcadi worked with new drivers to assess their handling of the given situation. "People [on the bus] are loud, chatty and generally unaware that the driver needs 100 percent focus," said Account Technician Christina Day, a volunteer.


Representatives from Business & Administrative Services, Risk Management Services, Procurement and Student Financial Services, along with UTAPS volunteered to help this year's seven new student drivers prepare for the worst. Volunteers found the process fun, as well as instructional - "I asked to do this again next time; I will be even more demanding and difficult! It was a fun break from my usual work," added Risk Management Analyst, Janie Xiong

"Hornet Express Shuttle is a very well-run and popular program, of which we are quite proud. There is a certain charm about students driving students to Sac State, with their favorite music playing in the bus all the while," said Nancy Fox.

Through Gavril Sarcadi's focused and effective coordination, driver training, and Class B license testing, UTAPS is able to bring on well-trained new student assistant drivers each semester. With the help of ABA staff volunteers, UTAPS is strengthening training in the area of customer service and conflict resolution.

If you find yourself hopping onto the Hornet Express in the near future, rest assured that your driver has been properly trained to handle difficult scenarios, while maintaining a clear focus on the road. UTAPS is proud to acknowledge that there have been no accidents involving a Hornet Express bus in over four years. With a continued focus on quality training, we can keep it that way.


SCRATCH! ABA Bowlers Take to the Lanes
This summer, with encouragement from Police Chief Mark Iwasa and support from Executive Assistant Serena Fuson, ABA organized its first bowling league. ABA staff representing a cross-section of departments invited close friends and family to play, forming six teams that will compete each Wednesday evening at 7:30 p.m. at the Capitol Bowl in West Sacramento.

After just one match, feedback was highly enthusiastic. "It was lots of fun and everyone seemed to have a good time," said Abbi Stone, associate vice president of Business & Administrative Services. "I like the idea of getting together with people outside of work and doing something fun."

Many other team members also see the value of interaction with colleagues outside of the traditional work environment. As Tony Lucas, director of Business and Finance for the department of Public Safety, explains: "Seeing my colleagues outside of the office is always a treat, and the bowling league is making it even more enjoyable."

Another added benefit of the league is the team-building element. "I thought it would be a nice break from my work week ... to show up, relax, have fun with co-workers, and show some team spirit for my team!" added Police Dispatch and Records Supervisor Katerina Donato-Weinstein.

The league is scheduled to run six weeks, through August 15. Although the roster of participants is full currently, there may be opportunities to participate in the future. If you are interested in joining a bowling league at a later time, or as an alternate this season, contact Serena Fuson in Public Safety at sfuson@csus.edu.
Financial Services Celebrates Flag Day
Each year on June 14, the Unites States celebrates Flag Day. This date is significant as it marks the day in 1777 that the Second Continental Congress adopted the official flag of the Unites States. It was President Woodrow Wilson who, in 1916, issued a proclamation establishing June 14 officially as Flag Day.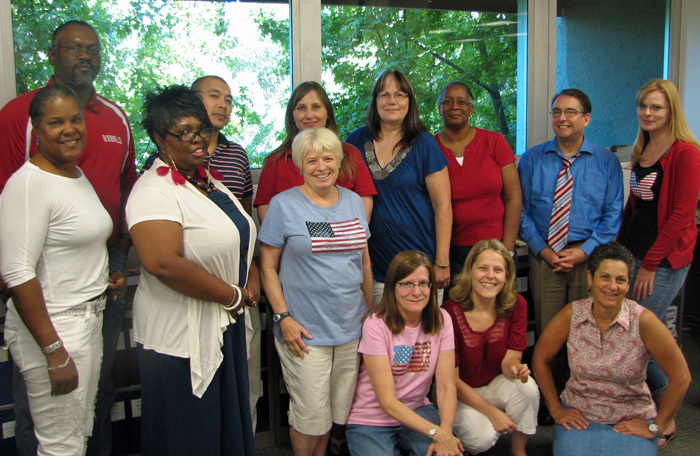 Financial Services demonstrated their patriotism by participating in Flag Day, decked out in American flag colors and regalia. The event marks just one of several "Summer 2012 Fun Days" celebrated by Financial Services. Theme days are intended to raise morale and camaraderie among Financial Services staff. Participating offices included Accounting, Accounts Payable, Student Financial Services, and Procurement & Contract Services.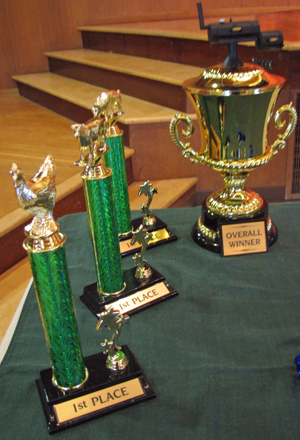 Competitive Fun Marks Inaugural BBQ Cook-off
The smack-talk started over a year ago when Vice President/CFO Mike Lee overheard participants touting their barbecue skills at a Public Safety Department potluck. The vice president challenged them to a competition. Soon thereafter, ABA's inaugural BBQ Cook-off was announced, in conjunction with ABA's 2012 Spring Social. The first of its kind, the ABA BBQ Cook-off would give proud division chefs the opportunity to share their specialties and engage in some fun competition at the same time.

Staff quickly stepped up to get involved, especially those with self-identified barbecue skills, such as Parking Analyst Cacee Belton, Director of Facilities Operations Daryn Ockey, and Police Chief Mark Iwasa, who added: "I am not really a BBQ expert, but I have been using versions of the same recipes for about 30 years."

Plans began to unfold with help from volunteer staff who organized and coordinated the event. As the competition drew closer, participants practiced and prepared their tried-and-true favorites, as well as new dishes. "I created a new barbeque sauce specifically for this event. I don't know if it will be good ... I guess the judges will be my guinea pigs," said Daryn Ockey.

Judging took place just as staff arrived for the 2012 Spring Social. Twelve ABA volunteers judged submissions in three categories: beef tri-tip, BBQ chicken, and pork ribs. Each scored the entries based on fragrance, texture, taste, etc. Judges included: Kevin Brisco, Julie Carroll, Kimberly Donaville, Dennis Franzen, Justine Heartt, Bob Hitomi, Chris Ponder, Andrew Stiffler, Angel Thayer and Agustin Yaya.

Thanks to event organizers Priscilla Llamas-Mckaughan and Serena Fuson. Participants and judges were on target, and the competition was spirited and fun, though fierce. After all of the scores were tallied, the following winners were announced:

Beef Tri-Tip: 1st place - Daryn Ockey, Facilities Services
BBQ Chicken: 1st place - Tony Lucas, Public Safety
Pork Ribs: 1st place - Mark Iwasa, Public Safety
Overall winner: 1st place with highest overall score for one dish - Mark Iwasa, Public Safety
ABA - Reaching out to Students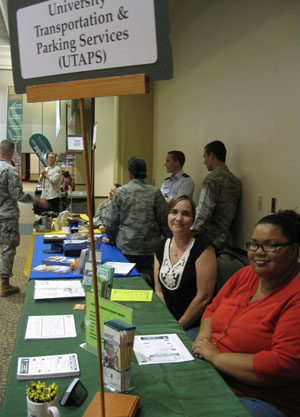 ABA prides itself on its student outreach efforts. To help students better navigate the campus, ABA's student-related units and departments set up information tables during the summer and winter orientation sessions, providing information about a variety of services.

These outreach efforts link ABA services with students, who are not always aware of the expansive service and support offered by the division. Incoming freshmen or transfer students may find staff and materials that help them understand police and safety services, parking requirements, learn about the campus alternative transportation choices, clarify student registration processes, and much more.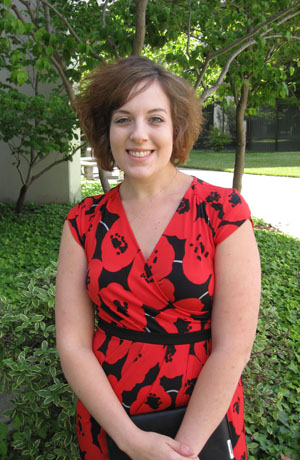 Student Assistant Finds Career Success
Lauren Haley has been a student and employee at Sacramento State for five years, and a student assistant at UTAPS for two and a half. As a student, Lauren participated in National Model United Nations, and interned with the American Civil Liberties Union and state assembly member Mariko Yamada. Now, with degree in hand, Lauren is off to begin a new endeavor.

Her tenure with ABA, combined with her student activities and internships and Sacramento State degree, prepared Lauren well for her new position as full-time sales associate for T2 Systems, the company that designs and manages UTAPS' parking software. Experience with the system and the opportunity to showcase her talents, no doubt, enhanced her status as a recent grad. We wish her the best of luck in her new career!