AWARDS AND RECOGNITION
ABA Staff Recognize Peers in 2012
The ABA Staff Peer Awards Program is an annual recognition program that allows ABA staff to recognize the work of their colleagues. Each year, awards are presented in five distinct categories that represent the best efforts of ABA employees. These categories include: Customer Service, Problem Solver, Teamwork, Positive Attitude, Professionalism, and new for 2012, Innovation.

The 49 nominations received this year represent the many ABA staff members who felt strongly that one of their colleagues deserved to be recognized for his or her outstanding contributions.
The ABA Staff Peer Awards Selection Committee was tasked with reviewing nominations and recommending award recipients to Vice President Mike Lee, a decided challenge. So challenging, in fact, that the committee recommended two individuals for the Customer Service award. The Selection Team, comprised of previous years' award recipients and other representatives from ABA families, included: Jorge Chavez, Facilities Services; Brian Geimer, Reprographics; Norman Kwong, Budget Planning & Administration; Edelsa Reyes, Space Management; Debbie Smith, Accounts Payable; and Agustin Yaya, Public Safety.


This year's, awards were presented to individuals on site, with recipients recognized in their workplace among their managers and colleagues. This led to a more intimate event, in which Mike Lee personally recognized and congratulated each recipient. Awardees were also recognized at the ABA Staff Professionals meetings in May.

Congratulations to this year's 2012 Staff Peer Award recipients!

Customer Service: Jesus Gutierrez, Facilities Services and Carlina Victoria, Facilities Services

Innovation: Joseph Manzella, Facilities Services

Positive Attitude: Krista Valledor, Financial Services

Problem Solver: Leah Davis, Financial Services

Professionalism: Matt Kroner, Public Safety

Teamwork: Jason Johnston, Public Safety

To see all of the recipients' photos, as well as a list of all nominees, view the 2011/2012 ABA Staff Recognition Page.
University Police Officer Honored
Sacramento State Police Officer Nathan Rice was presented with a California MADD (Mothers Against Drunk Driving) Hero award at the 14th Anniversary of the MADD California Statewide Law Enforcement and Community Recognition Dinner on June 2, 2012. The award recognizes officers for helping to combat drunk driving and maintain safer roadways and communities.

Each year California MADD awards law enforcement individuals and departments, state park agencies, media partners and community advocates from across the state whose actions and policies are aligned with MADD's mission to prevent drunk driving, educate the public on its effects, support victims and prevent underage drinking.  This year's event at the Hyatt Regency in downtown Sacramento hosted over 600 participants from 53 of California's 58 counties.




Facilities Services Top Staff Recognized
Facilities Services' Employee of the Month program recognizes staff who exhibit good attendance; deliver high quality work; exhibit good people and personal interaction skills when working with staff/faculty; and/or perform above and beyond the call of duty. One employee is selected each month by managers. An excerpt from each recent honoree's nomination is featured below.

June 2012 - Raul Echeverria, Painter

"Raul has always had an exceptional work ethic, can always be counted on to give his best, and is always quick to smile. His willingness to jump into our Classroom Improvement Project, and help by leading one of the teams, gives confidence that we will deliver an exceptional product on time. Raul fosters positive working relationships by communicating
directly and honestly. Congratulations, Raul!"


July 2012 - Dale Knorr, Equipment Manager

"With over 30 years of service, Dale is vested in our community, as well as the campus. He is someone who, when working on a project, will consistently follow through until all tasks are completed. Dale's high energy and excitement for the job is infectious to those around him, which in turn raises the level of production on all of the projects that he is associated with." Congratulations, Dale!"




Years of Service Honored at ABA Social
Beyond good food and comaraderie, the annual ABA Spring Social serves an important function - recognizing the dedicated service of ABA employees. Although employees are recognized for serving the University at the campus-wide staff recognition event in the spring, ABA celebrates these milestones in this more intimate setting where all division staff professionals gather once a year.

In 2012, many ABA employees reached significant milestones in their careers at Sac State, and were honored with pins and awards for 10, 15, 20, 25, 30 and even 35 years of service. Significant this year were two ABA staff members who celebrated 35 years of service - Nancy Fox of UTAPS, and Gary McDaniel of Facilities Services. The staff of ABA has helped ensure a better campus for the students, faculty, and staff, and a stable and consistent meaningful work environment for colleagues.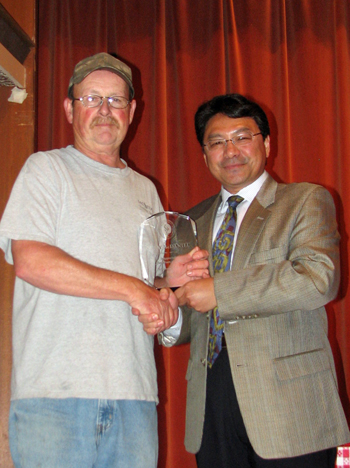 Quarterly Awards Honor Public Safety Staff and Students
Public Safety recognizes department staff and students quarterly. Honors bestowed on those most deserving in the second quarter of 2012 appear below, with excerpts from their nominations. Congratulations to Suzanne and Nalee.





Suzanne Bracamonte - Employee of the Quarter, 2nd Quarter, 2012

"Suzanne is very positive and always ready to help others. Her efforts to maintain the most current and favorable "time off" information is a huge benefit to members of the department. Suzanne's positive attitude and customer service are always appreciated."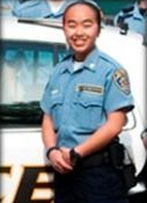 Nalee Moua - Student Assistant of the Quarter, 2nd Quarter, 2012

"Nalee demonstrates enthusiasm, high energy and a positive, friendly demeanor. She gives more of herself than is required or expected, and does it in ways that do not draw attention to herself. Nalee demonstrates good working relationships, is cooperative, works well with others, and is a positive influence on peers and a role model to new CSOs."
ABA Congratulates New Staff Grads
Administration & Business Affairs counts close to 60 Sacramento State graduates working in the division, or almost 20 percent of its workforce.

The numbers increase every year, as more and more staff professionals earn their degrees from Sac State.

This year, ABA adds four more University grads to its employee ranks. ABA is proud of the educational accomplishments of its staff. 
Congratulations to ABA's 2011/12 graduates!


Facilities Services
Joey Martinez, BA, English – May 2012
Rakesh Ravi, MS, Computer Engineering – December 2011
Financial Services
Stephanie Hunn, BS, Business Administration (Accountancy) – May 2012
Public Safety
Nathan Rice, BS, Criminal Justice – December 2011
For a list of other Sac State graduates working in ABA, visit our Sac State Alums page.