Alumni Events Calendar
January 2021
Tips, Tools, and Techniques to Fine-Tune Your Budget
Wednesday, January 20, 12:00-1:00 p.m.
You've identified your income and expenses, prioritized your bills and have successfully met your basic budgeting and savings goals. Now, you're ready for to fine-tune and elevate your efforts to tackle some of your longer-term goals and dreams. This session will provide you with an overview of different budgeting techniques and methods that can help you to enhance your budget strategy for even greater success.
Panel discussion: You've graduated, now what?
Wednesday, January 20, 12:00-1:00 p.m. OR 5:00-6:00 p.m.
Congratulations, you graduated! Like many of your peers, you may be asking yourself . . . now what? We are in unusual times, no doubt, but there are a lot of ways to start planning the next phase of your journey. Join us for this panel discussion on networking, job searching, graduate school, and volunteering.
Register for the 12:00-1:00 p.m. session
Register for the 5:00-6:00 p.m. session
How to Manage and Pay Off Student Loans
Thursday, January 28, 12:00-1:00 p.m.
Your degree has helped set the foundation, join us to learn 8 ways to manage and pay off your student loans fast. Presented in partnership with SAFE Credit Union.
February 2021
SSAA Member Meeting
Monday, February 8, 6:00-7:30 p.m.
The Sacramento State Alumni Association (SSAA) Board of Directors invites you to join them for the Annual SSAA Member Meeting. The evening will hold Alumni Association updates, a campus update, and an update from the student body president. In addition, attendees will hear from Dr. Jenni Murphy, dean of the College of Continuing Education, about Project Attain!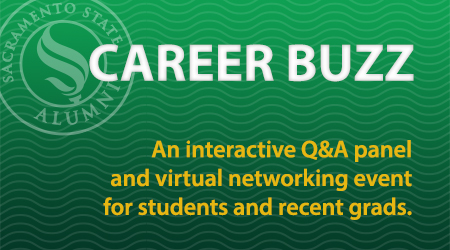 Career Buzz
Wednesday, February 10, 4:30-5:30 p.m.
Take your career to the next level! Career Buzz connects students and recent graduates with our diverse alumni network through Q&A discussions and networking. Learn from experts who know what it means to have Hornet pride.
On Demand Content
Distinguished Alumni Awards 2020
You're invited to enjoy the celebration! You'll be inspired by these seven amazing individuals who were honored in three categories: Distinguished Service, Rising Star, and Honorary Alumnus. (recorded 10/15/20) Watch now!