Alumni Events Calendar
Alumni Month | April 2021
Virtual Sac State 5K Fun Run
April 15-29, 2021
Complete your 3.1 mile fun run, walk, hike, jog, or roll on your own time between April 15-29 - even on a treadmill! Just log your results before April 30 and enjoy your swag. Fun run proceeds support the most pressing student needs. Registration fees go up on Feb. 28, so sign up today and join team "Hornet for Life!"
Register for team "Hornet for Life!"

Estate Planning Seminar
Tuesday, April 20, 11:00 a.m.-12:30 p.m. (PDT)
Join us for an upcoming educational seminar on constructing an estate plan, with special considerations for individuals who are single and do not have immediate heirs. Expert estate planning attorney Mark S. Drobny answers your frequently asked questions.
Meet the NSM Dean Team
Thursday, April 22, 12:00-1:00 p.m. (PDT)
Take this opportunity to get to know Dr. Lisa Hammersley, Dean of the College of Natural Sciences and Mathematics, as well as Dr. Shannon Datwyler, Dr. Yinfa Ma, Associate Dean for Research & Engagement; and Dr. Kelly McDonald, Director of Center for Science and Math Success. You won't want to miss this opportunity!
Register to get to know the NSM Dean's Team
Financial Wellness: Managing Student Loans
Tuesday, April 27, 12:00-1:00 p.m. (PDT)
Making smarter decisions about your options to pay for college starts with knowing the cost of college, how to apply for financial aid, and the types of financial aid available. This is the perfect session for students in college whether you're just starting or finishing your degree; family of college students; or alumni wanting to better understand their student loans.
Far East Deep South: Film Screening and Discussion
Wednesday, April 28, 6:30-7:30 p.m. (PDT)
Join us for this amazing opportunity to view the film Far East Deep South followed by a conversation with its producer, alumnus Baldwin Chiu '98, and director, Larissa Lam. The film follows Charles Chiu and his family as they travel from California to Mississippi to find the grave of Charles' father, K.C. Lou. Their search leads to stunning revelations about their family as they get a crash course on the history of Chinese immigrants in the segregated South. Event sponsored by: River City Bank
May 2021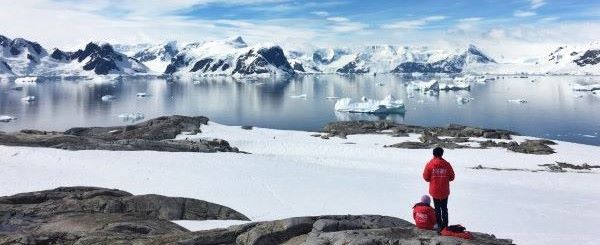 Virtual Trip: Antartica
Thursday, May 13, 12:00-12:30 p.m.
Explore one of the coldest climates in the world from your home. Venture with penguins and leopard seals through snowy banks, look at some of Antarctica's aquamarine life, and discuss the nature and geology of this uninhabited continent. No parka required!