Alumni Events Calendar
Please pay close attention to events of interest to ensure you know how they will be conducted. Other than athletics contests, many events are still virtual or offering a hybrid participation option. We're committed to continuing to support our alumni, students, and community members by planning events with your safety in mind. Thank you for your support during this time!
October 2021
Distinguished Alumni Awards 2021
Thursday, October 14, 6:15 p.m.
Join us for an evening filled with celebration as we honor six amazing alumni! Let us know you're planning to participate and we will be sure to update you on event details as we continue planning for this special evening. Go Hornets!
Dr. Fred Baldini '82, MA '85 (Kinesiology)
Dr. Josefina Dominguez '08 (Biological Sciences)
Dr. Ed Manansala '92 (Business/HR), MSW '98, Cred. '01, '04
Col. Patricia Webb, MA '89 (International Affairs)
Kristin Wright '07 (Sociology), Cred. '09, MA '12 (Special Education)
6. Jamil Jan Kochai '14 (English)
Join our live broadcast! Register today.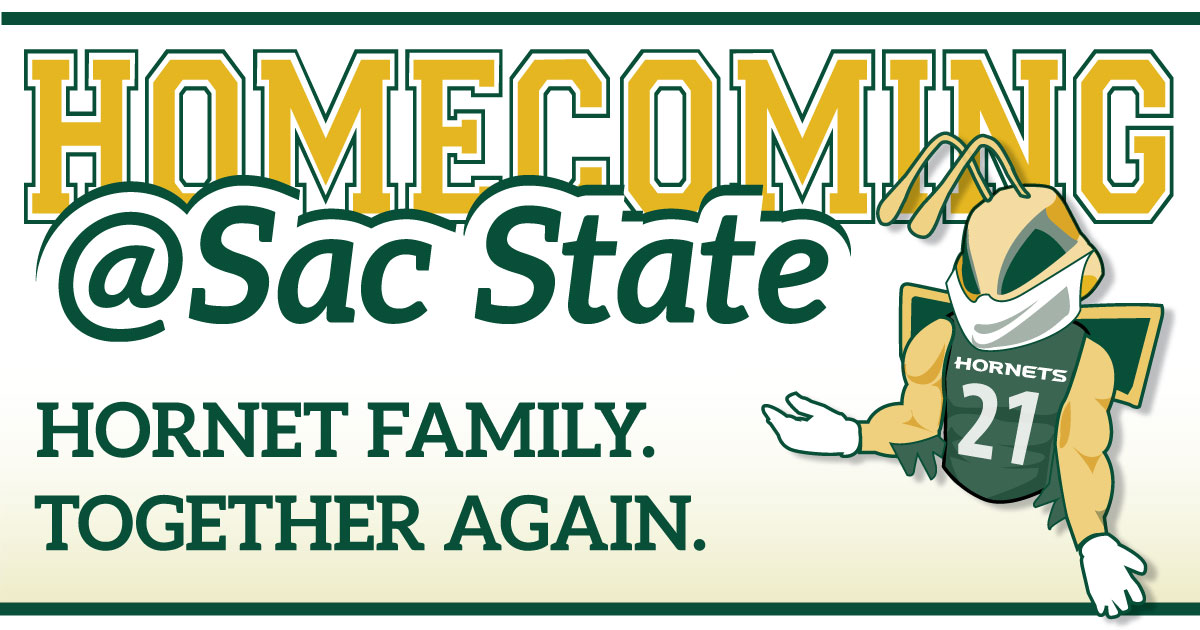 Homecoming @Sac State
October 18-23
There are so many events and activities going on during Homecoming week, we had to make a seperate page to contain them all! There's drama, games, science, comedy, music, and more! The week culminates with the Homecoming Festival and football game on Saturday, Oct. 23. Hope to see you there!
Outdoor Activity Opportunities
Sac State Aquatic Center
Located on the beautiful Lake Natoma in Gold River, the Aquatic Center is a National Boating Instruction Safety Center where we offer classes, camps, facility reservations, team building, youth groups, and equipment rentals. So, you don't have to have your own equipment to enjoy beautiful Lake Natoma. The Aquatic Center is open to the general public. Be sure the claim your free Alumni Association membership and pay the discounted affiliate rate on equipment rentals.
Football is back!
Tickets are on sale for the 2021 season of Sacramento State football exclusively through AXS Mobile ID. The next home game is on Saturday, Oct. 9. Get your tickets today! For more news, schedules, and tickets, visit HornetSports.com. Go Hornets!
Get your football season tickets!