An Engaged Campus
Sacramento State is committed to building a better community for today and tomorrow.
Sac State is home to a culture of service where students, faculty, and staff make a difference in the world beyond the classroom.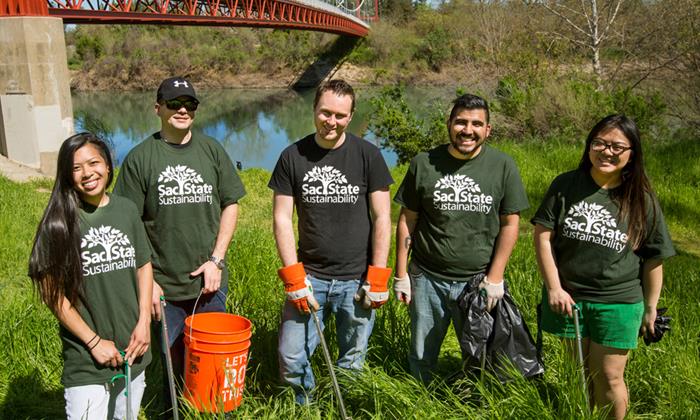 A Regional Partner
As the University with its finger on the pulse of California's capital, Sac State's identity is rooted in service. The campus seeks to build a brighter future through regional engagement and outreach.
Sac State is one of only a few institutions in the nation honored with the Carnegie Community Engagement Classification, which the University first earned in 2010 as a testament to its deep commitment to serving the region.
Sac State has more than 50 centers, institutes, and collaborative efforts engaged with the greater Sacramento community, including the Carlsen Center for Innovation and Entrepreneurship, which is a driving economic force in the Sacramento region.
The University is vital to the economic health of the region, contributing to the local economy and generating tax revenue. And the College of Business Administration's Center for Small Business and Center for Entrepreneurship provide valuable consulting resources for start-ups and small businesses to grow and thrive.
The University Foundation, Sac State's philanthropic auxiliary, is the University's endowment that actively supports the mission of teaching, learning, and service. It has grown to $40 million in private donations over two decades.
A Culture of Service
The capital region is at its best when we all work together to promote and sustain community health. Sac State is an active partner in countless efforts to bolster, build, and beautify the region, with students, faculty, and staff logging more than 2 million volunteer service hours each year.
Sac State's Community Engagement Center is the central hub for community service opportunities on campus. CEC facilitates volunteer opportunities for students, service learning partnerships, and events both on and off campus that bring awareness to and address the needs of the greater community.
Alternative Break gives students philanthropic opportunities during the winter and spring holidays, providing much-needed services to diverse communities while helping students develop valuable skills and relationships.
Sacramento State is proud to partner every year with the Sacramento Food Bank and Family Services' Run to Feed the Hungry, the largest Thanksgiving Day fun run in the nation. All proceeds go to providing food, clothing, and education to 157,000 men, women, and children each month.
Launched in Fall 2015, the Associated Students Inc. Food Pantry provides food and basic necessities for free to students who struggle with food insecurity issues, averaging nearly 50 students per day who take advantage of its services.
Community to Campus
Sac State is a valuable resource for the Sacramento region. The University supports and participates in more than 350 local community groups and organizations, hosting more than 250 events annually that bring the community to our beautiful campus. (Sacramento Housing and Redevelopment Agency, 2015)
Intercollegiate athletics attracts world-class sporting events to Sac State, including the 2014 U.S. Track & Field Championships and the 2016 USA Track & Field National Junior Olympic Championships.
Vitalant holds regular blood donation drives on campus, including the annual Causeway Classic Blood Drive.
The Sac State campus hosts many regional organizations and events that impact the future of the region, including the Metro Chamber's annual Sacramento Business Review economic forecast unveiling and the Greater Sacramento Area Economic Council's quarterly meetings.
Sac State's Festival of the Arts is an annual weeklong series of arts and cultural events featuring performances and activities on and off campus, attracting more than 8,500 participants in 2015.
The Career Center is the central hub for career services at Sacramento State and hosts multiple career events and job and internship postings and provides recruitment consultation to help organizations of all sizes connect with the diverse talent pool of Sacramento State students and alumni.
Fostering the Future
The capital region's future depends on the students of tomorrow, whose paths start long before they ever set foot on the Sac State campus. The University is active at all grade levels in helping young minds set their sights on higher education.
The Center for College & Career Readiness promotes a college- and career-ready mindset in students of all ages, before and during their college experience, by creating opportunities to gain the life and academic skills necessary for success in college and future careers.
A Creative Economy grant was awarded to Sacramento State to support bringing arts and culture projects to low-income areas. These music, dance, and theater perfomrances explore issues of diversity and are designed to stimulate economic development.
The Guardian Scholars program is aimed at helping former foster youth succeed in college through services including academic and career counseling, financial assistance, scholarships, outreach events, and peer mentoring.
The Education Insights Center works at K-12 levels to improve traditionally underserved students' readiness for and success in postsecondary education.