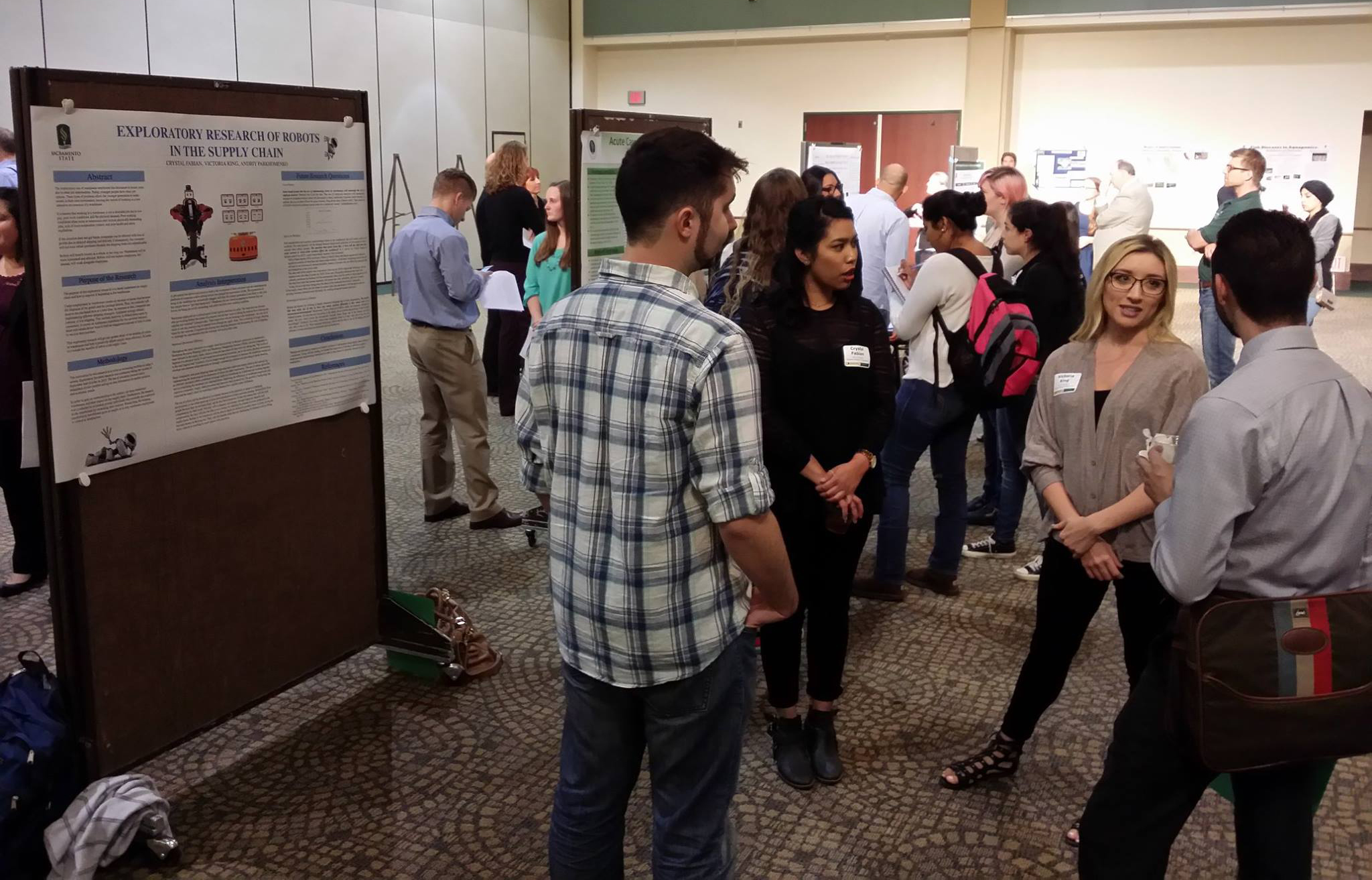 The Provost's Student Research Showcase took at the University Union Ballroom. (Sacramento State/Steve McKay)
Students throughout Sacramento State are actively involved in research, creative activity, and innovation – and some of the best presented their work to the campus community on Tuesday, Oct. 27, during the second annual Provost's Student Research Showcase at the University Union Ballroom.
Provost Frederika "Fraka" Harmsen, working with a group of core faculty from education and the sciences, created the showcase in 2014. She wanted to celebrate and bring to light students' work, which she calls Sacramento State's "best-kept secret."
"A research experience engages and empowers students in hands-on learning and enhances the student learning experience through mentoring relationships with faculty," Harmsen says. "I am very proud of the amazing research projects showcased by our students, and the critical thinking, creativity, and problem-solving skills that were on display."
In all, 120 undergraduate, graduate, and doctoral students presented their work in poster form, either individually or in groups, at the showcase. The students represented 20 departments across Sacramento State's seven academic colleges.
Their projects were diverse, ranging from "Sacramento Perch" (Stephanie St. Charles, environmental studies) and "Creating Communicative Advocacy for Persons with Aphasia" (Hannah Hudnall, speech pathology and audiology) to "American Sign Language Recognition Based on Hough Transformation and Neural Network" (Feras Alanazi, electrical and electronic engineering), and "State Minimum Wage Policies and Unemployment Rates" (Creston Whiting-Casey, public policy and administration).
Aurea Colston (mathematics and statistics) applied graph theory to a time-series analysis in studying seawater composition changes. Richard Brookins (chemistry) explored the inductive effects of trinuclear molybdenum (IV) clusters. Victoria King (marketing), along with Crystal Fabian and Andriy Parkhomenko, investigated labor shortages in warehouses. Joseph Simpson (business) and Jerry Mitchell caught the eye of passers-by with their display of a $15 prosthetic hand created on a $300 3-D printer. A similar commercially produced prosthetic sells for $78,000, they say. Their research – they're testing the bonding capabilities of the filaments used in 3-D printing – could provide affordable prosthetics for people in developing countries, Simpson says.
Jack Reeves (public policy and administration) has the idea to create "smart" nutrition labels for sugary soft drinks. "Instead of just saying '250 calories,' the new labels would have, for instance, a running emoji and say '250 calories is equivalent to running for 50 minutes.' " Reeves believes such practical language on soda labels would benefit high-risk populations.
"Student research is transformative," says Vice Provost Jim Prince. "It opens up possibilities of knowledge and action, providing ways for students to learn the power of their own thinking. … As they engage in the creation of new knowledge and its application to real-world problems, students transcend the classroom experience."
The Provost's Student Research Showcase served as a test run for the Sacramento State Student Research Symposium, to be held Friday, Feb. 26, at the University Union. That competition is open to students in all disciplines, with cash awards going to the top participants who choose to be judged. The winning students' faculty mentors also will receive cash prizes. As many as 10 oral presentations will be selected to represent Sacramento State at the 30th annual California State University Student Research Competition in May.
"(Research) rewards courage and curiosity and reaffirms one's inner strengths and values, especially when mistakes and errors occur and must be addressed in a forthright and humane manner," says David Earwicker, associate vice president for research affairs. "It validates the adage that the basis for good judgment is experience, and the basis for experience is often mistakes and bad judgment."
The 2015 Provost's Student Research Showcase was presented by Academic Affairs, the Office of Research Affairs, Associated Students Inc. (ASI), Undergraduate and Graduate Studies, and the Student Tech Center.
– Dixie Reid