With less than two months to go until the global Solar Decathlon 2015 competition, Sac State's Team Solar NEST is scrambling to complete the construction of its modular Reflect Home. The effort got a huge boost on Saturday, Aug. 15, when a group of students, alumni, faculty, and friends turned out in hard hats and tool belts for Build Day.
The volunteers worked in 100-degree heat, installing windows and doors, wrapping the house in air- and moisture-resistant sheeting, blowing in ceiling insulation, and installing supports for the rainwater-collection trough. Wall insulation, drywall and siding are next on the to-do list.
President Robert S. Nelsen, center, joins some Team Solar NEST members in a "Stingers up!" (Sacramento State/Dixie Reid)
"I think it's a miracle house," said President Robert S. Nelsen, making his first visit to the on-campus job site on Build Day. "It's going to be so beautiful. So many colleges and departments came together to make this happen. It really is a miracle, and it's one of the most wonderful things happening at Sac State. It is the home of the future and a house I would like to live in."
"It's beautiful. It's efficient. It's a dream home built with the environment in mind," said Rosni Pann, the student leader on Team Solar NEST. "That's our generation: We think about our planet and the environment."
Sacramento State was one of 20 universities worldwide chosen by the U.S. Department of Energy to compete in its Solar Decathlon 2015. The DOE challenged the collegiate teams to design, build and operate solar-powered houses that would be afforable, energy-efficient and appealing to homebuyers.
Construction must be completed and all operating systems tested by Sept. 25, when Sac State's team will dismantle the Reflect Home and truck its five modules, plus the removable loft, to the Orange County Great Park in Irvine. The students will then have eight days to rebuild their 997-square-foot house and get it ready for the 11-day competition, which gets underway Oct. 8.
Teams will face 10 difficult challenges and be judged on such criteria as market appeal, engineering skills, affordability of the final constructed project, and house design. They must perform a series of ordinary household tasks for the judges, such as cooking five meals, washing eight loads of towels, running the dishwasher five times, having the "neighbors" over to watch a movie on their home theater system, and hosting two dinner parties for up to eight guests.
Each team must consume less than 175 kilowatt-hours of electrical energy throughout the entire competition.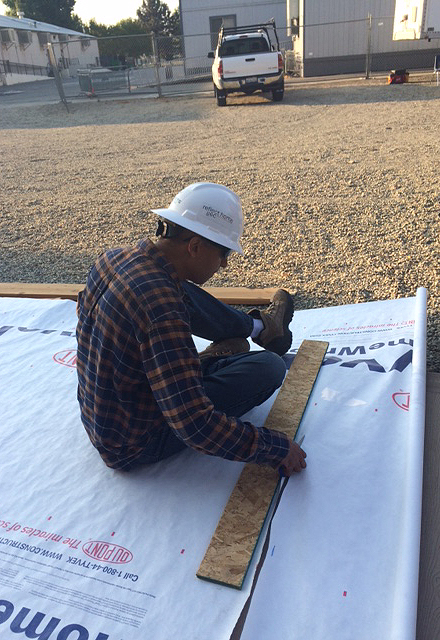 Dean Lorenzo Smith lends a hand during Build Day. (Sacramento State/Dixie Reid)
The teams were charged with raising cash and in-kind donations to pay for building materials, furnishings, appliances, landscaping, food, and lodging during the Solar Decathlon and the cost of transporting their modular homes to and from the Orange County Great Park.
Team Solar NEST is about $45,000 short of its $400,000 fundraising goal. "We're doing a lot with a little," says Gareth Figgess, faculty advisor and construction manager on the project. (By comparison, one participating university's goal was $1 million.)
The Solar Decathlon is rigorous and demanding. Five schools, including Stanford University, have dropped out since the DOE announced the 20 finalists in February 2014.
In addition to President Nelsen, University leaders who came out to Build Day were Lorenzo Smith and Kevan Shafizadeh, dean and interim associate dean, respectively, of the College of Engineering and Computer Science. Smith and Phil Garcia, vice president for Public Affairs and Advocacy, teamed up with student Thomas Johnston to hang yards and yards of air- and moisture-resistant sheeting.
Newly elected Sacramento City Councilmember Eric Guerra, who also is president of the Sacramento State Alumni Association, dropped by to show his support for Team Solar NEST, as well. And Martha Lake, executive director of the Sacramento Construction Management Education Foundation (SCMEF), which supports Sac State's Department of Construction Management, provided food and drink for the workers.
To learn more about Team Solar NEST: http://www.solarnest.org/ – Dixie Reid