Preview story: Tony Award-winning actor and dancer Ben Vereen is coming to Sacramento State on Saturday, April 30, for a full day of activities as part of Wellness Through the Arts (WTA) Sacramento's inaugural essay awards, hosted by the University's Department of Theatre and Dance.
Best known for his roles in the Broadway musical Pippin and the groundbreaking television series Roots, Vereen will be on campus to share his experience with students and the public during a free Musical Theatre Master Class from 10 to 11:30 a.m.
At 7 that evening, he will present cash awards to winners from Ben Vereen's First Annual Wellness Through the Arts, Sacramento Essay Awards (www.wtasacramento.org), a competition held among local high school students. Both events will be at the University Theatre.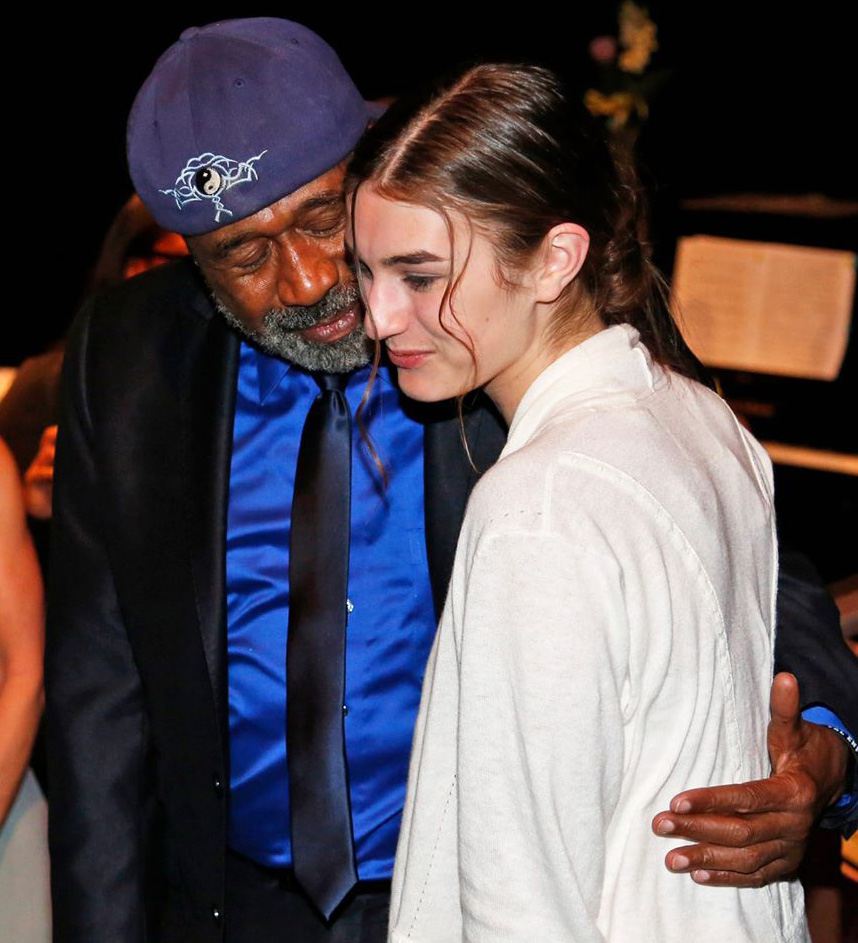 Broadway legend Ben Vereen with WTA Essay Contest participant Kate Brugger at the VIP reception. (Sacramento State/Craig Koscho)
See more photos from the master class and the WTA Essay Awards event.
In addition to his Tony-winning leading role in Pippin, Vereen has performed in Broadway shows such as Jesus Christ Superstar, Jelly's Last Jam, and Wicked. He was nominated for an Emmy for his portrayal of Chicken George in Roots.
Vereen's WTA already has chapters in San Diego and Tucson, Ariz. He created the organization for young people who are struggling with B.O.L.D. (Bullying, Obesity, Low Self-Esteem, and Diabetes), inviting them to embrace the performing arts as a means to a healthier lifestyle. The evening gathering is the inaugural event for his Sacramento chapter.
As part of that effort, students from Luther Burbank and McClatchy high schools, as well as Natomas Charter School, took part in an essay competition titled "My Best Day," about how the arts have helped them address health issues. The best of those will be presented during the 7 p.m. awards showcase, and a panel of judges then will choose the top two for cash prizes of $400 each.
The program also will include Sac State student dance performances choreographed by Linda Goodrich, founder of Sacramento/Black Art of Dance, and Pepper Von, co-owner of Step I Dance and Fitness; plus a music offering by Natomas Charter School's One Voice ensemble and a special dance performance by Luther Burbank High School students.
The evening presentation will be emceed by Rob Stewart of KVIE's Rob on the Road and Amy Henry, host of Sacramento Film Works. Celebrity judges for the essay competition are Sterling Anderson, screenwriter; Sac State Professor Julian Dixon, Sacramento Philharmonic and Opera; Dena Martinez, actress and casting director; Pepper Von, choreographer; Rachel Songer, actress and singer; Jim Finnerty, producer for KVIE; and Richard Lewis, president and CEO, California Musical Theatre.
"We want to honor our high school students at this event and thank Ben Vereen for his body of work for more than 40 years as an actor, singer, and dancer in American musical theatre," says Trudy Taliaferro, leader of WTA Sacramento. "He continues to share his gifts and teach young people with Wellness Through the Arts, Sacramento, as it develops new healthy artists for our region."
"This is a wonderful opportunity for Theatre and Dance and the University to embrace the arts in our community and focus on the wellness of future artists and future Hornets," says Theatre and Dance Chair Melinda Wilson Ramey. "It is also a tremendous honor for Sacramento State students to engage with Ben Vereen, a phenomenal Broadway legend who continues to perform across the arts and gives back to the next generation."
Advance tickets are $18 general, $10 for students. At-the-door prices are $20 general, $12 for students. A $40 advance ticket, or $45 at the door, includes a VIP reception with Vereen following the evening performance. Tickets are available at the University Ticket Office, (916) 278-4323 or www.csus.edu/hornettickets.
The free 10 a.m. Musical Theatre Master Class is open to the public. Vereen will work with three young performers – one each from Sac State, a Sacramento community college, and a local high school – coaching them on their singing techniques. He also will discuss his career and take questions from the audience.
For advance tickets to the Musical Theatre Master Class, call (916) 278-3569 or email Theatre.Dance@csus.edu.
Additional partners involved in WTA, Sacramento, include the Northern California Filmmakers Coalition and California Musical Theatre.
For more information, visit the WTA website (www.wtasacramento.org) or call (916) 399-3982. – Craig Koscho