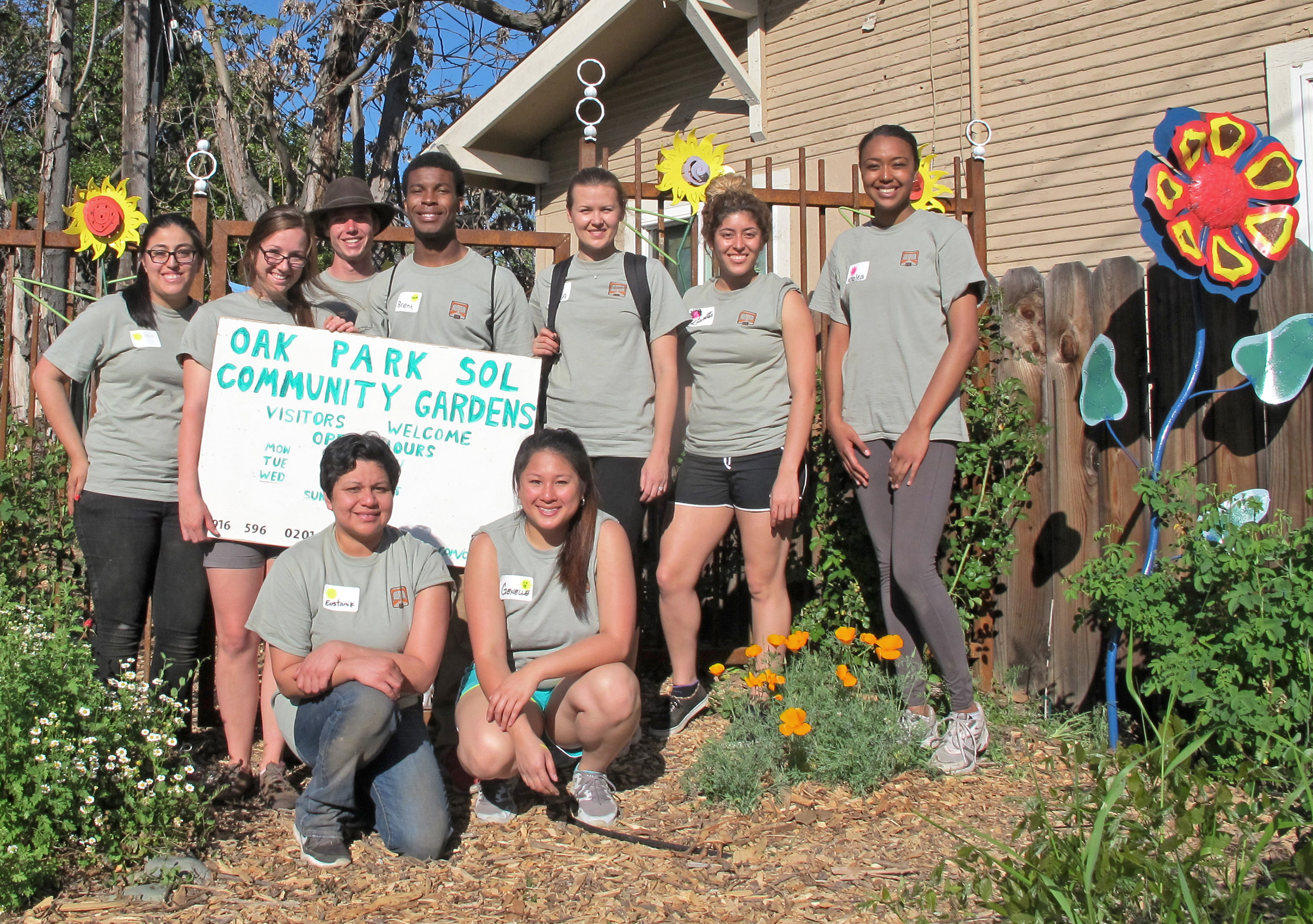 A group of 2015 spring break workers help out in the Oak Park community gardens. (Photo courtesy Farm Saelee)
Sacramento State's Community Engagement Center (CEC) is partnering with Sacramento Area Congregations Together (ACT) for a weeklong voter canvassing campaign in south Sacramento during Alternative Spring Break. Students will be circulating through neighborhoods from Monday, March 21, to Friday, March 25.
Since 2016 is an election year, CEC is providing students an opportunity to make sure every voice is heard by participating in a "week of action." Volunteers will be trained to meet with neighborhood residents to encourage them to register to vote.
Students can choose to work two shifts every day during the week – the morning shift from 9 a.m. to noon, and the afternoon shift from 1 to 4 p.m. Sacramento ACT will provide an orientation and training during the first hour of each shift. Lunch will be served from noon to 1 p.m. to accommodate both shifts and is being sponsored by Associated Students Inc.'s A-Team at Sacramento State. All participants will be given a volunteer T-shirt, and the first 100 volunteers to register will receive a water bottle. All participants must register at https://www.csus.edu/cec/Engaging%20Students/altbrklist.html.
Alternative Break offers Sac State students a chance to spend their spring and winter recesses helping the community. The experience not only provides the community with much-needed services but also helps students build skills.
Sacramento ACT is a multicultural, multi-faith grassroots organization that empowers everyday people to create a more healthy and just community. ACT's members include more than 40 congregations, schools, and neighborhood groups, representing 40,000 families in Sacramento County. ACT also brings together residents and representatives across sectors, and builds partnerships with public agencies to develop and implement plans for positive change.
For more information, contact Francine Redada, partnership/program coordinator, at (916) 278-4610 or francine.redada@csus.edu. – Craig Koscho